We attended the Ridge Vineyards 50th Anniversary Harvest Celebration last weekend.  I'm literally smiling as I type this because the lyrics to Ice Cube's "It Was A Good Day" (with a nod to the Isley Bros for "Footstep In The Dark" track) are running through my head as I reflect on the magnificence of the day.  I'm not trippin' on the gangsta rap lyrics in the song  because behind the lyrics is a message – It's the simple pleasures in life that bring us the most pleasure.  Yeah…it was one of those days for me..
First of, it turned out to be a surprisingly beautiful day.  When we left the house, it was overcast and the jackets were packed, but as we drove South, the clouds gave way to the sun, and by the time we arrived at the top of Monte Bello Ridge, it was pure gorgeousness.  The kind of day that inspires a smile, even now, as I think  of it now…It's the simple things…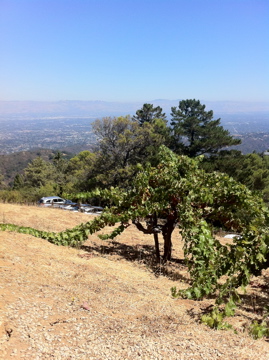 While the gorgeous weather was an unexpected, great wine, food, and hospitality are always expected when you go to a Ridge event (ain't no party like a Ridge party!) Despite my considerably high expectations, Ridge continues to over-deliver.  For example, I can't say I've had a better "starter" wine to wet the whistle and prepare my taste buds for the resplendent Ridge reds than than this one…
There were some cool signs posted around the barn so there was a rustic museum-y thing going on…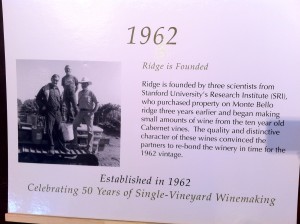 I did my tasting thing before indulging in any wood-fired pizza prepared by  Pizza Politana (um…my wife and her friend got busy…yeah..it was basically see ya later…sucka!).
Here's my tasting notes…
Ridge always has a sumthin' sumthin' wine-wise that's not on the menu when go to one of their events…but before I get to that..the pizza (actually it was so damn good let's go with  capital "P")…the Pizza….viola! Le menu!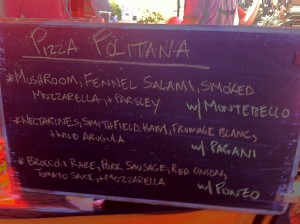 I would have loved to taken a pretty picture of a full pie, they disappears so damn fast that was impossible!
After tasting in the barn it was back down in the tasting room where these three beauties awaited…
After we had our fill of wine and pizza, we decided – Enough sampling already and threw down for a bottle…
found a few chairs under a shady olive tree, and savored the day while listening to the dulcet sounds of "Real Time" – a fantastic Jazz band that laid down a funk-laced instrumental version of the Stylistic's classic "People Make The World Go Round" that was one if the best I've ever heard!
It's truly the simple things –  like sitting under a shady tree surrounded by vineyards as far as the eye can see, on a absolutely beautiful sunny day, sated with PIzza perfectly paired with great wine, and with a great glass of wine in hand chillin' to some great Jazz….Yeah…It was a good day!