This week's sparkler is a Cava from Spain.  I picked this up a BevMo for $9.99 (It was priced at $10.99 pre-BevMo club discount )
Poema is a small producer (when you consider the likes of Codorníu, Freixenet, and Segura Viudas), that is in Korbrand's portfolio.  They own 20% of the vineyard sources.  The rest are under long-term contract with various growers.  In addition to this Cava, Poema also produces Extra-Dry and Rosado (Rosé) Cava.
For the uninitiated, here's a quick 411 on Cava..
Unlike Champagne, Cava isn't from a particular region in Spain, rather it's a term used for Spanish sparklers made in the traditional method (known as Méthode Champenoise) used in France.  While there are some other regions in Spain that also make Cava,  about 95% of the production  comes from the traditional home of Cava, the Penedes region in Catalunya (a.k.a. Catalonia)  The basic rules for making wines that may be called Cava are:
Must be made in the traditional method.
Must age on lees in the bottle in which it will be sold for a minimum of 9 months, 18 months for Reservas and 24 months for Gran Reservas.
All the grapes used must be white grapes – the 3 most common being Macabeo (a.k.a. Viura), Parellada (pronounced pa-re-yada), and Xarel.lo (pronounced cha-rel-low) – unless you are making a Rose, in which case certain red grapes are permitted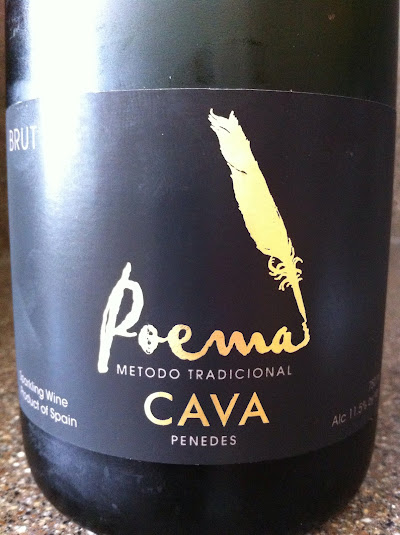 Where it's from: Spain> Catalunya> Cava
The grape(s) Xarello, Macabeo and Parellada.
Production method: Traditional Method 
Alcohol: 11.5.%
Dosage: Brut (0-15 grams of sugar per liter)
Retail: $10
My tasting notes follow:
Light golden-yellow straw color with surprisingly persistent bead of tiny bubbles, and toasty apple aromas. On the palate it's light-bodied with fairly creamy mousse, approaches off-dry and displays easy apple/pear flavors. Short finish – 85pts
Pair with: The beauty of sparkling wines is their versatility with food, because of their palate cleansing quality (think scrubbing bubbles;-). I think this one would be pleasant as a sipper, but it's also good with food.  This would also make be a great bubbly for a picnic, or with other light summertime fare.
Recommendation:  This is a good Cava that represents a solid value in Cava, but the field is crowded.  It's worth a try…but not a re-purchase for me.
Related articles