I'm a big fan of Petite Sirah.  It's one of my favorite grape varietals.  The challenge though for many Petite Sirah (a.k.a. "Pet", "PS") lovers, is that the wines can be pricey.  If you're willing to pay $35 and up, finding a very good to excellent PS isn't hard to do.  It's a much bigger challenge to find one  in the $20-25 range, and an even bigger challenge to find one for less than $15, much less $10!
I was introduced to this wine when it was brought to our wine-tasting club's  blind tasting – Petite Sirah night-Round 2 ( The Round 1 winner was the 2010 Redtree Petite Sirah – check out the posts below!). Stay tuned for the Round 2 results later this week!
This wine is produced by Oak Ridge Winery, which was founded in 1934 as a winemaking cooperative of local growers in Lodi, California. Oak Ridge is the oldest operating winery in Lodi.  In fact, the original winery's 50,000 gallon redwood tank has been converted to a tasting room!  Over the last 8 years,  the historic landmark has been transformed into a state-of-the-industry winery.
Winegrower Rudy Maggio and his partners, Don and Rocky Reynolds, purchased the Oak Ridge Winery in 2001.  According their website…
Under the leadership of General Manager Nicholas Karavidas, along with Senior Winemaker Chue Her, Oak Ridge Winery is fast becoming a beacon for Lodi's future. The winery produces small lots of its own hand-crafted wines, including its signature Old Zin Vines ("OZV"), and offers custom winemaking services to a growing list of wineries and custom brands. Each of our wines and all of our relationships reflect our passion, commitment to quality and uncompromising integrity.
In addition to this wine, Oak Ridge produces Cabernet Sauvignon, Merlot, Chardonnay, Old Vine Zinfandel,  Sauvignon Blanc and Pinot Grigio under the Maggio label.  I'm going to have to give a few of those a try!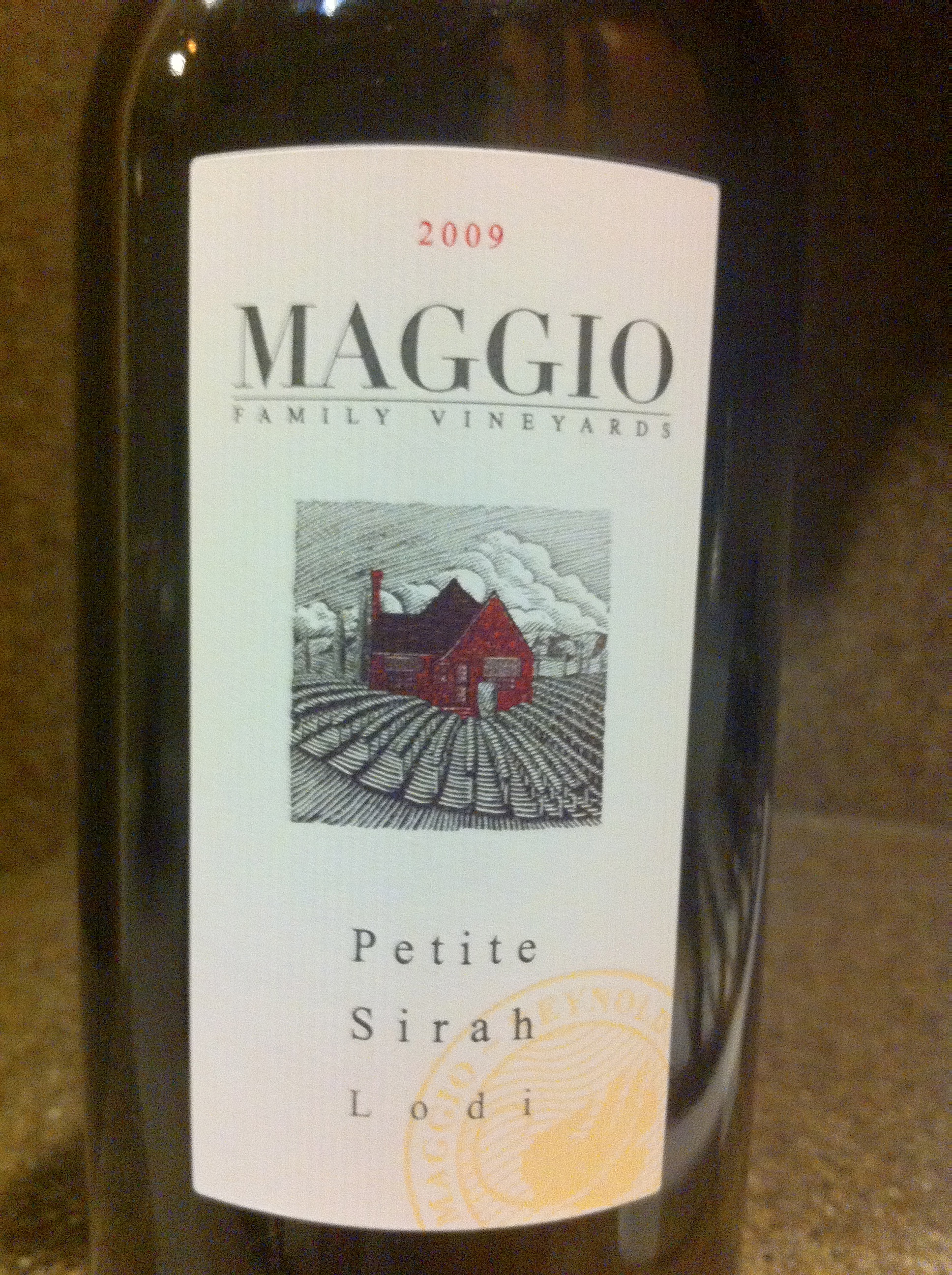 My tasting notes follow:
Violet color with smoky, earthy dark fruit aromas. On the palate, it's medium-bodied, with good acidity  and fruity with blackberry, vanilla, cacao, and spice flavors.  Medium finish. – 88pts
Recommendation: I enjoyed this wine even more than the Redtree (which is lighter-bodied style wine). It's a great value at $10.   If you're a fan of Petite Sirah, (or for that matter Cabernet Sauvignon, or Syrah) and are looking for an everyday wine, give this one a try.
Details
Alcohol: 13.0%
Residual Sugar: 0.46%
SRP: $9.99 (purchased for $7.99 at World Market)
 Click here to find
Related articles