My Wine of the Week ("WoW") for June 30-July 6 is the 2010 Carlisle Syrah Papa's Block.
Winery
Carlisle Winery & Vineyards is a small Sonoma County based winery  based in Santa Rosa. According their website they specialize in the..
…production of old-vine, vineyard designated Zinfandels and red Rhone varieties (Syrah, Grenache, Mourvèdre, and Petite Sirah).
Mike Officer is the Owner/Winemaker.  He caught the wine "bug" early – at age 19 – when he tasted a late-harvest Riesling (It seems like we all start with sweet wines doesn't it?) After graduating from college, he worked in software development for five years, but realized that was not his passion.  He knew the answer would involve wine, but he wasn't sure in what capacity.
He decided to try winemaking,  starting with making 5 gallons of Zinfandel in his kitchen.  Some years later, he  and his wife Kendall found themselves making 300 cases of "garage" wine.  They decided to jump in with both feet and established Carlisle Winery & Vineyards in 1998.  They've focused on old-vine Zinfandel, and red Rhône blends, until the 2010 vintage, when they made their first white wines.
In addition to their own estate vineyard, they source grapes from Sonoma County, primarily the Russian River, and Dry Creek AVAs.  Officer always been a fan of old-vine vineyards.   In fact, of the 16 vineyard sources listed on their website, half ( Gold Mine Ranch, Martinelli Road Vineyard, Montafi Ranch, Pagani Ranch Vineyard, Papera Ranch, Rossi Ranch Vineyard, Saitone Ranch, and Two Acres) are considered historic vineyards by the Historic Vineyard Society .
Wine
This wine is has a bit of a reputation that precedes it.  The 2007 vintage made the cover of Wine Spectator Top 100 of 2009 – it was #17.  The 2009 vintage of this wine wasn't produced (because there wasn't enough fruit due to a late season deluge.  Fortunately, 2010 was a better vintage. Two-thirds of the grapes  were destemmed, with the balance left as whole clusters.  Fermentation was conducted using the native yeasts found naturally growing on the grapes.  It was bottled unfined and unfiltered. It was released April 2012.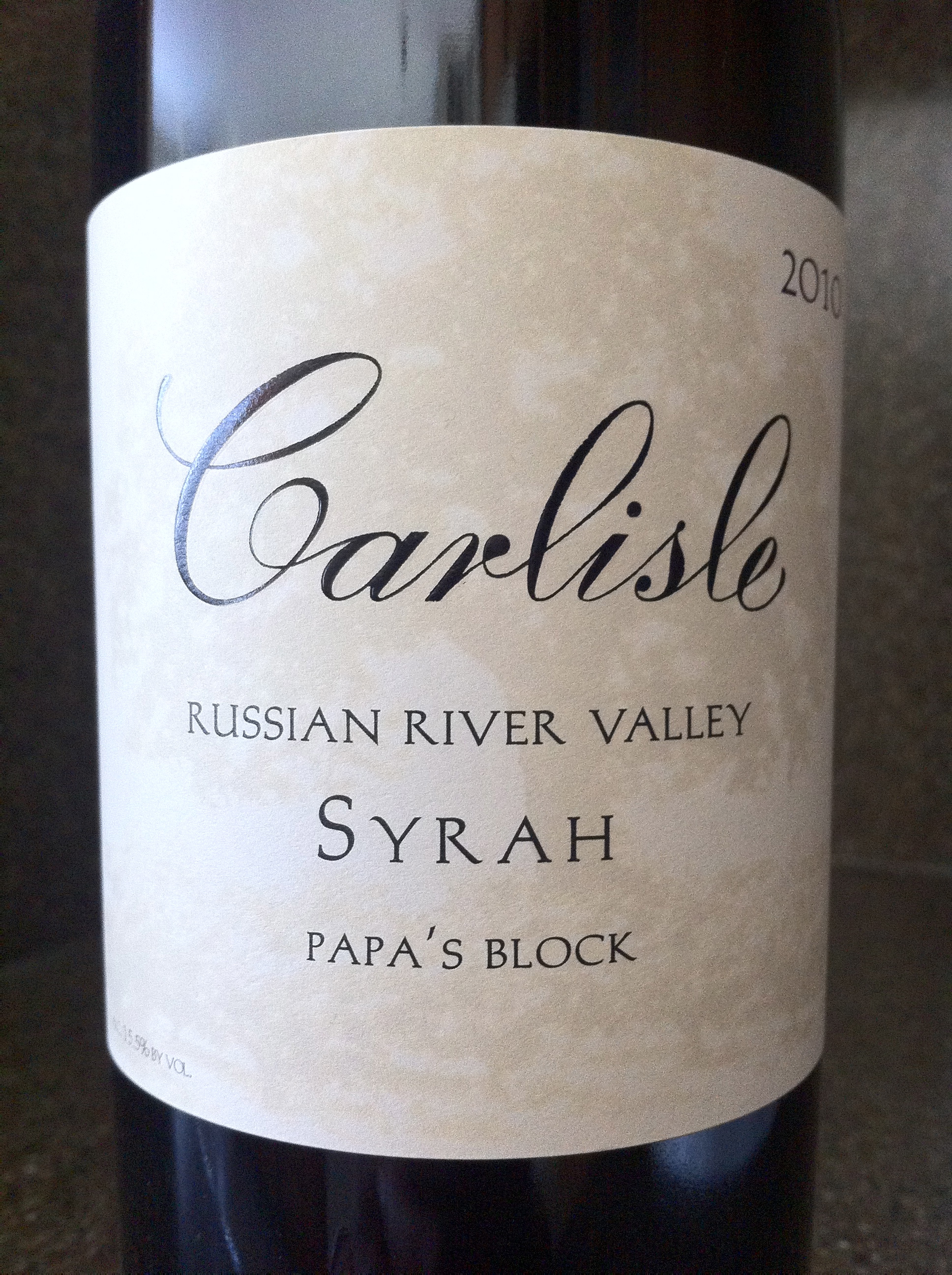 My tasting notes follow:
Inky violet color with aromatic aromas of tobacco, spice, and dark fruits. On the palate it's focused, balanced, and smooth with cassis, plum, blackberry, spice and a hint of bittersweet chocolate flavors. Long finish…an excellent wine!  – 92pts 
Highly Recommended!  Carlisle wines are sold directly to mailing list members.  According to their website, the mailing list is currently closed. However check here to find this wine.
Details:
Alcohol: 15.5% alcohol.
Closure: Cork closure.
AVA: California> Sonoma County> Russian River Valley
Varietal(s): 95%Syrah, 4%Mourvèdre, 1%Viognier
Oak: French oak; 26% new
Retail: $45
Cases produced: 410
This wine is from my cellar
Cheers!
Related articles