A friend of mine was cruising the aisles of BevMo and came across this wine…

If that wasn't surprising enough, I damn near fell out of my chair when I saw the price for a half bottle…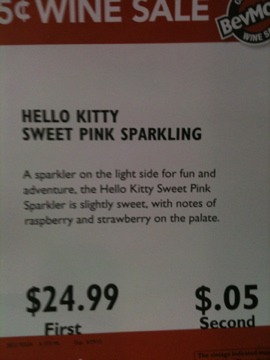 Curious, I poked around the web a bit and found these…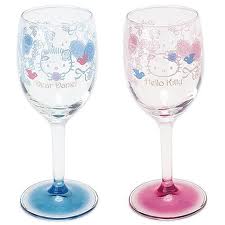 Really?!
My initial thought was that women are intelligent consumers – surely they're not solely swayed by a cute label.  Right?  Then I thought about it a bit more.  Assuming this is a wine primarily targeted at Millennial females who are driving the Moscato craze , this is  savvy targeted marketing.  There have got to be plenty of Millennials who still find Hello Kitty cute, and have sufficient disposable income to drop $25 on a half a bottle of wine they believe they'll enjoy.  It's  a "Sweet" pink wine and has a cute label.  Why not?
Here's what the BevMo website says:
A sparkler on the light side for fun and adventure, the Hello Kitty Sweet Pink Sparkler is slightly sweet, with notes of raspberry and strawberry on the palate.
Still curious…I wondered if it's a novelty wine (all style, little substance qualitatively speaking), or something more substantial.
The wine is collaboration between Italian winemaker Tenimenti Castrelrotto, which was founded in 1910, and Italian fashion Company Camomilla (I bet the licensing fees for the Hello Kitty brand add to overhead cost!).   The Pink Sparkler is made from Pinot Noir grapes from the Oltrepo Pavese region in Lombardy.   It's been around a few years too!
It seems as if it's more than a novelty.  It not hard to imagine it being a popular attraction at bachelorette parties, girls night out, and the like.
I won't be buying any. For what I consider to be a step price for a sweet pink aside, a grown-a** man has his limits on cutesy stuff that may be consumed and still carry his man card.
Anyone tried this?  Holler back and let me know.  Is it any good?
p.s. You may also purchase Hello Kitty Champagne, Hello Kitty Devil Pinot Noir, and Hello Kitty Angel Pinot Nero. Who knew?!
UPDATE 6/26:  A friend of my who sells wine for a large Norther California beverage distribution says…
"It has a large following and I sell it to a few Asian accounts. We have sold out of it numerous times."