This week's bubbly is from Mumm Napa, a joint venture between G.H. Mumm & Cie, of France, and Joseph E Seagram & Sons.  G.H. Mumm & Cie was founded in 1827, ironically by the von Mumms, German winemakers who trace their ancestry back to medieval times. The Napa location was founded by in 1979 by Guy Deveaux, who passed away in 1995.  Mumm produces an upscale line of "DVX" sparkling wines in his honor.  In addition to a diverse lineup of sparkling wines, they also produce Pinot Noir, and Chardonnay still wines.
Mumm Napa is one of five sparkling wine producers in the Napa Valley and Carneros, that aside from Mumm, includes Gloria Ferrer, Domaine Carneros, Chandon,  and Schramsberg.  The five compose the Sparkling Wine Trail.  Each has its own charm.  If you visit Mumm Napa they offer three seated tasting experiences (click here for more details), rather than the typical standing tasting at a bar.  The seated tasting experience, which is more typical when you visit one of the sparkling wine houses, is one of the things I appreciate about going wine-tasting at a sparkling wine house.
This is an interesting wine in that the fruit is sourced from 50 vineyards, and 80 vineyard blocks throughout Napa Valley.  .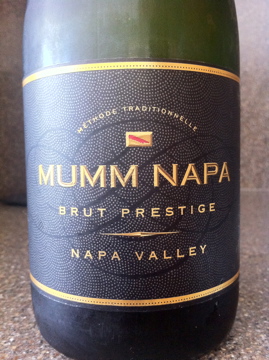 Where it's from: California>Napa Valley
The grape(s) Pinot Noir (51%), Chardonnay (46%), Pinot Meunier (2%), and Pinot Gris (1%)
Production method: Traditional Method 
Alcohol: 12.5
Dosage: Brut
Aging: 18 months on less; 3 months bottle aging
 Retail: $22 (I purchased on sale for $17 – it's frequently on sale)
My tasting notes follow:
Light golden tinged straw color with biscuit, sweet citrus, red fruit and subtle floral aromas. In the glass it displays lots of tiny bubbles. On the palate it is medium-bodied with fairly creamy mousse and cherry, vanilla, and citrus flavors. Medium finish. – 88pts
Pair with: The beauty of sparkling wines is their versatility with food, because of their palate cleansing quality (think scrubbing bubbles;-). This one would be wonderful as an aperitif , but it has enough body to continue drinking into the main course.  I'd bring this along on summer picnic in a heartbeat as it would pair nicely with picnic fare.  It would also be wonderful with a seafood pasta salad.
Recommendation: Recommended.  This is one of my "go to" California sparklers in part because I prefer a bubbly where the Pinot Noir, rather than Chardonnay flavors dominate, in part because it's frequently on sale!
Cheers!
Related articles