My Wine of the Week ("WoW") for June 9-June 15 is the 2011 Ridge Lytton Estate Rose
The Winery
Ridge Vineyards  is a California winery with two estates, Monte Bello in Cupertino, and Lytton Springs in Healdsburg.  They are best known for producing single-vineyard premium Bordeaux style Cabernet Sauvignon Blend ("Monte Bello"), Zinfandels, and Chardonnay.  Ridge was established by three engineers from nearby Stanford Research Institute (SRI).  They produced its first commercial wine in 1962 after purchasing the winery in  1960.
It wasn't too long after that, that Ridge gained an international  rep when the  Ridge Monte Bello, under the direction of winemaker Paul Draper , took fifth place in the "Judgment of Paris" in 1976 against nine other French and California wines.  Here's what's really cool though, the 1976 Monte Bello unanimously took first place in The Judgment of Paris 30th Anniversary when it was tasted against the same wines thirty years later!
This isn't the first Ridge that is my WoW (and I'm sure not the last either;-) In case you missed it, I previously featured the 2009 Ridge Buchignani Ranch Carignane in this post
The Wine
This wine is an alluring blend of Zinfandel,  Mataro (a.k.a. Mourvèdre), Petite Sirah, Grenache, and Carignane from the Ridge Lytton Estate Vineyard – the same vineyard source of the iconic Lytton Springs Zinfandel blend.  The lion's share of the vineyard was planted in 1901, and 1910.  The vineyard is registered with the Historical Vineyard Society (click here for details).  According to their website:
This vineyard used to be part of the estate of Captain William Litton, who during the last half of the 19thcentury developed the springs in the area and built a hotel and spa for San Franciscans who arrived by train to "take the waters."  Paul Draper saw these old vines in 1972 and made the first Lytton Springs bottling that year.
I enjoyed this wine with a Mediterranean Couscous Salad topped with Feta cheese.  It was a great pairing!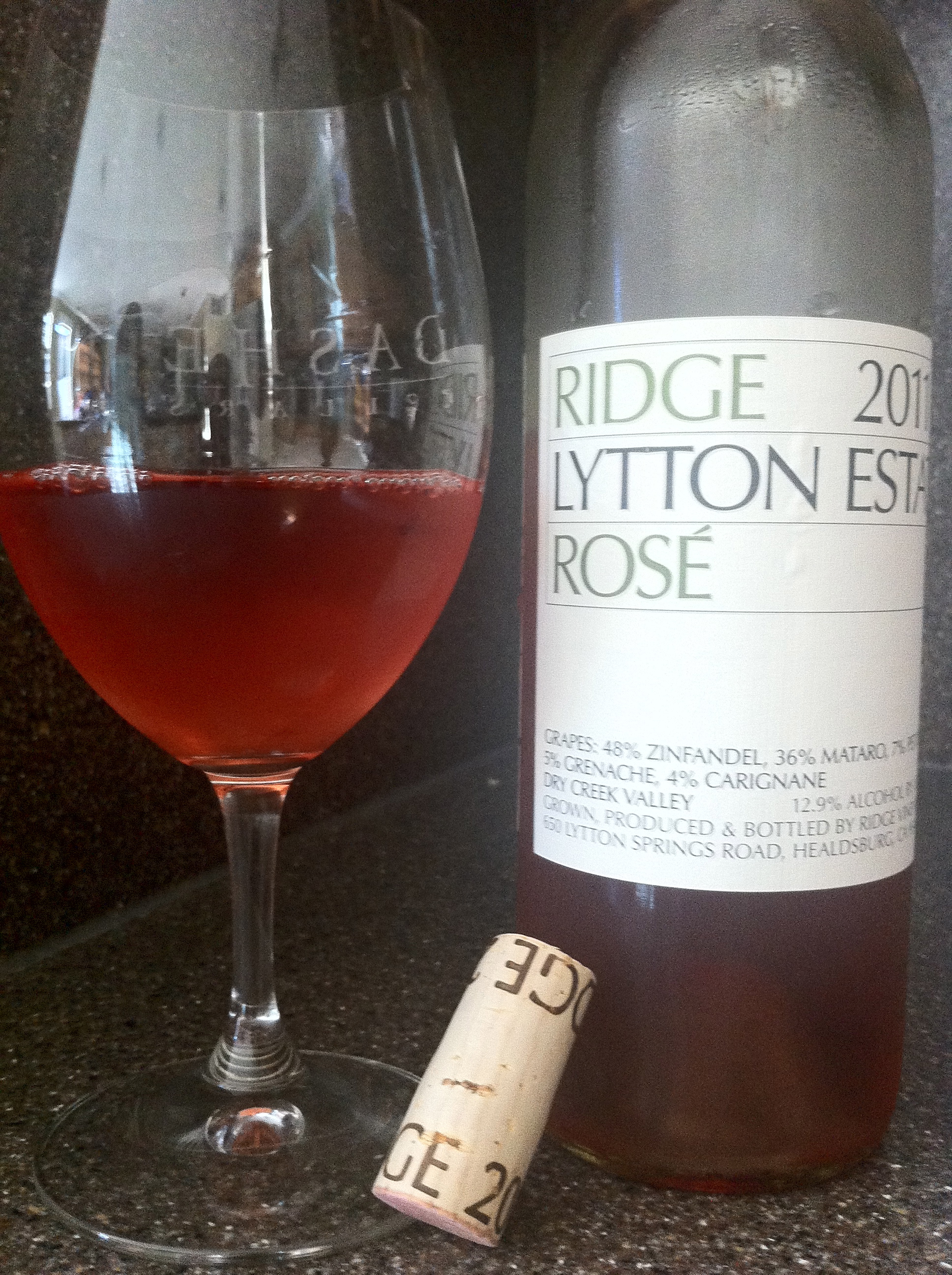 My tasting notes follow:
Light-red pink color with a distinctive lovely orange hue with cherry, citrus and watermelon aromas. On the palate, it approaches medium-bodied, and is dry, and well-structured. It shows a zippy acidity with vibrant fruit flavors of cherry, watermelon along with hints of citrus and spice. An outstanding Rose. Medium finish.- 90pts
Recommendation: Highly Recommended.  From time to time, a wine induce one to savor its flavors and/or aromas long the bottle has been finished.  This was one of those wines for me!
Details:
Alcohol: 12.9% alcohol.
Closure: Cork closure.
AVA: Dry Creek Valley.
Varietal(s): 48% Zinfandel, 36% Mataro, 7% Petite Sirah, 5% Grenache, 4% Carignane.
Production: 3 Barrels produced
Media Sample
Related articles