Domaine Carneros was founded in 1987 by Champagne Taittinger of France in partnership with Kobrand Corporation. It is located in the heart of Carneros in Napa Valley, along with Gloria Ferrer. The Carneros terroir is ideally suited to producing Chardonnay,and Pinot Noir, typically the backbone of both Champagne, and California Sparkling wine. Domaine Carneros sources 95% of their fruit from organic estate vineyards, and all of their wines are labeled with the Carneros appellation.  Eileen Crane is the winery's first and only sparkling winemaker.
Domaine Carneros is housed in a beautiful Chateau that was built in 1988. The building was inspired by historic Chateau de la Marquetterie in Champagne France, which is the estate home of the Taittinger family.
According to Domaine Carneros:
Ultra Brut is considered a specialty style, very little is produced either nationally or internationally. It is a more contemplative wine and most often appeals to the true sparkling wine aficionado…It is very dry It enlivens and refreshes the palate, stimulating the appetite for the pleasures of the meal ahead.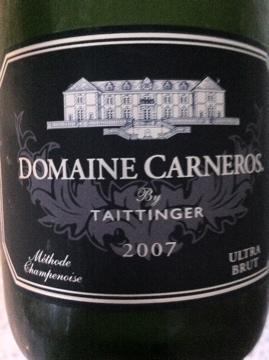 2007 Domaine Carneros Ultra Brut
Where it's from: California>Napa Valley>Carneros
The grape(s) Pinot Noir (60%), and Chardonnay (40%)
Production method: Traditional Method 
Alcohol: 12.95%
Dosage: 0.5%
 Retail: $39
My tasting notes follow:
Very light straw color with persistent tiny bead of bubbles and toasty stone fruit aromas. On the palate, very dry, approaching medium-bodied with a creamy mousse and pear, and citrus peel flavors. Medium-long finish. – 90pts
Pair with: The beauty of sparkling wines is their versatility with food, because of their palate cleansing quality (think scrubbing bubbles;-). This one would be wonderful as an aperitif , and with shellfish, smoked fish, or raw oysters.  I had it with raw oysters and it was an outstanding pairing!
Recommendation: Recommended.
Cheers!