This week's bubbly is another Cava.  I purchased this from my go-to wine store, K&L Wine Merchants ( based on my quick check of  Wine Searcher.com, K&L is the only place you can purchase this wine).  It was designated as a "Top Pick", and  rated 91pts by the Wine Advocate, so I was curious.
The producer is El Xamfrá, which was founded in 1987 by Francisco Domínguez and his wife Antonia Ruiz in the center of the town Sant Sadurní d'Anoia, which is referred to as "the heart of the Cava".
For the uninitiated, here's a quick 411 on Cava..
Unlike Champagne, Cava isn't from a particular region in Spain, rather it's a term used for Spanish sparklers made in the traditional method (known as Méthode Champenoise) used in France.  While there are some other regions in Spain that also make Cava,  about 95% of the production  comes from the traditional home of Cava, the Penedes region in Catalunya (a.k.a. Catalonia)  The basic rules for making wines that may be called Cava are:
Must be made in the traditional method.
Must age on lees in the bottle in which it will be sold for a minimum of 9 months, 18 months for Reservas and 24 months for Gran Reservas.
All the grapes used must be white grapes – the 3 most common being Macabeo (a.k.a. Viura), Parellada (pronounced pa-re-yada), and Xarel.lo (pronounced cha-rel-low) – unless you are making a Rose, in which case certain red grapes are permitted
It's interesting that this wine is not labeled as a Reserva because according to the El Xamfrá website, it was aged for 18 months.  I also found it interesting that this wine has no dosage, which means there is no added sugar. So it's very dry.  I must also add this bottle has one of the prettiest labels I've seen!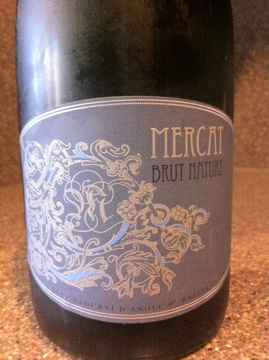 Where it's from: Spain>Catalunya>Cava
The grape(s) Macabeo, Xarel-lo, and Parellada
Production method: Traditional Method 
Alcohol: 11.5%
Dosage: 0.3 grams/l residual sugar
 Retail: $15
My tasting notes follow:
Pale straw yellow color with lot of bubbles, and floral, stone fruit, citrus and slight sweet yeast aromas. On the palate, it has a surprisingly explosive, yet soft mousse, and approaches medium-bodied with stone fruit, citrus, and toasted nut flavors.  Medium finish. 11.5% alcohol.
Pair with: The beauty of sparkling wines is their versatility with food, because of their palate cleansing quality (think scrubbing bubbles;-). I think this one would be pleasant as a sipper, but it's also good with food.   I enjoyed this with a Chicken Burrito rather than a beer, and it was quite good!  It would be nice with a salad, especially one with a citrus based dressing because of its citrus flavors.  This would also make be a great bubbly for a picnic, or with other light summertime fare.
Recommendation:  I'll be buying more this.  I highly recommend!
Related articles