This post is an "update" in that I blogged about the 2007 Raventos i Blanc Cava L'Hereu Reserva Brut last year (see below for link).  That vintage also made my "Top 10 Sparkling Wines Under $20" list.  So how's the 2008 vintage?  Before I get to that, now that I'm a Cava convert here's the 411 on Cava.
Unlike Champagne, Cava isn't from a particular region in Spain, rather it's a term used for Spanish sparklers made in the traditional method (known as Méthode Champenoise) used in France.  While there are some other regions in Spain that also make Cava,  about 95% of the production  comes from the traditional home of Cava, the Penedes region in Catalunya (a.k.a. Catalonia)  The basic rules for making wines that may be called Cava are:
Must be made in the traditional method.
Must age on lees in the bottle in which it will be sold for a minimum of 9 months, 18 months for Reservas and 24 months for Gran Reservas.
All the grapes used must be white grapes – the 3 most common being Macabeo (a.k.a. Viura), Parellada (pronounced pa-re-yada), and Xarel.lo (pronounced cha-rel-low) – unless you are making a Rose, in which case certain red grapes are permitted.
The producer of this sparkler, Raventós i Blanc, is the only Cava producer to estate grow (on about 200 acres of land that has been in the family since 1497!) and bottle all their wines.  Their Cavas are all vintage dated, which also sets them apart.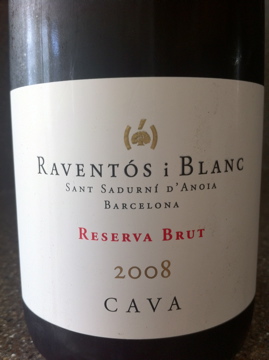 2008 Raventos i Blanc Cava "L'Hereu Reserva Brut
Region: Spain>Catalunya>Cava
Variety – 60% Macabeo, 20% Xarel.lo, 120% Parrellada
Residual Sugar – 8g/Liter
$20, 12% a.b.v.
Production method: Traditional Method;
My tasting notes follow:
Very light straw yellow color with plenty of tiny bubbles, and yeast, green apple, and mineral aromas. On the palate, it shows a wonderfully creamy mousse uncommon at this price point.  It is dry, refined, and approaches medium-bodied with apple, mineral and a hint on citrus flavors. Medium finish – 90pts
Pair with: The beauty of sparkling wines is their versatility with food because of their crisp acidity, and effervescence (think scrubbing bubbles)  This paired surprisingly well with one of my favorite ethnic foods , Jerk Chicken with Red Beans and Rice, and Fried Plantains.  When I took a bite of the spicy Jerk Chicken, et al , and took a sip of the Cava, it became ever so slightly sweeter in my mouth.  Then the acidity and effervescence cleansed my palate and invited me to take another bite!
Recommendation: So far, this is my favorite Cava.  It cost $20, and easily drinks like many $40 sparklers I've enjoyed in terms of complexity and refinement (including some entry-level Champagne)  I highly recommend! Click here to find this wine, or the 2009 vintage, which is currently available.
Related articles