Now that Memorial Day weekend upon us.  And it's widely considered to be the unofficial beginning of summer.  And summer is primetime for picnics….well you get the picture.  Here's a list of the types of wines that will be a good match for picnic fare, along with some recommendations to get you started!
12 Most Picnic Friendly Wines
After a couple of weeks of much-needed rain, Spring is finally getting "Spring—ish" here in Northern California. For the first time this year, temperatures in the 80s are being forecast and my thoughts have turned to warm temperatures and al fresco dining, especially picnics.
Picnic wines are different than BBQ wines. BBQ is all about bold and spicy flavors, whereas picnic foods compose a broader range of lighter foods like salads of all kinds, cold fried chicken, charcuterie, cheeses, ripe fruits etc., mostly served cold.
Great picnic wines are 1) Light and refreshing, 2) A good match for a variety of foods, and 3) Inexpensive ($20 or less).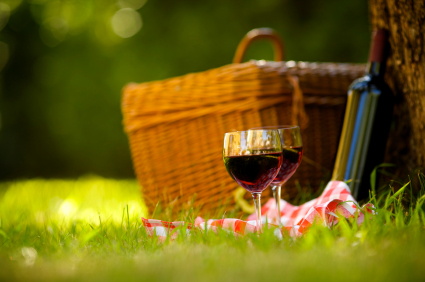 1. Rosé
A dry Rosé would be my first choice. Rosé combines the best of white and red wines, while maintaining their own unique charm. They possess the crisp acidity, delicacy and freshness of white wines, and the body, and flavors of red wines. Look for Bodegas Muga Rosado.
2. Cava
Cava is perfect for picnics. It's produced using the traditional style Champagne method, which can lend a bit of complexity to it. And bubbly will add that extra celebratory feel to your picnic. Here's another advantage of sparkling wines — Forget the corkscrew? — No problem with sparklers!! I recommend Segura Viudas Gran Reserva Cava.
3. Rose Sparkling Wine
For some vinous synergy, go with a Sparkling Rose wine. They go with virtually anything you serve for your picnic. I recommend Mumm Napa Brut Rose.
4. Vinho Verde
Vinho Verde is a wine from Portugal. Vinho Verde isn't a grape variety. While it literally means 'green wine", it translates into "young wine" – as in it's meant to be consumed within a year of bottling. It's made in white, red, and rose styles. Vinho Verde has a hint of effervescence which is further enhances its refreshing qualities. Go with either a white or rose Vinho Verde. Look for Quinta de Aveleda.
5. Torrontés
Wine made from this grape (Argentina's only truly indigenous grape) produces a juicy fragrant wine with citrus pineapple and spice flavors. This would be a great match for a seafood, or spicy Asian salad. I recommend the Bodegas Colome Torrontés Estate.
6. Riesling
It's probably the most food-friendly white wine. Choose either a dry or off-dry (slightly sweet) style. Look for Chateau Ste. Michelle Columbia Valley Riesling.
7. Chardonnay
Look for a lighter style, either an un-oaked or a lightly-oaked, chardonnay because it will be a better match for a broader range of foods than the heavily oaked style. I recommend Joseph Drouhin Macon Villages.
8. Sauvignon Blanc
This is a classic picnic wine because it's fresh and crisp, with a citrusy flavor profile and lively acidity. It's a great match for goat cheese! Look for Casa Lapostolle Sauvignon Blanc from Chile.
9. Moscato
If your taste in wine leans toward the sweeter side, try Moscato. It's like summertime in a glass with its fruity orange blossom, tropical, citrus, or melon aromas and a touch of effervescence. If you've got something spicy in your picnic basket, the sweetness will tame the heat. The best are from Italy. I recommend Martini and Rossi Moscato d'Asti.
10. Albariño
Albariño is a refreshing light, juicy and aromatic Spanish wine. I like it because, along with some citrus, it brings melon or peach to the party. Look for Burgans Albariño Rias Baixas.
11. Pinot Noir
Pinot Noir, a.k.a. the "Chef's wine" is so named because it goes with such a wide range of foods. It's also a red wine that takes a bit of a chill well (put it in an ice/water bath in your cooler for 10-15 minutes) if the alcohol level is not too high (preferably below 14%). It'd be great with anything with mushrooms. Look for 2008 Gloria Ferrer Pinot Noir.
12. Sangria
For a bit of home-made flavor, make your own sangria. It's easy to make and can be made with either red, or white wine. Sangria is a great way to capitalize on the bounty of fresh fruits coming into season — and make sangria that's all your own! Click here for some recipes.
Happy picnicking! What are your favorite picnic wines?
This article was previously featured on 12 Most and is republished, by the author Martin Redmond


Related articles