My wine of the week for May 19-May 25 is the 2007 Breggo Cellars Syrah
The Winery
Breggo Cellars is located in the City of Booneville in Anderson Valley AVA, which is north (about 70 miles) of Napa Valley in Mendocino County.  It is owned by Cliff Lede (pronounced "LAY-dee") of the Cliff Lede Vineyards and Poetry Inn in Napa Valley, where Lede has been very successful producing Bordeaux varietal wines.
As the saying goes "Great wine starts in the vineyard".  And a great vineyard, start with having the grape varietal best suited for the location of the vineyard.  Breggo is focused on varietals that do well in cool climate Anderson Valley – Pinot Noir, Chardonnay, Gewürztraminer, Pinot Gris, and Syrah.
The Wine
I purchased this wine at the Cliff Lede last year.  This is a "cool climate" Syrah.  So what's the difference between a "cool climate", and a "warm climate" Syrah?  Generally speaking, Syrah grown in warm climate locations ripens more easily, and will showcase riper (perhaps jammy) fruit flavors like blueberry, black-cherry and raspberry.Warm climate Syrah often have higher alcohol, owing to the higher sugar levels associated with easier ripening.  It's that higher alcohol that can give the wine the perception of being more full-bodied.  On the other hand, cool-climate Syrah tends to be lower in sugar and higher in acidity since ripening can be more challenging.  They tend to be more aromatic, showing more red fruit flavors as cherries, plums, along with peppery notes.  Cool climate wines also tend to manifest a more restrained (lighter-bodied) style.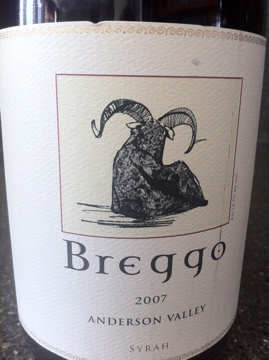 My tasting notes follow:
Medium garnet color with lifted aromas of dark mixed berries, oak, cloves, smoked meat, and minerals. On the palate it's medium-bodied, focused and well-balanced with nervy acidity, supple tannins, and mixed dark berries, cassis, and sweet mineral flavors. Long finish. 13.7% alcohol. A cool climate Syrah that's drinking beautifully!
Recommendation:  This is an excellent Syrah, and definitely worth seeking out, if can find it (Breggo doesn't make this wine anymore – Their current Syrah offering is the single vineyard Alder Springs Vineyard Syrah – Suggested Retail – $55).
Hmmm…It's been a couple of years since I've been up to Anderson Valley…I think it's time another visit, and Breggo is on my list!
Details:  13.7% alcohol.  Cork closure.  AVA: Anderson Valley. Varietal: Syrah. Suggested Retail – $30 USD
Related articles