My wine of the week for May 5-May 11  is the 2009 Ridge Buchignani Ranch Carignane
The Winery
Ridge Vineyards  is a California winery with two estates, Monte Bello in Cupertino, and Lytton Springs in Healdsburg.  They are best known for producing single-vineyard premium Bordeaux style Cabernet Sauvignon Blend ("Monte Bello"), Zinfandels, and Chardonnay.  Ridge was established by three engineers from nearby Stanford Research Institute (SRI).  They produced its first commercial wine in 1962 after purchasing the winery in  1960.
It wasn't too long after that Ridge gained an international  rep when the  Ridge Monte Bello, under the direction of winemaker Paul Draper , took fifth place in the "Judgment of Paris" in 1976 against nine other French and California wines.  Here's what's really cool though, the 1976 Monte Bello unanimously took first place in The Judgment of Paris 30th Anniversary when it was tasted against the same wines thirty years later!
I came to know Ridge, when I naively when to the Monte Bello estate hoping to taste the 2005 Ridge Santa Cruz Mountains Chardonnay after reading it was the #2 wine in the 2007 Wine Spectator Top 100 list.  It was long gone.  But the other wines I tasted blew me away.  Every wine I tasted was balanced and elegant.  It's not too often I go to a winery and every wine I taste gets an "A"!
The Wine
This wine is 100% "old vine" Carignane.  Carignane is not a grape varietal you find very often as a single varietal bottling.  That's because it's mostly used a blending grape (often with Syrah, and Cinsault) for its color,  and acidity.   It's that acidity, along with its tannins that give Carignane a reputation for being a challenging grape to work with for winemakers.
Ridge first produced its varietal bottling of Carignane in 1999.  The grapes for this wine were sourced from Buchignani Ranch, which is located in Dry Creek Valley in Sonoma County, an area renown for Zinfandel.  The vines are from 5 acres planted in 1927, 7 acres planted in the 40's, and 4 acres planted in 1952.  All the grapes were hand harvested , fermented on native yeasts and aged 12 months in 100% air-dried American Oak (5% new, 35% 1-2 years old, and 60% 3 years old).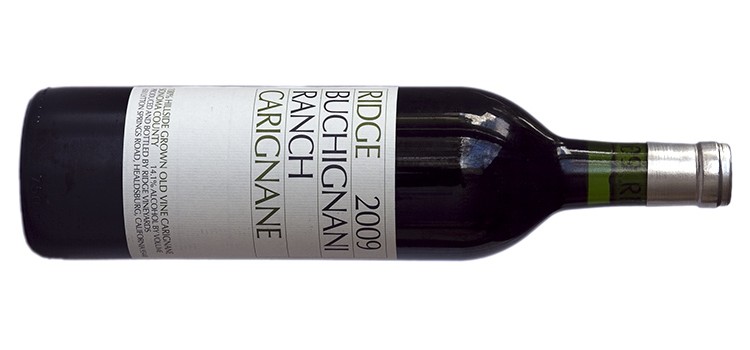 Cost: $26 Retail
Alcohol: 14.1%
My tasting notes follow:
Deep almost inky purple violet color with aromatic earthy, black fruit, and floral aromas. On the palate, it's medium-bodied with well-behaved tannins and blackberry, black currant, and vanilla flavors, and a lengthy finish. 100% Old Vine Carignane. This is a very nice value at $26! – 91pts
Pairing with food
Pair with foods that traditionally work well with medium/heavy bodied red wines, like Syrah, or Cabernet Sauvignon.  Such wines work with fatty dishes because the tannins and acidity "cut" through the fat, and "weight" of the dish.  I think this wine would be fantastic with a charcuterie platter, beef stew,  jambalaya, a hearty chili or BBQ.
Related articles