Well it turns out there's a competition for that!  The most recent edition was the 18th Annual 2012 Pacific Coast Oyster Competition.  Are you kidding me?  They've done this 17 times before this year and I just found out?!;-)
Here's what the website says…
Traditionally, restaurateurs have looked to France for wines like Muscadet and Chablis to accompany oysters on the half shell. There aren't many wines that work with oysters but when one does…bingo!…it's a beautiful thing. In a unique wine competition where judges taste each wine with at least one oyster and then rate the "bliss factor", 25 top food and wine experts have selected 10 West Coast wines for prestigious "Oyster Awards"…Each wine is blind tasted with at least one Kumamoto oyster. The judge first smells and then chews the oyster well, then smells and tastes the wine, then rates the "bliss factor", the wine's affinity for the oyster
I think tasting the oyster first is a subtle but important point because otherwise, the judge could fall in love with the wine, and not the oyster and the wine together.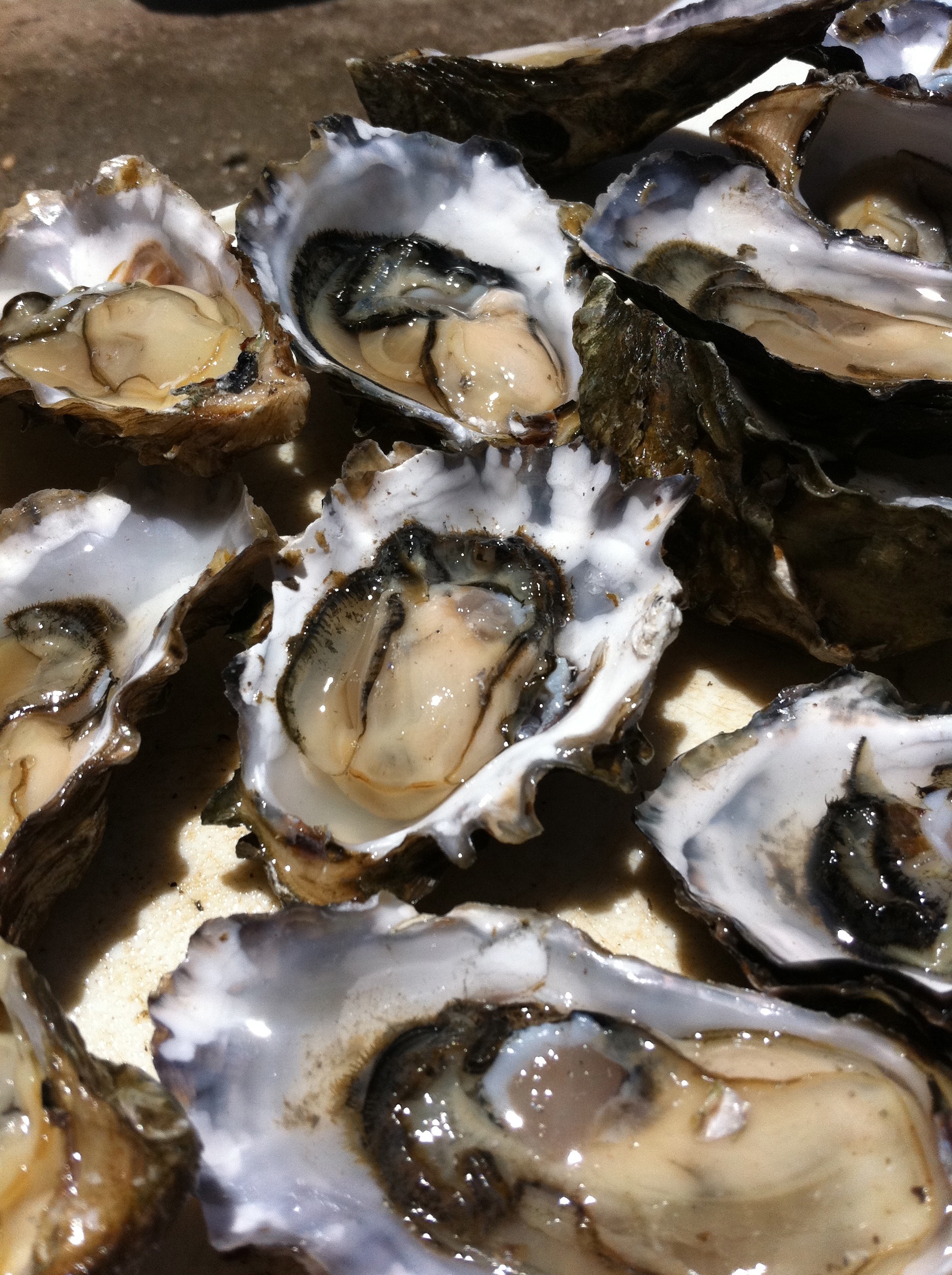 Here's a list of the 2012 winners (listed alphabetically) from the website, which were announced April 30, 2012 (click here for full press release):
Brandborg Wines 2010 Pinot Gris (OR) – $16
**Cedergreen Cellars 2010 Sauvignon Blanc (WA) – $14
**Dry Creek Vineyard 2011 Dry Chenin Blanc (CA) – $12
**Foris Vineyard Winery 2010 Pinot Blanc (OR) – $14
**Hogue Cellars 2010 Pinot Grigio (WA)  – $11
Kenwood Vineyards 2011 Pinot Gris, Russian River (CA) – $16
**Kenwood Vineyards 2011 Sauvignon Blanc – (CA) – $12
Millbrandt Vineyards 2010 Traditions Pinot Gris (WA) – $13
Sockeye 2010 Pinot Gris (WA) – $10
**Van Duzer Vineyards 2011 Pinot Gris (OR) – $17
**Prior Multiple Oyster Award Winner 
What I found interesting about this list is that it's dominated by Pinot Gris, a wine that isn't admittedly "top of mind" when it comes to oyster and wine pairings.  Top of mind for me are Muscadet, and sparkling wines (see my post below).  But that's one of the things I enjoy about the drinking wine – keeping my mind open to trying new wines, and combinations of wines and foods I enjoy!  As good fortune would have it, we're planning an outing to the Tomales Bay Oyster Company next month.  I'll try to find one of the winners and report back!
It's also good to know the wine aren't expensive.   The most you'll spend on one of the winners is $17 (although it seems as if the competition is oriented toward restaurateurs, which means you'll probably pay at least twice as much as the prices listed above for a bottle – I shutter to think about the per glass price).
What wine(s) do you like with oysters?
I leave you with this quote from Ernest Hemingway..
As I ate the oysters with their strong taste of the sea and their faint metallic taste that the cold white wine washed away, leaving only the sea taste and the succulent texture, and as I drank their liquid from each shell and washed it down with the crisp taste of the wine, I lost the empty feeling and began to be happy and to make plans.

A Moveable Feast , Ernest Hemingway
That my friends, sounds like a plan to me!
Related articles