This edition of Wine Blogging Wednesday – Return of the Barossa Boomerang, provides me with a bit of an opportunity for a reunion.  The very first Australian wine I tried when started to seriously explore the world of wine outside of California was the 2007 Schild Shiraz Barossa. I remember it well.  At the time, I purchased it because it was #43 on the Wine Spectator Top 100 list for 2009.  I was a bit surprised to see it there because it was $20.  It was an excellent introduction to Aussie Shiraz.  Since then, I've had precious little Australian wine.  It wasn't that I was influenced by my fellow American consumers, who exited the Aussie wine market en masse.  Rather, it's because I generally prefer to "try before I buy", and living in Northern California, within striking distance of Napa, Sonoma, Santa Cruz Mountains,  Livermore, Lodi, and quite a few urban wineries even closer than the aforementioned renowned wine regions, there is a plethora of wines I can "try before I buy".
My wine  of choice is the 2010 Schild Estate "GMS" (a little help here from my wino friends in the know – is the proper pronunciation of "Schild" rhyme with "child", or sound like "shield"?).  And since I'm asking questions, it didn't escape me my attention that Schild refers to this wine as a "GMS", rather than the traditional "GSM".  Can it be that the logic of labeling the wine in descending order of the grapes in the blend has trumped tradition? Inquiring minds want to know!
The Winery
Schild Estate (which has the tag-line "Pure Barossa" on their website) was founded in 1952 by Ben and Alma Schild.  Sadly Ben died in 1956, and thereafter the winery was run by Ed, the only son, who was only 16 years old.  The winery has grown steadily over the years, and today they have about 400 acres under vine, including  a small patch of 160 year old Shiraz vines which produces the their limited production Moorooroo Shiraz.  They produce about 50,000 cases of wine annually.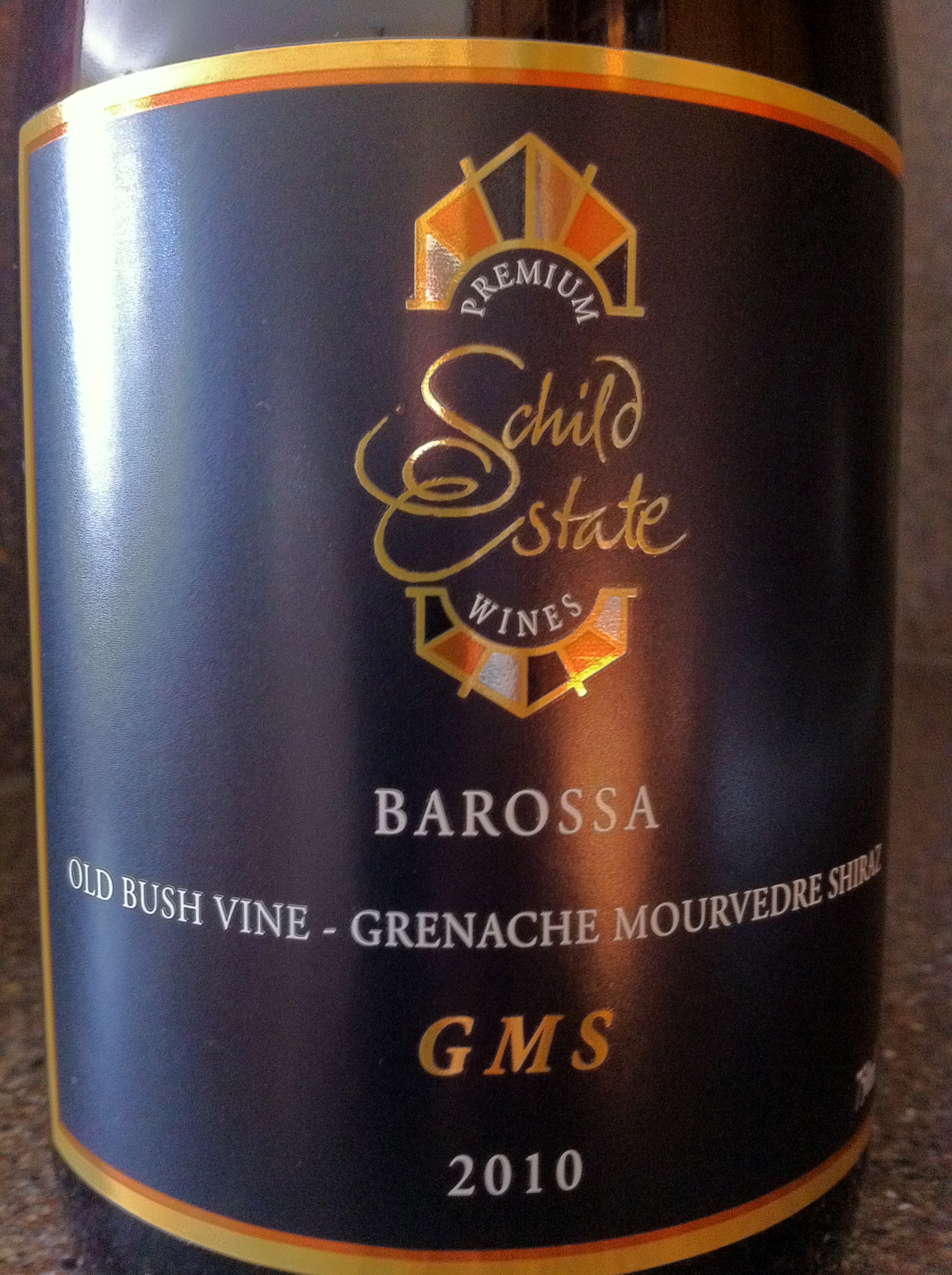 The Wine
A classic blend of Grenache, Mourvedre and Shiraz harvested from vines with an average age of 70 years.  The wine sees no oak.   My tasting notes follow:
Dark ruby color with aromatic cherry, spice and slight meaty aromas. On the palate full-bodied, supple, and smooth with nicely balanced fruit and acidity, with cherry, black raspberry, and plum flavors and a lengthy finish. Blend of 55% Grenache, 25% Mourvedre and 20% Shiraz.  14.1% a.b.v.  Drink now to 2016. Very nice value at $15!
It was a very good reunion!  I will certainly keep Schild on my, right now, short list of Aussie wines I'd buy again (along with Taltarni Brut Taché – an excellent value sparkling Rosé-style wine from Victoria).  Besides being very good, most Aussie wines offer crazy good value!