It's Prosecco for my weekly bubbly tasting this week.  I picked this up on a whim from K&L Wine Merchants.  The price was certainly right at $8.99, and it had quite a few favorable staff reviews. And I've had good success with wines from K&L  that had at least 5 favorable staff reviews.  Here's one of the reviews from the K&L Wine Blog:
"This is the perfect party Prosecco! I poured this at one of our local events. It was a hit! I kept the price to myself until they tried it. Every single person was shocked that something so good could be so affordable!! Bring some to your next party and watch it disappear."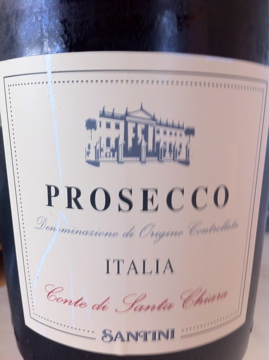 NV Conte di Santa Chiara Prosecco
Where it's from: Italy
The grape(s) Glera
Production method: Methodo Italiano (Charmat Bulk)
Alcohol: 11% Retail: $9 
My tasting notes follow:
Very light straw color with a good amount of bubbles that persisted longer than most Proseccos with fruity stone fruit and flora aromas. On the palate it's light bodied, with a surprisingly soft mousse. It's crisp and dry while maintaining some nice fruit flavors of white peach, nuanced apricot, and apples. Short finish. Great QPR! – 86pts
Pair with: The beauty of sparkling wines is their versatility with food, because of their palate cleansing quality (think scrubbing bubbles;-). This one would make a very good aperitif, or to take along on a picnic!
I enjoyed this. It's a nice value play.  I'd buy again if it was available.  When I checked at K&L it was wait listed!
Related articles