My wine of the week for April 7-April 13 is the 2005 Rosenblum Cellars Syrah Reserve Kick Ranch.
The Winery
Rosenblum Cellars is an urban winery in Alameda, CA.  It was founded by Kent Rosenblum, a veterinarian in 1978.  In 2008 it was sold to beverage giant Diageo.   Rosenblum made their reputation making premium Zinfandel, but they also make Rhone varietals.  Their 2003  Rockpile Road Zinfandel was the #3 wine in the Wine Spectator Top 100 wines of 2005.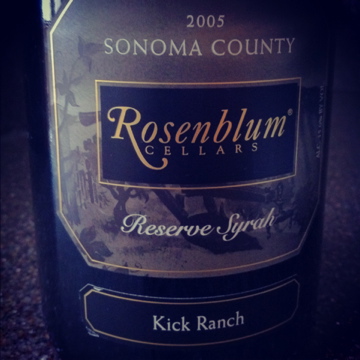 The Wine
Syrah is on the rise.  I think that's a good thing.  I actually prefer to Syrah to Cabernet Sauvignon because it's a more versatile food pairing partner.  I'm oversimplifying  a bit, but bear with me. Generally speaking Syrah comes in two styles "cool climate", and "warm climate".  Warm climate Syrah tends to be more lush, with higher alcohol, and blackberry, plum flavors.  That style tends to be more popular with the average consumer.  On the other hand cool climate Syrah tends tobe lower in alcohol with more red fruit, mineral, and spicy aromas and flavors.  They tend to be preferred by more serious wine aficionados.  Of course, it's all about what you as a consumer like.  I point this out because it may help you decide which style you prefer.
This wine comes from a cool climate vineyard.  The Kick Ranch vineyard located in Santa Rosa is located at the western foot of Spring Mountain.  It's considered "cool climate" because even though it receives plenty of sun, in the evenings the vineyard is cooled by fog and breezes that come in from the Pacific Ocean through the Petaluma Gap.  According to KickRanch.com.."We devote 16 acres to 4 special clones of Syrah brought in from vine cuttings from the Northern Rhone. In the Northern Rhone appellations of Hermitage and Côte-Rotie, syrah produces wines of phenomenal elegance and longevity"
Event though the wine comes from a cool climate vineyard, it straddles the line between a cool climate Syrah and a warm climate Syrah in that it's significantly north of 15% alcohol. It had just enough lushness of a warm climate Syrah, along with the complexity associated with a cooler climate Syrah for me.
There were 494 cases of this wine produced.  My tasting notes follow:
Opaque purple-red color with dark fruits, including cassis and smoked meat aromas. On the palate full-bodied, balanced, intense, yet refined with black cherry, cassis, and a bit of plum and vanilla spice flavors. Long finish. Drinking quite well! 
Pairing with food
I very much enjoyed this with a marinated rack of lamb for Easter.  Syrah tends to be a versatile food pairing partner.  This would also be wonderful with prime rib, jambalaya, pork or even chili.
Related articles you might like