This week's bubbly is a Rosé Champagne produced by Champagne Charles de Cazanove.  It's a brand with which I was not familiar until I did a post on their Brut Premier Cru Champagne a couple of weeks ago.  They have a rich history.  The house was founded in 1811 by Charles Gabriel de Cazanove.  However it was his son Charles Nicolas de Cazanove that contributed most to the growth of the brand.  They are the #2 selling brand in France behind Nicolas Feuillate.  They offer a full rangeof Champagne.  This bottling is one of five in their entry-level "Tradition Père & Fil" range. Sometimes a wine make a first impression then fades as you spend more time with it.  Sometimes, the last sip is the same as the first in terms of how you feel about it.  And sometime a wine grows on you with each sip.  This was one of those wines for me.  I enjoyed it more with each sip.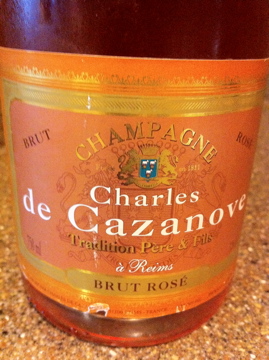 NV Charles de Cazanove Champagne Brut Rosé
Where it's from: France> Champagne
The grape(s) Pinot Noir (75%); Pinot Meunier (15%); Chardonnay (10%)
Production method: Méthode Champenoise; Aged about 3 years on lees
Alcohol: 12% Retail: $35 
My tasting notes follow:
Pink with an orange hue color with a steady bead of pin-prick bubbles and fruity candied cherry and subtle yeast aromas. Medium bodied with a soft mousse, good balance and cherry, mandarin orange, and a hint of baking spice  flavors. Medium finish. 75% Pinot Noir, 15% Meunier and 10% Chardonnay – 90pts
Pair with: The beauty of sparkling wines is their versatility with food, because of their palate cleansing quality (think scrubbing bubbles;-). This one would make a very good aperitif, especially with mixed charcuterie.  Believe it or not, I had this with Jerk-Spiced Baby Back Ribs from B Side BBQ, and it was a very good match!  Since it's medium-bodied it will fare well with a variety of dishes.
I really enjoyed this.  It was outstanding! You could easily spend a lot more on a Rosé Champagne.  This is a very good value at $35.  I highly recommend!  If you're looking for an impressive bottle of Rosé Champagne that won't break the bank for a hostess/host gift, or (dare I say it) an excellent V-Day Champagne, check this one out! (Click here to find this wine)
Related articles you might like