My wine of the week for March 31-April 6 is the 2008 JC Cellars Marsanne Stagecoach Vineyard.
The Winery
JC Cellars is an urban winery in Oakland, CA.  Jeff Cohn is the winemaker and president.   The winery, primarily focused on Rhône varietals and Zinfandel, was founded in 1996.  I think it's fair to say Jeff likes to "tinker".  He's releasing a Pinot Noir in the summer, and sells a Viognier that is a collaboration with a French winery –  Domaine François Villard of Condrieu.  They produce about 5000 cases annually.
The Wine
Marsanne is one of classic white Rhône varietals.  It is believed to have originated in the town of the same name in the northern Rhône Valley.  It is a "workhorse" grape that more often than not is blended with other grapes (Rousanne, and Grenache Blanc) to produce a blend.  It produces wines with distinct mineral and melon flavors, and low to moderate acidity.  This wine is 100% Marsanne sourced from a single vineyard, the Stagecoach Vineyard, located in Napa.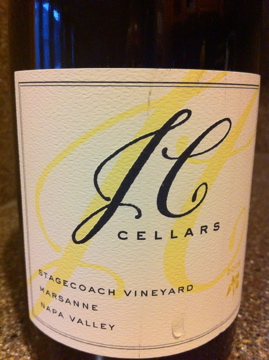 My tasting notes follow:
Pale gold color with slightly pungent, melon, honeysuckle, mineral aromas. On the palate viscous,buttery, medium-full bodied, and fruit forward with tropical fruit, melon, honey, mineral and spice flavors. Great alternative to Chard! Medium-long finish. 15.2% Alcohol.
Pairing with food
I very much enjoyed this with seafood lasagna with crab, lobster, and shrimp in a creamy white sauce.  The richness of the wine was a nice compliment to the richness of the lasagna.  It would be a good match for crab, lobster, and shrimp on a stand-alone basis too!  I can tell you it's great with cracked crab!
Related articles