This week's sparkler is from Scharffenberger Cellars.  I don't know about you, but I was more familiar with the Scharffenberger name through Scharffen Berger Chocolate Maker, than Scharffenberger Cellars.   John Scharffenberger founded both.  Scharffenberger Cellars was established in 1981 in Anderson Valley.  It's been through a few transitions, including being called Pacific Echo from 1998 through July 2004. The name has been restored back to Scharffenberger Cellars under the management of Maisons Marques & Domaines, the U.S. sales and marketing arm for Champagne Louis Roederer and its California winery, Roederer Estate (which also happens to be located in Anderson Valley. They're about 5 miles apart).  Scharffenberger later, along with Robert Steinberg, established Scharffen Berger Chocolate Maker in 1996.
As a mostly irrelevant aside…Scharffen Berger chocolates is one of my all time favorite chocolate makers (I'm giving up chocolate for Lent this year – but I have a Scharffen Berger Limited Edition Bên Tre Dark Chocolate Bar with my name on it waiting for me.  As I write this I'm seriously jonesing for it as I literally count down the hours until Easter – um…but I digress 😉  Yum…er Um…yes this is a wine blog.  On the bubbly!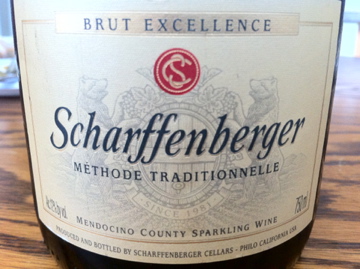 NV Scharffenberger Brut Excellence
Where it's from: USA>California> North Coast>Mendocino County
The grape(s) Chardonnay (67%), and Pinot Noir (33%)
Production method: Méthode Traditionelle; Aged about 2 years on lees
Alcohol: 12%
Retail: $19; I purchased for $16 at the Wine Mine 
My tasting notes follow:
Pale yellow-bold color with tiny bead of bubbles that dissipated somewhat quickly, and bread dough, faint apple aromas. On the palate it's light-medium bodied, with a moderately creamy mousse, and sweet fruity sweet apple, and lemon-lime flavors. Short finish. 
Pair with: The beauty of sparkling wines is their versatility with food, because of their palate cleansing quality (think scrubbing bubbles;-). This one would make an excellent aperitif, but would also be a good match with lighter foods like seafood, or  pasta or risotto dishes, especially those creamy sauces rather than tomato sauce.
This is a very good bubbly, and at $16 is a good value (and may be found for less).  It's comparable to other entry-level sparklers from Gloria Ferrer, Mumm, and Chandon. It's a bit more challenging to find, but worth seeking out. I'd buy again, especially if couldn't find one of the aforementioned sparklers on sale. (Click here to find this wine)
Related articles