My wine of the week for March 17-23 is the NV Contadi Castaldi Franciacorta Rosé.  Franciacorta, refers both to the territory, located in the Lombardy region of Italy, and the sparkling wine produced from grapes grown within the boundaries of the territory.  Since 1995, Franciacorta has had DOCG status, the highest echelon of Italian wine classifications, applied solely to the sparkling wines produced in the region.  Here's a quick rundown on the main regulations that come along with that DOCG status:
Franciacorta is the only region in Italy that requires sparkling wine be made by the traditional method ("metodo classico" in Italian)
Grapes are grown in strictly delimited vineyards from within 19 different communes
Permitted grapes are Chardonnay, Pinot Nero, and Pinot Bianco, with 85% planted Chardonnay, 10% to Pinot Nero, and 5% to Pinot Bianco
Non-vintage (NV) Franciacorta must aged at least 25 months after harvest, with at least 18 months in contact with the yeast in the bottle
Vintage Franciacorta must be aged at least 37 months after harvest, with a least 37 months in contact with yeast in the bottle
Franciacorta rosé must contain at least 15% Pinot Nero
Dosage levels(i.e., the level of sweetness) are exactly as they are in Champagne
You're probably pretty familiar with the most popular kinds of Italian bubbly (a.k.a "spumante" in Italian), Prosecco, and Asti Spumante, which are often described as alternatives to Champagne. Think of Franciacorta as Italy's answer to Champagne!  So while Prosecco and Asti are almost always produced using the less expensive Charmat bulk process, Franciacorta is produced using the same traditional method used in Champagne.
Here's an interesting factoid.  The producer of this wine, Contadi Castaldi, is the only winery to have vineyards in all 19 communes permitted to grow grapes for production of Franciacorta.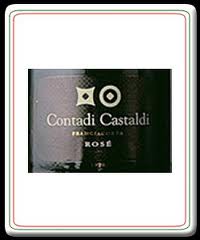 My tasting notes follow:
Beautiful copper color with steady bead of pin-prick bubbles, and brioche, fruity, fresh red fruit aromas. On the palate, it displays a creamy mousse, and is approaching medium-bodied with fresh strawberry, raspberry flavors, and a hint of spice flavors. Medium finish.  65% Chardonnay, and 35% Pinot Nero
It's always fun for me to try something new.  As I like to say, I'm very much still in the "promiscuous" phase of my oenophilic journey, and I'm glad I've had the pleasure of Franciacorta.  It's got me thinking of an Italian mènage à trois…Prosecco as an aperitif, Franciacorta for the entrée, and Asti for dessert.  That my friends will be bubblelicious!
Related articles