This week's bubbly is from Schramsberg. Schramsberg is Napa's second oldest winery (Charles Krug, established in 1861 was the first winery in Napa) according to Keith Hock, the winemaker.  It was established in 1862.
Schramsberg produced California's first Crémant in 40 years ago.   Crémant is French for "creamy" and traditionally referred to a wine with light effervescence (less carbon dioxide equals fewer bubbles), and lower bottle pressure.  Traditional Champagne, and other sparkling wines are bottled at 5-6 atmospheres, whereas this wine is bottled at 2-3 atmospheres. The lower pressure results in the wine having a creamier, softer feel in your mouth.  Crémant, in the traditional sense, made with less carbon dioxide and bottle pressure is relatively rare these days.  Nowadays crémant refers to a French sparkling wine made outside of the Champagne region (Loire, Burgundy, Languedoc-Roussillon, etc.).
Aside from the fact that this wine is intentionally produced at less pressure to create a creamy mouthfeel, the other thing I found interesting about it, is that it was produced using the Flora grape, a unique grape which is a cross of Semillon and Gewürztraminer developed at UC Davis.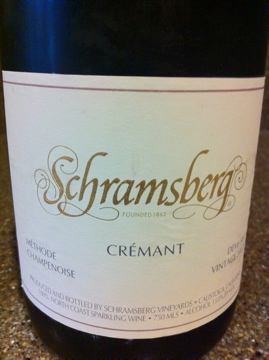 2007 Schramsberg Crémant Demi-Sec
Where its from: California>; North Coast (66% Napa, 17% Mendocino, 16% Sonoma, 1% Marin)
The grape(s) 67% Flora, 18% Chardonnay, 15% Gewürztraminer
Production method: Méthode Champenoise; Aged about 2 years on lees
Alcohol: 13%
Retail: $38 (Paid $30)
My tasting notes follow:
Pale gold color with a nice bead of tiny bubbles with fruity stone fruit aromas. On the palate it's creamy, medium-bodied with zesty acidity, and white peach, apricot, mango, and baking spice note flavors. Medium finish
Pair with: The beauty of sparkling wines is their versatility with food, because of their palate cleansing quality (think scrubbing bubbles;-). I enjoyed this with a couple of different desserts. It worked well with a plain cheesecake, but I thought it was even better with apple strudel. It would also be a good match for fruit tarts, light cakes, panna cotta, or crème brûlée. While the first thing that comes to mind for me is dessert, it would also work well with spicy Asian food, bleu cheeses or foie gras.
I heartily recommend! 89pts (Click here to find this wine)
Other articles you might like: