My wine of the week for March 10-16 is the 2001 R. López de Heredia Rioja Blanco Crianza Viña Gravonia.  Man that's a long name!  If you're not familiar with Spanish, let me break it down for you – "Rioja Blanco" means White wine from Rioja – "Crianza" refers to how long the wine is aged in accordance with Spanish labeling laws (more on that later), and "Viňa Gravonia" is the vineyard from which the grapes for this wine are sourced.
What's different about R. López de Heredia ("LdH") is that they are straight-up traditionalists!  The winery was founded in 1877, and is still family owned. They don't use chemicals, or machines in their vineyards.  But what really makes them old school is that they age their wines for an outrageously long time.  Take this wine for example, it was released last year after 4 years of barrel aging, followed by 6 years of bottle aging!  Since this wine is labeled as a "Crianza",  Spanish labeling laws require it be aged for at least 1 year with at least 6 months in oak.  So this wine is aged 10x longer than required…now that's old school!
Nowadays, single vineyard wines are fashionable.  LdH has been doing single vineyard wines for almost 100 years!  The four vineyards from which they source their grapes are Viňa Tondonia (the oldest -founded in 1913, and most famous), Viña Cubillo, Viña Bosconia, and Viňa Gravonia (a.k.a. Viňa Zaconia) the source of grapes for this wine.  Viňa Gravonia is located close to the winery on the banks of Ebro river on south-facing slopes with poor, rocky white soil.  The average age of the vines is 45 years, and the vineyard is all planted to Viura grapes.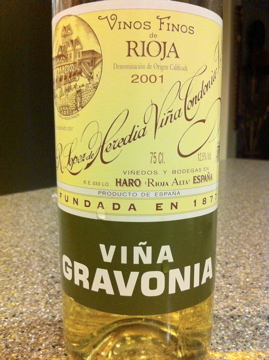 My tasting notes follow:
Pale gold color with complex aromas of beeswax, spiced apricot, citrus, and a hint of petrol. The palate follows the aromas in terms of complexity. The wine has a silky smooth, mesmerizing lanolin like texture, zesty acidity, and is very dry. It is medium-bodied, and slightly oxidative with tart lemon, apricot, and mineral flavors with a long finish. 100% Viura (a.k.a. Macabeo) from LdH's Viña Gravonia – 91pts
This wine is a very food friendly wine.  In fact, I don't think most folks will enjoy its own because of its slightly oxidative aromas and flavors, which are the result of the long aging.  But it's hard to beat with food.  It would be great with tapas, fish, and shellfish, risotto, salad, poultry, and of course paella.
This is an excellent wine, and at $25, it's a good value.  I wish I had more!
Other post you might like: