This week's sparkler is from Italy, and it is not Prosecco.  It is a Rosé from Sicily!  As if being a sparkling wine from Sicily isn't atypical enough in my mind, it is also produced from the Nerello Mascalese grape, with which I was not familiar.  I found this one when I went to a local wine shop called the Wine Mine.  The shop was recommended to me by my wine-loving friend Farah.  I wish I'd gone sooner!  We went for a weekly tasting of Spanish wines, but quickly discovered they have quite a selection of wines from around the world at very good prices!  I asked one of the shopkeepers for the "best sparkling rose under $20", and she recommended this one.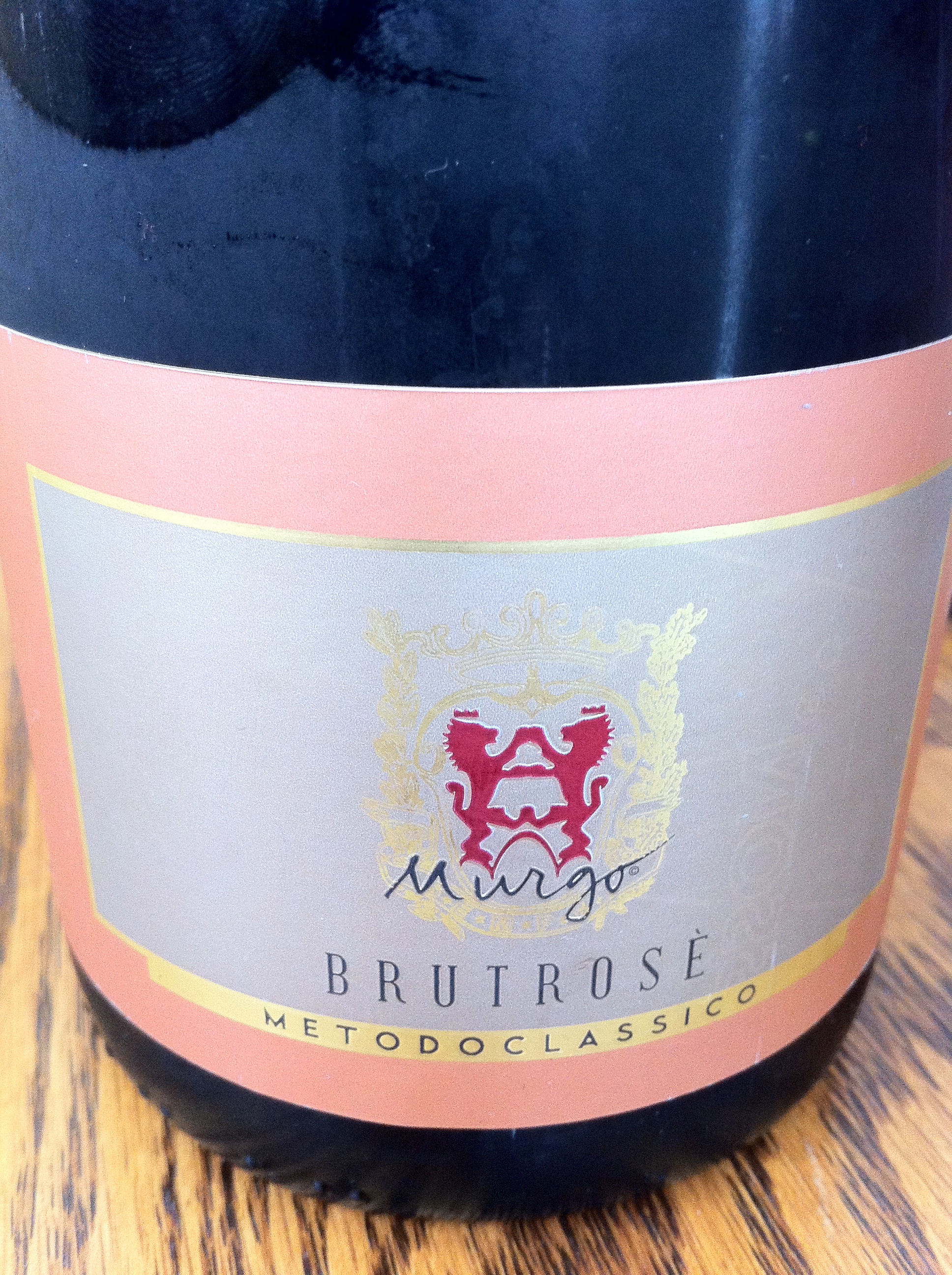 I found a couple of things interesting about this sparkler when compared to the more well-known Italian bubbly – Prosecco, and Asti Spumante.  First, with both Prosecco, and Spumante, it is recommended they be consumed within a couple of year of production.  This one is vintage dated, 2008 and I found it fresh, and lively.  The other thing I noticed is that it held on its bubbles much longer than the Prosecco I've had.  Both these facts lead me to believe it was produced in the "Methodo Classico", which is the Italian name for the classic French method.  In fact, this wine was matured in stainless steel vats for 8-9 months, then with yeast for 18-26 months. On the other hand Prosecco, and Asti Spumante are produced in what is called the Metodo Italiano(Charmat) process. With that process, while the wine is also matured in stainless steel vats, it is for a shorter period of time, and does not include any aging with yeast.  How the bubbly was made definitely shows in this Italian sparkler compared to others I've had.
2008 Murgo Brut Rose
Where it's from: Italy> Sicily
The grape(s)  Nerello Mascalese
$20 – Retail , 12.5% a.b.v.
Production method: Metodo Classico; 
My tasting notes follow:
Vivid pink red color with spiced strawberry, floral, and a hint of yeasty aromas. It has lots of dispersed, persistent pinprick bubbles. On the palate, it has a creamy mouthfeel, and is medium-bodied, and fresh with spiced strawberry, and a hint of citrus  flavors. Short finish. 
Pair with: The beauty of sparkling wines is their versatility with food, because of their palate cleansing quality (think scrubbing bubbles;-). This was very nice as an aperitif, and just as nice with food.  This would be a great picnic wine because it's so versatile!  It would also pair well seafood dishes.
I really enjoyed this, and it's got very good QPR at $20.  I will be buying more.  I highly recommend.  88pts