I attended the 6th annual Dark & Delicious ("D&D") last Friday.  D&D is an excellent opportunity to take a walk on the "dark side" for  Petite Sirah ("P.S" – a.k.a. "Pet".)and food lovers.  The event is put on by an advocacy group of P.S. winegrowers, and producers knowns as P.S. I Love You.  This year's event featured 58 wineries, and 36 food companies.  Petite Sirah tends not to be top of mind when it comes to red wine (or actually in the case of P.S., mostly inky purple-black wine) but for those of us who love P.S. this is the event of the year.
Here's a quick 411 on P.S.
Created by François Durif, it is the love child of a noble grape, Syrah, and an obscure peasant grape Peloursin in 1880
90% of the world's P.S. vineyards are in California
Produces big, masculine, typically ink-colored wines that tend to be tannic with moderate to high-acidity
Sometimes referred to as Durif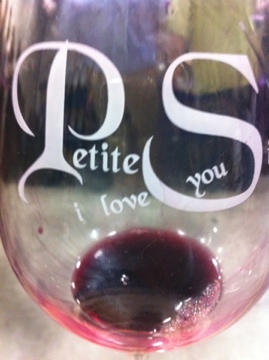 It was a great night of wine and food.  And for the first time I came across a winery that referred to one of their P.S. as Durif – Berryessa Gap. My favorite wines were Aver Family Vineyards (2008 Blessings), Clayhouse, Berryessa Gap (2006 Rocky Ridge Collection Tradition), Robert Biale, Rosenblum, and Stage Left Cellars (2006 Russell Family P.S),  along with Ondonata, and Ridge Vineyards, newcomers to the event.  I attended the event last year, and there seemed to be a bit more diversity of style this year.  I tasted more exemplars of P.S. showing more restraint and balance, than last year.  Petite Sirah can be an overly exuberant, jammy wine.  Perhaps that's why I saw more chocolate vendors than I have at any other wine event.  And that style has plenty of fans, but I welcomed the change of pace.
In addition to the great P.S.  there was plenty of food.  I was impressed by diversity of food.  There were dishes like, Paella strudel, Sous-Vide Pork Belly with Umeboshi Plum Sauce with Micro Greens, and my dish of the night Bhel Puri, an "Indian Street Food" of puffed rice, garbanzo flour noodles, wheat crisps, Russet potatoes, Jazz apples, Sweet onion, Zante currants, mint cilantro chutney, tamarind chutney, and blackberry chutney which was just fabulous with Petite Sirah.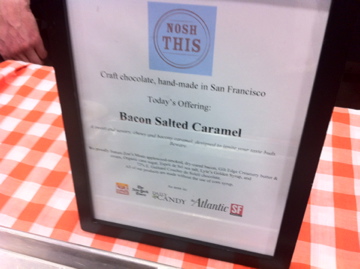 After tasting sampling the P.S. with a variety of foods, I gave it try with chocolate.  Cabernet, Merlot, and Zinfandel, the varietals most often paired with chocolate has something to worry about.  I generally prefer dessert wines with my chocolate, ,and P.S. with my meal, but for fans of dry red wines P.S. works quite well too.  That lead to my favorite chocolate and P.S. pairing of the night – Bacon Salted Caramel (made with Zoe's Meats applewood smoked bacon, organic sugar and an English dark cane syrup dipped in 72% E. Guittard chocolate and finished with applewood smoked salt) from Nosh This and two Petite Sirahs from Stage Left Cellars.
It was a great event.  Dark & Delicious will continue to be circled in red on my calendar of "must attend" wine events.  It's a purple-teeth stained great wine and food event!
Related articles