This week it's another  sparkler is from Iron Horse Vineyards in the Russian River Valley of Sonoma.  It's one of four Sonoma sparkling wine houses (the others being J, Korbel and Gloria Ferrer) in Sonoma County. They are a family owned winery founded by Audrey and Barry Sterling.  Iron Horse produces a variety of vintage sparkling wines along with still wines (Pinot Noir, and Chardonnay).  The winery produced their first estate Chardonnay in 1978, officially opened in 1979, and produced their first sparkling wine in 1980.  All Iron Horse sparklers are estate bottled and vintage except for Joy!, their cuvée de prestige that is aged 10-15 years on lees, and available only in magnums.
The Russian Cuvée commemorates the sparkling wines Iron Horse made for the Reagan-Gorbachev Summit meetings from 1985-89 that ended the Cold War.  It has a slightly higher residual sugar than the Brut Classic, and a higher percentage of Pinot Noir as well.  Speaking of Pinot Noir, I've notice a distinct trend of personally favoring sparklers with a higher percentage of Pinot Noir.  Have you taken note of whether you prefer a dominant grape variety in the sparkling wines you enjoy the most?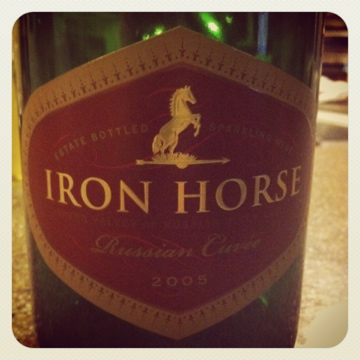 Region: California>Sonoma>Green Valley
Variety – 75% Pinot Noir 25% Chardonnay
Residual Sugar – 1.4 g/100mll
$33 – Retail , 13.5% a.b.v.
Production method: Méthode traditionnelle;  Aged an average of 4 years on lees
My tasting notes follow:
Appearance: Straw yellow color with lot of pin-prick bubbles
Aromas: Sweet yeast, apple and stone-fruit aromas
Body: Light-medium bodied with a creamy mousse
Taste: Apple, cherry, and vanilla flavors.
Finish: Short
Pair with: The beauty of sparkling wines is their versatility with food, because of their palate refreshing quality (think scrubbing bubbles;-). This was delightful as an aperitif and would be delightful with food because it's approaching medium bodied.   That little bit of extra residual sugar would enable this sparkler to pair well with moderately spicier foods like curries, or try with sweet and sour chicken.  According to Iron Horse, it would be great with a BLT too.  Now there's an idea!
This is a very good sparkler, and compares favorably with entry-level Champagne. I recommend!  88pts   (Click here to find this wine)
Related articles