I love it when I find a great value such as this wine – the 2007 Leone de Castris Salice Salentino Riserva, especially when it's from a wine region and made from a grape varietal new to me.  I'm still very much in the "promiscuous" phase of my wine lover evolution, so I like to pick up wines on a whim.  That's what I did with this one when I was a my favorite wine store, K&L Wine Merchants. The $13 price and the 91pt Wine Advocate score caught my attention.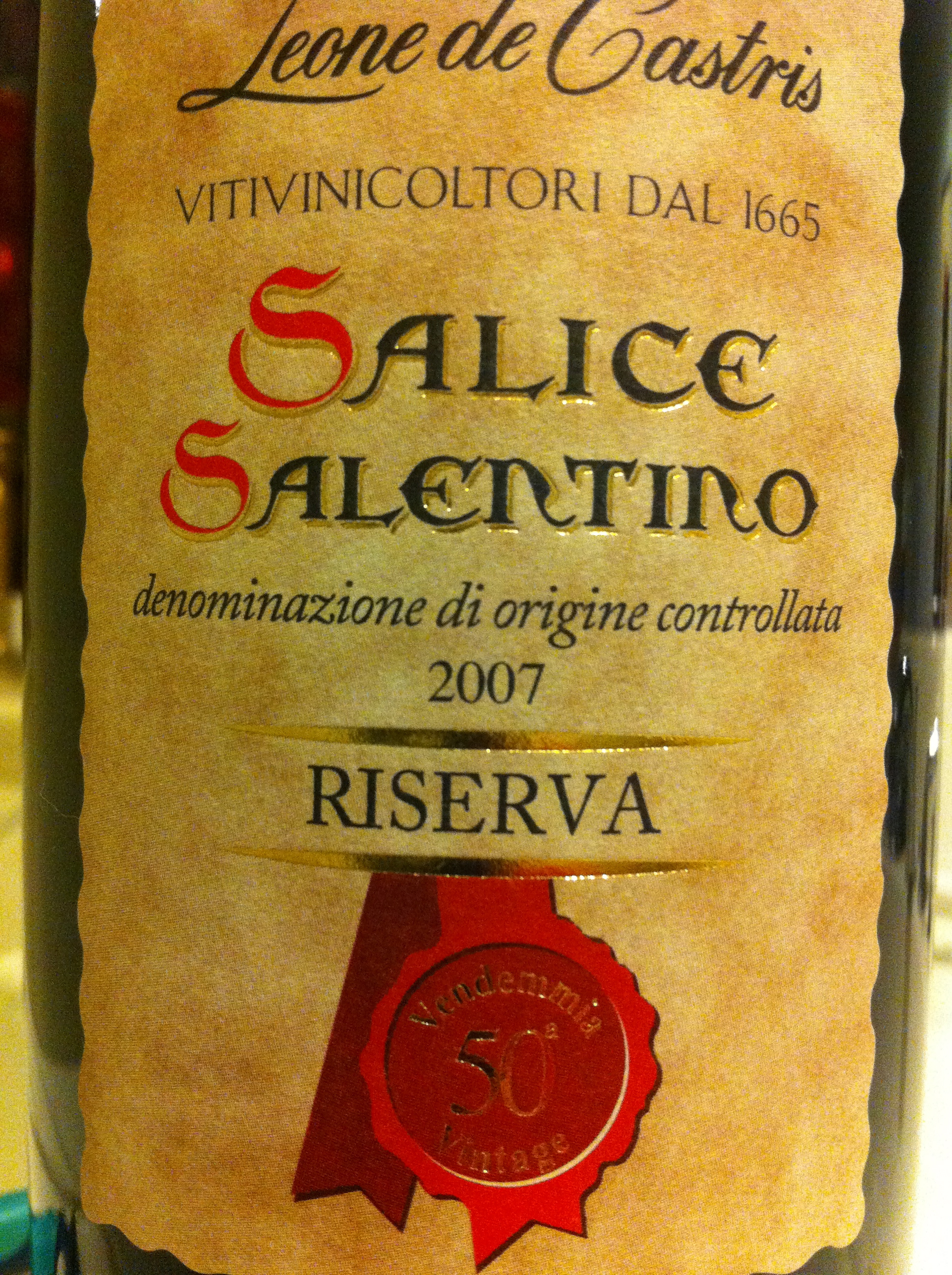 The wine is from the Salice Salentino DOC of Puglia, which is located in "the heel" of the boot of peninsular Italy.  Puglia has had a reputation for producing mostly low-quality bulk wines (a.k.a. "plonk").  In the 21st century though, a growing number of winemakers are more interested in quality than quantity, as evidenced by the fact that Puglia is the second largest producer (after Sicily) of organic wines, and substantial investments by Antinori (along with flocks of consulting oenologists, and flying winemakers).
The flagship red grape of the Salice Salentino DOC is Negroamaro , which translated to English means dark (negro), and bitter (amaro).  Other sanctioned grapes in the Salice Salentino DOC are Malvasia Nera, Chardonnay,  Aleatico Dolce and Pinot Bianco.
My review follows:
Dark garnet color with aromatic dark fruit, smoke, and licorice aromas. On the palate full-bodied , powerful, yet refined, and well structured with vivid fruit, fine-grained tannins, and good acidity with blackberry, black currant, and spice flavors. Long finish. This Riserva is 90% Negroamaro and 10% Malvasia Nera, aged in neutral French oak.  13.5% ABV.  Great quality-price ratio on this one!
I'll definitely be buying more!  To find this wine, click here
Related articles