This is a guest post by a fellow blogger I follow, Renee Keele.  She writes a blog entitled  Wine A Bit…you'll feel better  Her blog is about food and wine with an Arizona twist.  One of the series she featured in 2011 that I enjoyed was called "1 bottle/2 meals", wherein she would feature a bottle of wine and prepare 2 meals to go with it.  That's a great idea if you don't finish a bottle with your meal on a daily basis!  This one features a Chilean Cabernet Sauvignon blend.  Perfect for this time of year when it's a bit nippy outside and you're craving comfort food!  I hope you enjoy, and if like this, your may follow her as follows:
On Twitter @reneewinerd
On Facebook as Renee Keele
On Google+ at Renee Keele
Author: Renee Keele
It's been a busy week in the Keele household, we have all cycled through the same darn cold, and it is still lingering around in various forms.  With that being said, on Tuesday I was feeling quite good which is great because, I was about to taste a wine I newly discovered.
I have always loved Cabernet, actually it was the first red wine I developed a crush on and started my ongoing red wine love affair.   I like to find good bargain Cabs that still keep the strong tannic and bold flavor that the grape is so well know for.  I normally steer clear of California for that reason, to get the amazing Cabs that put California on the map my budget would explode, which is not such a smart idea.   I typically will go with Australia, and Washington, and my newest discovery, Chili.
Chili has high performing wines that taste like you spent triple the price,  which makes me or any budget minded wino very happy.  And if you look at the label on this wine, you will see a very famous French Bordeaux winemaker, Châteaux Mouton-Rothschild, and yes that is the Baron Rothschild!  They have a partnership between Vine Concha y Toro and Almaviva Vineyards.  And the quality of the wine shows that partnership.  This wine is not easy to find at your local store, you will either have to go to a wine mega shop like I did, BevMo! or Total Wine, or order it online.  This wine is worth the search, and can easily be your house Cab.
I recently introduced this wine to a Cab lover I was chatting with during a tasting at Total Wine a couple months back.  He was a fan of the big guns from California as well, but not the prices.  He was very happy I found this wine for him.  That is my favorite thing to do, introducing people to new wine and new wine experiences.   I guess it is also the teacher in me that comes out, as I love to teach people about new things and watch that little light bulb turn on in their head as they learn something new and get excited about.  Nothing is more fun and fulfilling than sharing your passion with others.  Which is one of the main reasons I am still motivated to keep this blog ticking.
Now on to my tasting and pairing reports.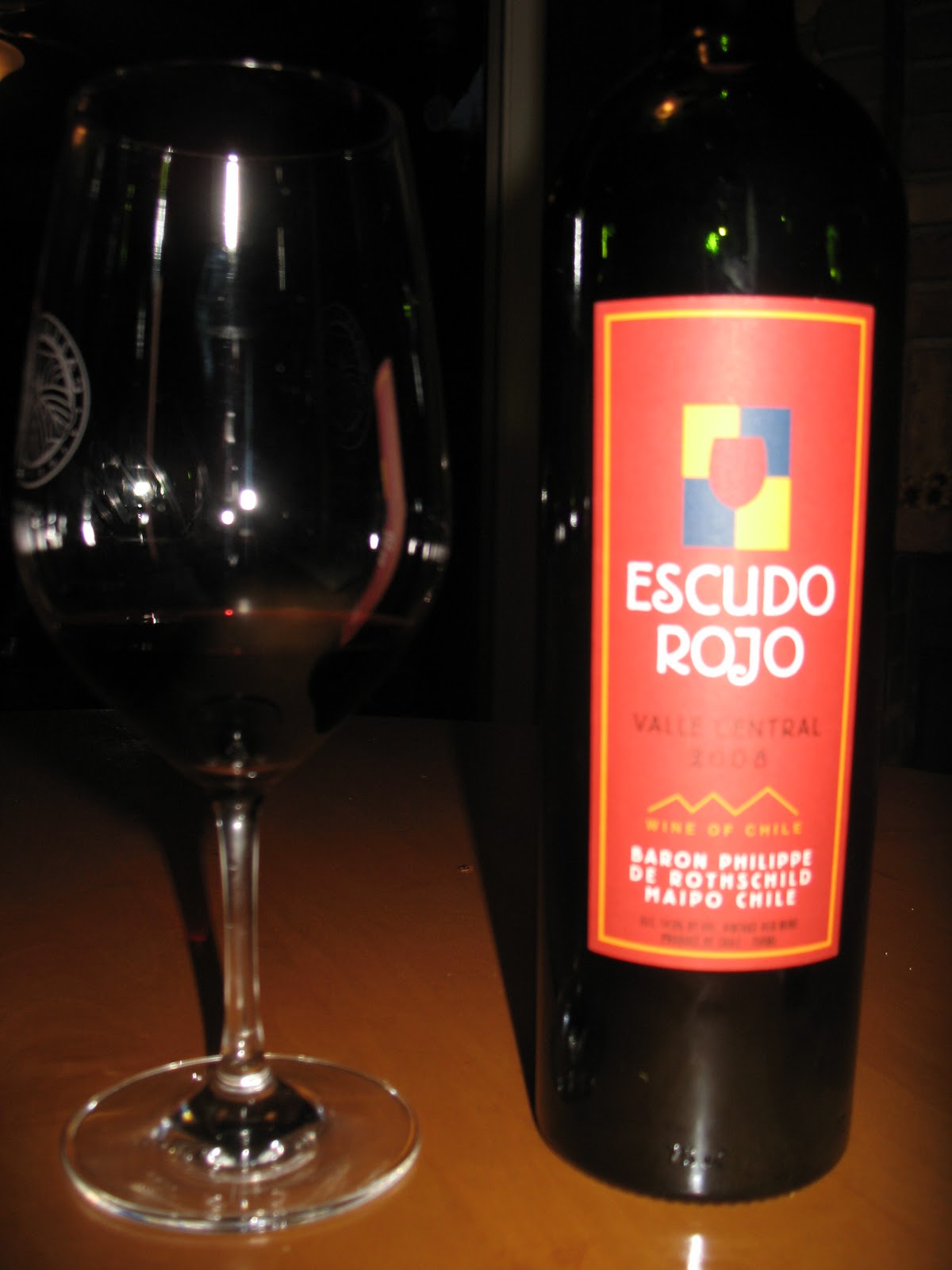 Escudo Rojo Cab. Blend (in the Bordeaux style) Baron Philippe D. Rothschild, Maipo Chile.  2008   Retails for around $13 and can be found at most big wine stores.
Nose:  Blackberry, plum, smoke, oak, tree bark, leather, dark chocolate, and currants
Taste:
  The tannins are good, dries out your tongue like a good cab should.  The wine goes down nicely, not too heavy, more like 2% milk than cream coating my toungue.  There is a sweet hint of blackberry and chocolate on the finish, that develops nicely. Pairs beautifully with the roast beef sandwich, the smoked cheddar was the bridge.  The roast would have been an excellent pairing as well if not for the quality of the roast being sub-par.  The wine stood up to the two day test as well.  Being open that extra day allowed the wine to breathe and really express those gorgeous flavors.  It also allowed for the wine's tannin's to soften a bit, which is why it paired so wonderfully with the smokey cheddar in the sandwich on Menu #2.  Can't ask for anything more than a wine that is good the first day and holds up and gets better the second.  That is of coarse, if you have the discipline not to down the whole bottle the first day!
The Menu's:
Menu #1:
*Make sure your roast is of good quality, I thought mine was but it was chewy and tough even though it was cooked perfectly.  If the roast was good the pairing would have been great.
Green beans (they do not pair with the meal I just really like green beans with a roast)
Menu #2
This menu was an amazing pairing for the wine!  Maybe even a magic pairing if my nose was not stuffy!  And it was so easy to do and a great way to use the leftover roast.
Roast Beef-and-Blue Cheese Sandwich
*I used a Wisconsin smoked cheddar as the cheese, and the smoke of the wine and the smoke of cheese really shined here and made my mouth really happy.
Steamed Broccoli
Leftover potatoes
Thank you and enjoy!