This week's sparkler is produced by Gruet Winery, which is based in New Mexico.  New Mexico isn't exactly top of wine when it comes to wine, much less sparkling wines, but Gruet's lineup of non-vintage wines are very compelling as value plays.  They produce vintage, and non-vintage sparkling wine, along with still wines.
Gruet was established by a family who previously made Champagne in France.  While traveling through the Southwest in 1983, they fell in love with New Mexico and decided to produce sparkling wine here in the US.  The vineyards are located in Engle near the town of Truth of Consequence (you gotta love that name!) about 170 south of Albuquerque.  The vineyards, at 4300 feet elevation are some of the highest in the US, and the climate features hot days and cool nights which is conducive to slow ripening that produces grapes with good acidity and fruit.  Additionally, the soil is similar to the soil in Champagne. Together, the climate and soil create a great environment for the three grapes typically make up Champagne and sparkling wine blends – Chardonnay, Pinot Noir, and Pinot Meunier.
Their first harvest was 1987, and they released their first sparkling wines in 1989.  In 2008 Gruet sold 100,000 cases of wine, that was distributed in 48 states.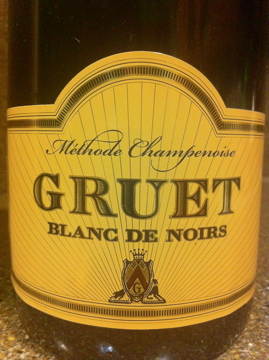 NV Gruet Brut Blanc de Noirs
Region: USA>New Mexico
Variety – Pinot Noir, and Pinot Meunier
Residual Sugar – Unknown
$14, 12% a.b.v.
Production method: Méthode Champenoise;
My tasting notes follow:
Appearance: Salmon color with an abundance of dispersed tiny bubbles
Aromas: Apple, red fruit, and brioche aromas.
Body: On the palate approaching medium bodied with a moderately aggressive mousse.
Taste: Pear, with a touch of red fruit, sweet baking spice and nuanced citrus flavors.
Finish: Short
Pair with: The beauty of sparkling wines is their versatility with food, because of their palate refreshing quality (think scrubbing bubbles;-). This was delightful as an aperitif and with food.   Try this one with tapas, especially seafood tapas, or maybe grilled seafood such as grilled scallops.
I've previously reviewed their NV Sparkling Rosé, and the NV Brut, but this is my favorite from Gruet so far.  That's probably because I prefer bubby made in the traditional method with a healthy dose (nah…scratch that – dominated by) Pinot Noir.   Very good value at $14. I recommend!  87 pts   (Click here to find this wine)