For this week's sparkler it's back to what's becoming a favorite of mine, Cava.  Unlike Champagne, Cava isn't from a particular region, rather it's a term used for Spanish sparklers made in the traditional method (known as Méthode Champenoise) used in France.  While there are some other regions in Spain that also make Cava,  about 95% of the production  comes from the traditional home of Cava, in the Penedes region in Catalunya (a.k.a. Catalonia)  The basic rules for making wines that may be called Cava are as follows:
Must be made in the traditional method.
Must age on lees in the bottle in which it will be sold for a minimum of 9 months, 18 months for Reservas and 24 months for Gran Reservas.
All the grapes used for must be white grapes – the 3 most common being Macabeo (a.k.a. Viura), Parellada (pronounced pa-re-yada), and Xarel.lo (pronounced cha-rel-low) – unless you are making a Rose, in which case certain red grapes are permitted.
The producer, Raventós i Blanc, is the only Cava producer to estate grow (on about 200 acres of land that has been in the family since 1497!) and bottle all their wines.  After commissioning an in-depth study of their unique estate, it was determined that there are 44 individual parcels, each managed separately.  All the fruit is biodynamically farmed, handpicked and processed via a gravity flow system.  Their Cavas are all vintage dated, which also sets them apart.
I previously reviewed (and very much enjoyed) the 2007 vintage of this wine, so I was eager to try the 2008 vintage.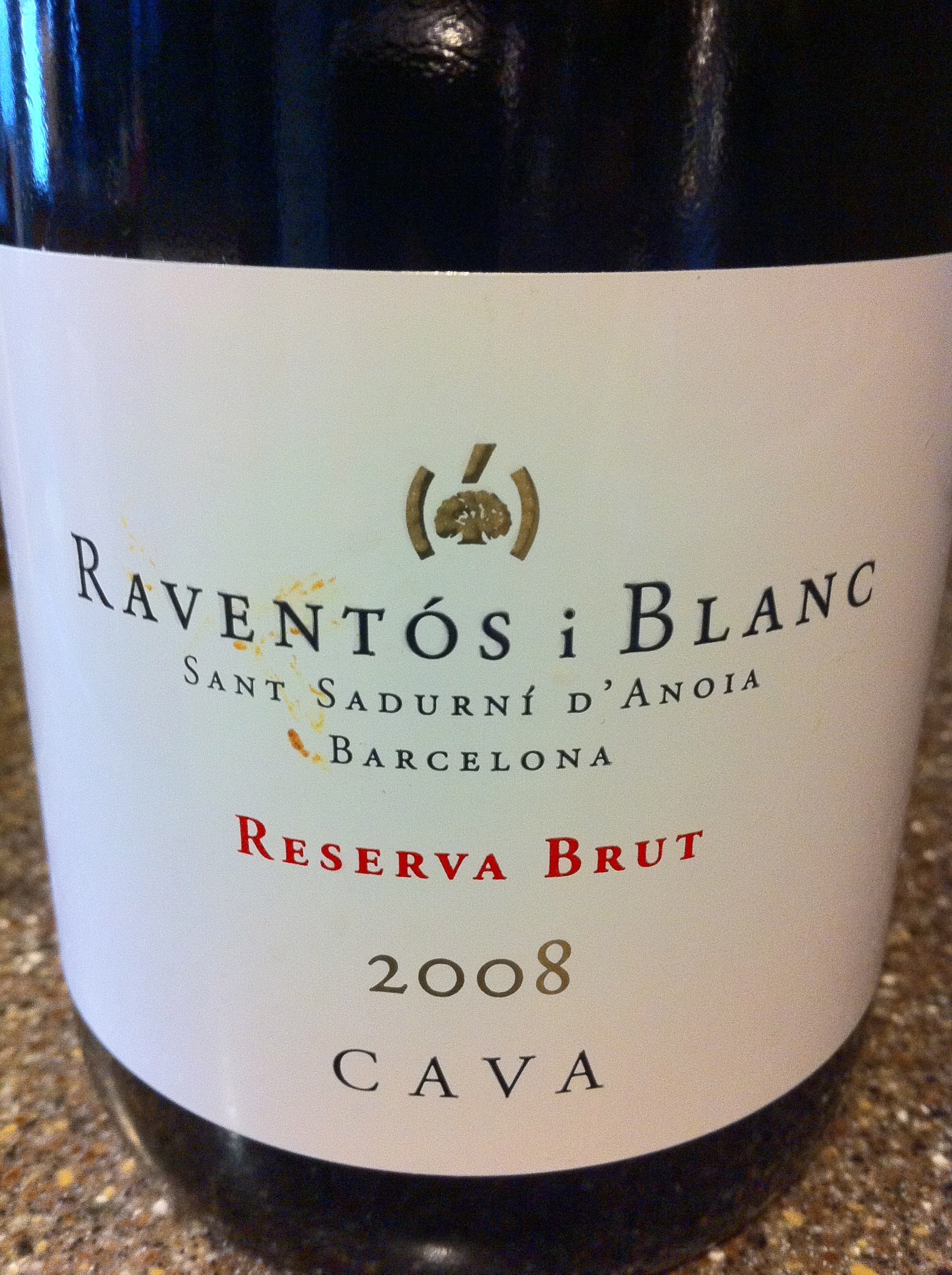 2008 Raventós i Blanc Cava "L'Hereu" Reserva Brut
Region: Spain>Catalunya>Cava
Variety – 60% Macabeo, 20% Xarel.lo, 20% Parrellada
Residual Sugar – 6g/Liter
$18, 12% a.b.v.
Production method: Méthode Champenoise;
My tasting notes follow:
Appearance: Very light straw color with tiny bubbles
Aromas: Green apple, brioche, and faint mineral aromas.
Body: On the palate a creamy, delicate mousse uncommon at this price point.  Approaching medium-bodied mouthfeel
Taste: Green apple, citrus and mineral flavors.
Finish: Medium
Pair with: The beauty of sparkling wines is their versatility with food, because of their palate refreshing quality (think scrubbing bubbles;-). This was delightful as an aperitif and with food.   Try this one with tapas, especially seafood tapas, or maybe grilled seafood such as grilled scallops.
This is another winner from Raventós!   It's a classy Cava that delivers exceptional value for the money!  90 pts   (Click here to find this wine)
Related articles