I like participating in virtual tastings such as Languedoc Day for a few reasons.  It gives me a chance to see what wines other wine lovers are drinking and enjoying.  I look forward to learning something about either the varietal, or the region being showcased.  And it's also a chance to virtually meet others on Twitter, G+, or FB, who share my passion for wine.
The Languedoc (pronounced "long-dock") is a wine region in southern France.  It is the world's largest wine-producing region, producing a diverse selection of red, white, rosé, sweet or sparkling wines.  According to Wikipedia…"As recently as 2001, the region produced more wine than the entire United States".  The 5 best known appellations in the Languedoc include Coteaux du Languedoc, Corbières AOC, Faugères, Minervois AOC, and Saint-Chinian AOCs.
It's only relatively recently the Languedoc has been widely recognized by critics and experts as worthy of attention, awards and accolades.  Prior to the last couple of decades, it was mostly known for producing low-quality jug wines.
I've enjoyed a few wines from the Languedoc.  Two sparklers – the NV Domaine Jean-Louis Denois Tradition Brut from the Coteaux de Languedoc AOC, and the 2008 Antech Cuvee Eugenie from the Crémant de Limoux AOC that were both very good sparklers, at a very attractive price, that I'd buy again – and a wonderful sweet vins doux naturels fortified wine made from Grenache.  But, I've not had a red wine from the region, so I was looking forward to #LanguedocDay to try a red.
My wine of choice for the day?  The 2006 Les Clos Perdus "Mire la Mer" (In View of The Sea).  The wine is produced by a small winery located the village of Peyriac de Mer. The biodynamically farmed fruit is from the Corbières AOC.  According to Los Clos Perdus…
 This wine comes from old bush vines naturally grown and hand-picked.  The wild yeast ferment is followed by gentle basket pressing, allowing the wine to develop with minimal intervention, giving an honest expression  of the soil and the year in which it was grown
It's a blend of 55% Mourvédre, 35% Carignan, planted in 1905, and 10% Grenache. The name Los Clos Perdus means Lost Vineyards.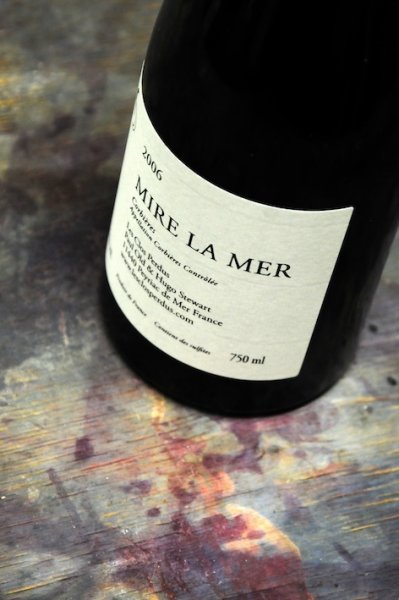 My tasting notes are below:
Deep nearly opaque violet color with dark fruit, and herbal aromas. On the palate, balanced, medium-bodied with fine grained well integrated tannins, good acidity, and bright, persistent black currant, dark raspberry, mineral and spice flavors. Medium finish. – 89pts
This is definitely a food wine.  Try it with your hearty fall dishes.  It's a steal for $20.  Will buy more!
Related articles