This week's sparkler is from Alsace region of  France.  Alsace is located on France's eastern border and on the west bank of the upper Rhine adjacent to Germany and Switzerland.  The region definitely has Germanic influences.  It is most well-known for it still white wines including Gewürztraminer, Riesling, and Pinot Blanc.  This sparkler is 100% Pinot Noir which represents about 10% of the regions plantings.
When one thinks of French sparkling wines, of course Champagne is top of mind , but sparkling wine is made in many regions of France, including Alsace,  using the same techniques deployed in Champagne.  When it's not specifically made in the Champagne region, it's referred to as Crémant.
The Crémant d'Alsace AOC was established in 1976.  Crémant d'Alsace is the market leader in at-home sales for sparkling wines in France.  The vast majority of the wines are exported to Belgium and Germany.
This wine is first vinified as a dry Rosé, and then undergoes a secondary fermentation in the bottle. According to the Baur website…"Armand Baur makes one batch a year so this is effectively a vintage sparkling wine, though it is not noted on the label, as vintage sparkling wines are required to age in the cellars for at least 3 yrs before release". This wine was aged for 2 yrs, thus the non-vintage ("NV") designation.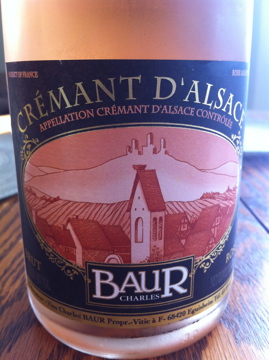 NV Charles Baur Crémant d'Alsace Rosé
Region: France>Alsace>Crémant d'Alsace
Variety – 100% Pinot Noir
Dosage – Unknown; Brut Style
Production method: Méthode Champenoise;  Aged for 12 months on less
Alcohol by volume: 12%
Cost: $20
My tasting notes follow:
Appearance: Pretty light salmon color with small dispersed bubbles
Aromas: Brioche, and sweet red fruit of strawberries and raspberries
Body:  On the palate a somewhat creamy mousse, between light and medium bodied, dry with zippy acidity.
Taste: Strawberry, raspberry, vanilla and a hint of citrus rind, and mineral flavors
Finish: Short-medium finish
Pair with: The beauty of sparkling wines is their pairing versatility with a variety of foods.  This one would be a good aperitif, and also pair with nicely with a variety of foods.  I enjoyed it with a Filipino dish, Chicken Afritada, a tomato-based stew introduced to the Philippines by Spaniards.
This is an elegant, very nice Rosé sparkler.  It's a very good value for under $20.  I recommend!