This week's sparkler hails from Burgundy region of France.  It is produced by Blason de Bourgogne.  I picked it up at Trader Joe's on a whim because I recognized the Blason name.  It's a name I associate with value wines.  According to the Blason website they represent 800 wine-growing families throughout Burgundy.  Beside this Blanc de Noirs, they also produce a Rosé, an Extra Brut, and a Brut Reserve, all from Pinot Noir and Gamay grapes.  Of the four Crémant produced, this one is aged the longest.  And interestingly, all are made from Pinot Noir and Gamay grapes.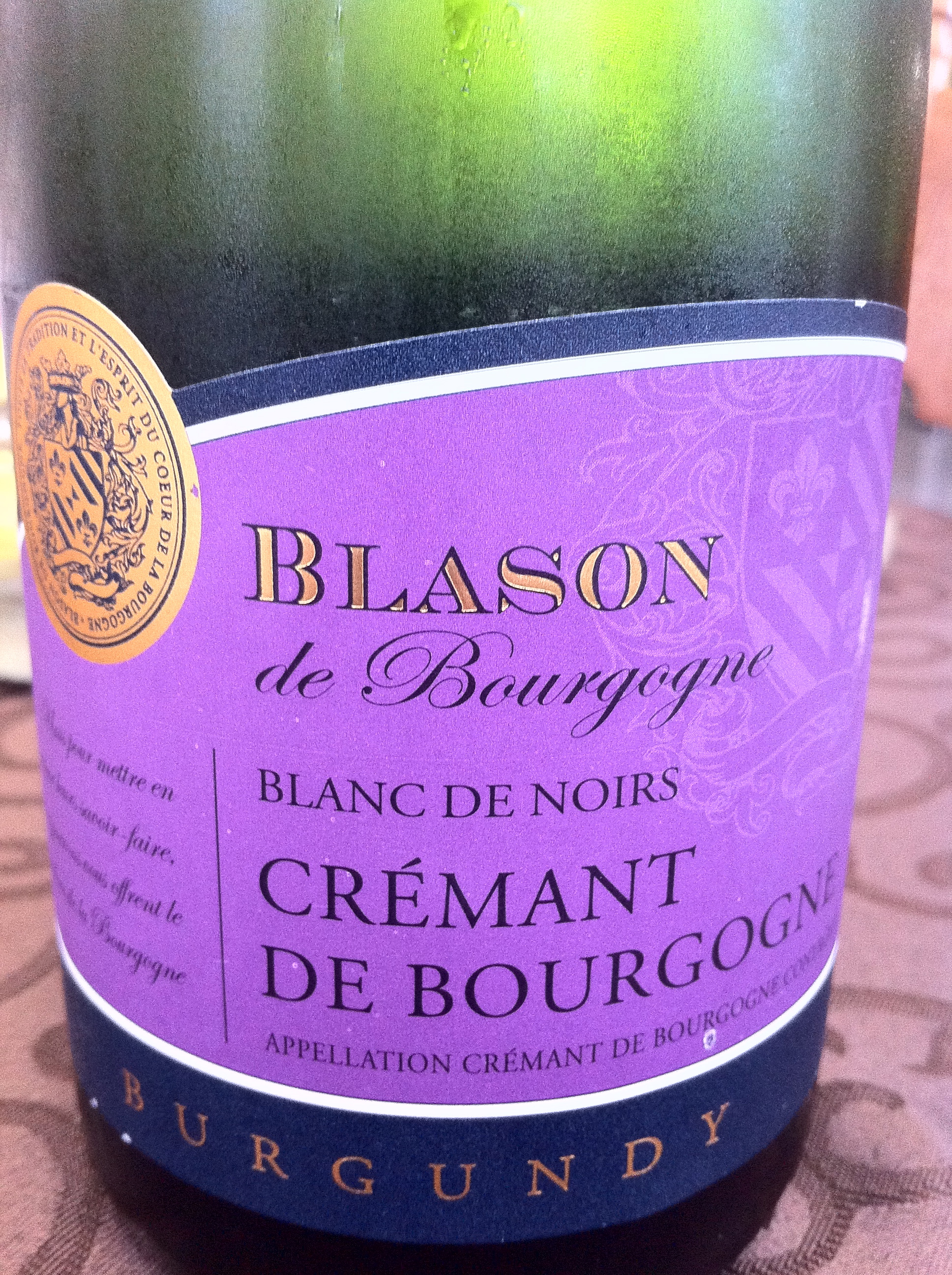 NV Blason Crémant de Bourgogne Blanc De Noirs
Region: France>Burgundy>Crémant de Bourgogne
Variety – Pinot Noir, and Gamay
Dosage – < 15g/L
Production method: Méthode Champenoise; Aged 16-18 months on racks
Alcohol by volume: 13%
Cost: $11
My tasting notes follow:
Color: Light golden-yellow with copper tinge
Aromas: Brioche, and red fruits – cherries and strawberries
Body: Light-bodied with dispersed small bubbles that dissipated quickly
Taste: Strawberry, cherry and toast
Finish: Short-medium
Pair with: The beauty of sparkling wines is their pairing versatility with a variety of foods.  This one would be a good aperitif, and also pair with nicely with wide variety of foods.  Try this with roast white meat, seafood with light sauces, or enjoy as an aperitif along with goat cheese.
This is a value sparkler.  It was easy, enjoyable, and since it's sold at Trader Joe's, availability should be good. I'm a fan of Blanc de Noirs ("BdN"), and you'd be hard pressed to find a better BdN at this price level.  This is a case where $2-$3 more dollars (Chandon, and Gloria Ferrer come to mind) would probably deliver more.  But, I recommend if you prefer BdN and you want to save a few bucks.  (86 pts).
"May your glass always be filled with warm memories, and the taste of a life well lived linger on your tongue" – Unknown
Related articles