Last Sunday Christopher Watkins, Tasting Room Manager for Ridge Vineyards hosted the Fall 2011 Wine Bloggers Tasting at Ridge, Lytton Springs in Healdsburg.  An intimate group of wine bloggers, many of whom I followed and am a fan of, met in the barrel room.  It was great to put faces with names.  That made the experience that much more enjoyable!
We had the good fortune to sit down for the tasting at the same time as Zinfandel grapes were arriving, so Christopher lead on an impromptu tour of the crush pad, and winemaking facility.  The highlight of the tour for me was watching fruit being emptied from their bins, and being de-stemmed.  It was my first time seeing a de-stemmer in action – amazing!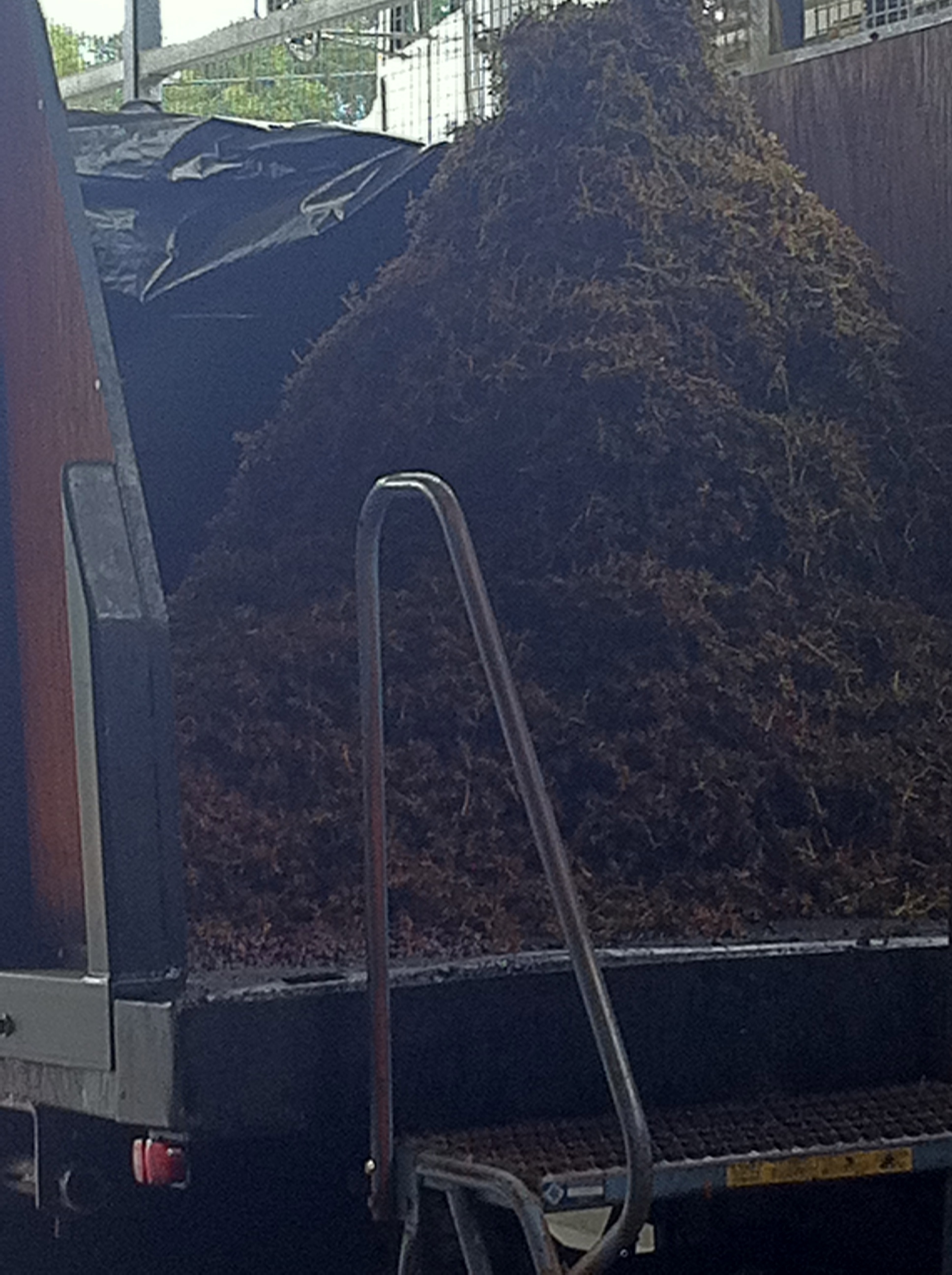 We didn't know what we were going to be tasting before we arrived.  The wines Christopher selected were small production library wines produced from Lytton Estate fruit.  And courtesy of my Wine Tasting Hero – Richard Jennings, there was also Ridge mystery wine!
To wet our whistles, and prepare our palates for a slice of Ridge library goodness to come, we were served a Chard.
Our first flight of wines were a Grenache and a 50/50 Syrah-Grenache blend.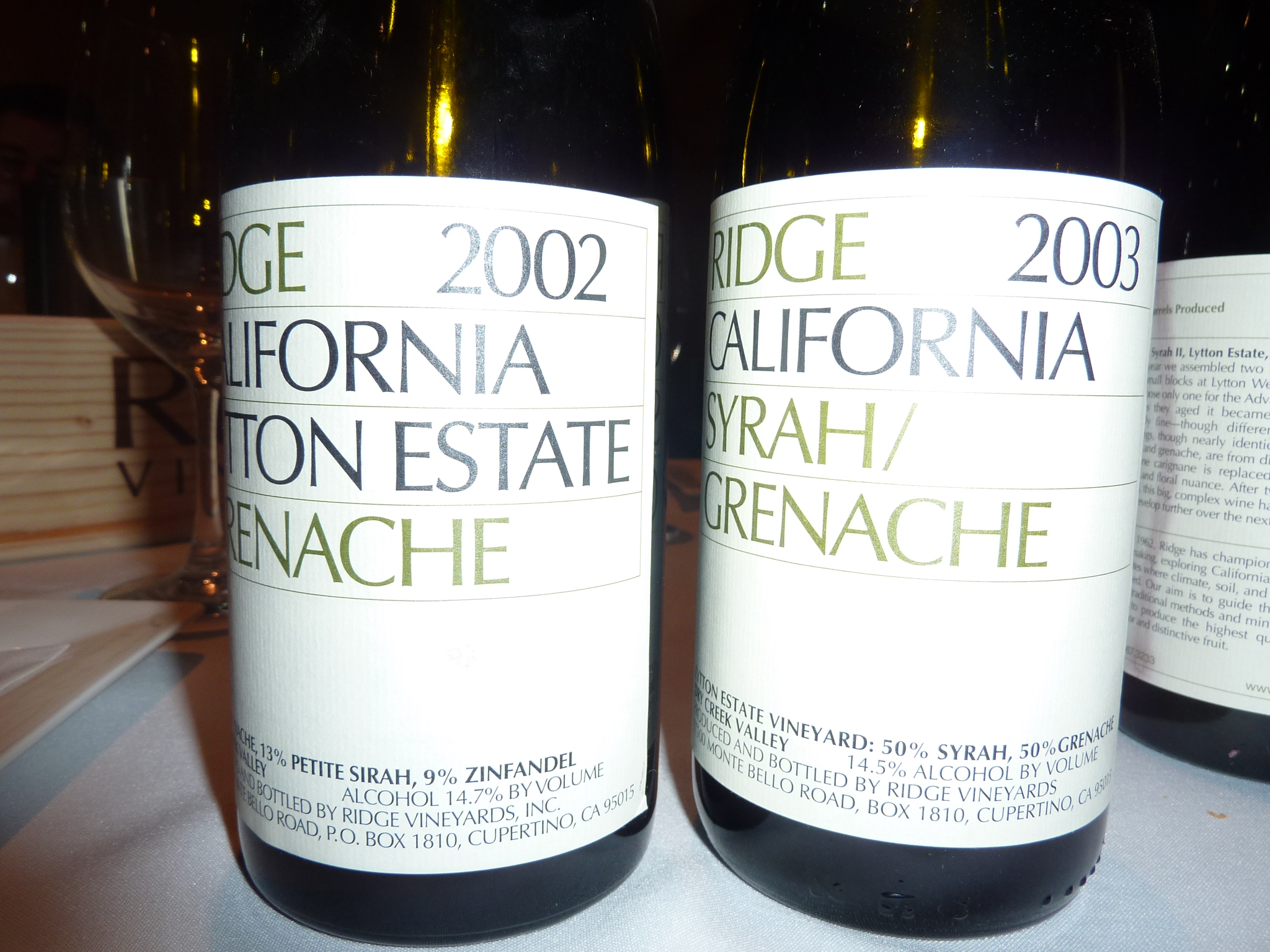 Thereafter we were served (blind) the mystery wine brought by Richard Jennings of
RJonWine
.  The only hint we received was that it was a varietal Ridge no longer produces.  We were all asked to guess the varietal, and the vintage before the wine was unveiled. I actually guessed the varietal correctly initially, but over-thought it and changed my answer.  Doh!  I was way off on the vintage.  Double Doh!
After the lighter Grenache based wines and the Barbera,it was on to three flights of Syrah(wine blogging ain't easy…but somebody's gotta do it!;-)  The first flight was Syrah co-fermented with Viognier from the western parcel of the Lytton Vineyard.
The next flight included Syrahs from 2000, 2001, and 2002 vintages.  The 2002 labeled "Syrah II" has an interesting story behind it.  There were two lots of Syrah that included Grenache in the assemblage.  Neither of the lots was deemed satisfactory, so it was decided to add
Carignane
to one lot, and Viognier to the other.  The lot with the Viognier was labeled Syrah II.  It would have been interesting to taste the two side by side, but I've noticed I prefer Syrah with Viognier blended in, so I didn't miss it. Beside that enable us to stay with the Syrah/Viognier theme.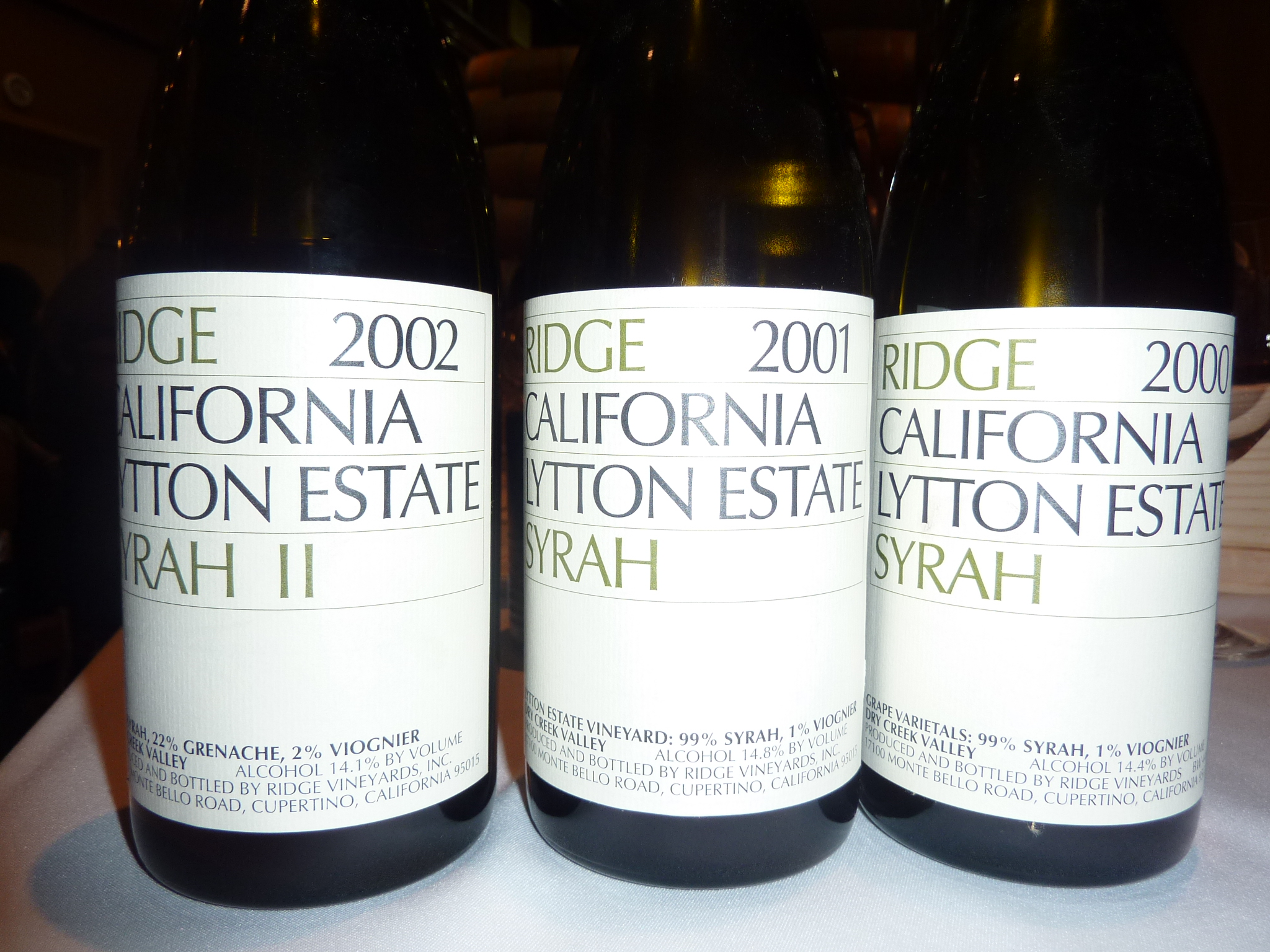 Christopher saved the best for last.  My wine of the day was the 1997 Lytton Estate Syrah.  Wow. As I write this, days later, I'm still reminiscing about the great aromatics of the '97 (courtesy of the Viognier).  It's a wine that revealed more nuances of aromas, and flavors as it had time to unfold in the glass.  I wish I could have spent more time with it . And for that matter, all the wines we tasted.
It amazes me how long-lived Ridge wines are.  Then again, their wines are seemingly built to last.  The 1990 Barbera is Exhibit A was the 21-year-old Barbera, which is beyond my realm of experience.  For one, I can't seem to hold on to wines I enjoy for that long and secondly, I don't associate Barbera and long-term aging, as I would the other varietals we tasted, particularly Syrah.  I think it reflects great fruit in the hands of great winemakers committed to excellence.  And that, in a nutshell, is Ridge!  After my recent 
#Cabernet Day Monte Bello Tasting
 at Ridge, I must confess I'm getting a bit spoiled on fine wine!
A ginormous thanks  to Christopher, and Brandy Alexander for hosting and doing the stuff that made for a great tasting!
"May your glass always be filled with warm memories, and the taste of a life well lived linger on your tongue" – Unknown