At the most recent meeting of the Pacific Pointe Wine Tasting Club it was Syrah night.  However, for the first time, we encountered a situation where one of the wines to be tasted was not the selected varietal.  That's because it didn't meet the at least 75% threshold for a wine to be labeled a particular grape varietal.  In this case Syrah.  One of the wines was 62% Syrah.  It was inadvertently purchased in the "Syrah/Shiraz" section of a local wine store.
The thing is, we didn't realize that until we'd tasted through all the wines.  We decided to "disqualify" the Syrah blend from the competition, since it was Syrah Night.  So we ended up with 7 contenders, and 1 pretender!
Before we embarked upon the wine tasting, we had a bite to eat, potluck style.  In addition to the featured dish of the night, Arroz Con Constra Paella, our hosts also provided Prosecco, Rosé, and a Pinot Noir to prepare our palates for tasting.  Aside from the usual assortment of cheese, crackers and a vegetable platter, we enjoyed homemade meatballs, Beef Bourguignon, and a couple of different types of pizza.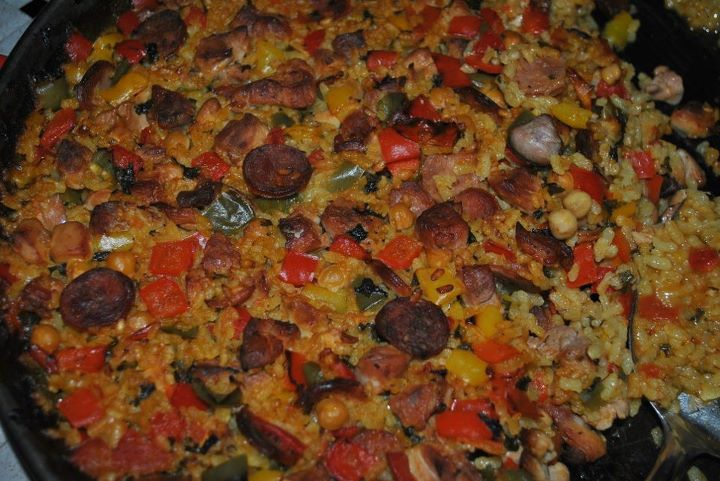 After a bite to eat, and some wonderful fellowship, it was time for some serious fun tasting the wines.  All the wines were blind tasted.  There were 12 tasters.  The contenders tasted, the order in which they finished, and my corresponding tasting notes follow:
The Winner
2006 Rosenblum Cellars Syrah England-Shaw – USA, California, North Coast, Solano County
Dark garnet color with black fruit, black currant aromas. On the palate fruit forward, medium-bodied with blackberry, black currant, vanilla, and spice flavors. Medium-long finish (Ave. score = 90 pts.)
As for the pretender?  It was the highest scoring wine of the night with an average score of 91 points!  It's a great value at less than $15.  
2007 Marquis Philips Sarah's Blend – Australia, South Eastern
Blend of 62% Shiraz, 25% Cab, 10% Merlot, and 3% Cab Franc. Opaque violet color dark cherry, spice and hint of floral aromas. On the palate creamy, and smooth the black currant, plum, spice and vanilla flavors. Medium-long finish.
It was another great night of wine tasting fun and learning about wine.  I think we'll do Syrah blends at one of our future meetings!