Late harvest is a term applied to wines that are made from grapes left on the vine longer than usual.  Allowing the grapes to "hang" longer (to the point where the grapes may be similar to raisins) increases their sugar levels, making a sweeter wine.  How long the grapes are left on the vine determines the type of late harvest wine produced.  To my mind, there are three types of late harvest wines; 1) Late Harvest, 2) Noble Rot, and 3) Ice Wines.
Producing any type of late harvest wine involves more risk (i.e. animals eating the sweet grapes, adverse weather, etc.) and expense, because picking the grapes later than usual is a more labor-intensive process.  Thus sweet wines, like their fortified cousins, tend to be made in smaller quantities and are more expensive.
Late Harvest
The most basic type of late harvest wines are made from grapes picked after the regular harvest when their sugar content, referred to as brix,  is very high.   Once the sweet juice is rendered, as with all wines the fermentation process is started, and yeast does its thing converting the sugars to alcohol.  However once the alcohol level reaches 16% , the yeast can no longer survive, and whatever natural sugar is left remains resulting in a sweet dessert wine.  The most popular grape types for making late harvest wines are Riesling and Gewürztraminer and believe it or not, Zinfandel and Cabernet Franc.
Noble Rot
If the grapes are left on the vine long enough, they become infected with the benevolent fungus Botrytis cinerea, roughly translated as "noble rot".  The noble rot fungus eats its way below the skin, attacking the fruit inside, turning it into horrible looking, moldy clusters, but also concentrating the sugars, acids, and flavors by dehydrating the grapes.  The noble rotted grapes are picked and pressed.  The mold isn't washed off, or otherwise removed.  Since molded grapes are pressed one might ask, "Can you taste the botrytis in the wine?"  An experienced taster may be able to.  Besides, the mold contributes both flavor (reputed to be a bit like sweet corn), and complexity to the wine.
For the botrytis fungus to take hold of healthy, ripe grapes a singular set of climatic conditions, with just the right amount of humidity, and warmth must be present.
The most famous botrytised dessert wines are Sauternes, and Tokaji.
Sauternes – these wines hail from Bordeaux, France and are one of the most famous dessert wines in the world.  The most legendary of these wines is produced by Château d'Yquem (a 200 year old bottle recently sold $117k!).  Sauternes are made from Sémillon, Sauvignon Blanc, and Muscadelle grapes.   The region is located near a river, thus providing the requisite humidity to insure the onset of noble rot frequently.  Nevertheless, there can be production can be a hit-or-miss proposition from vintage to vintage.  For that reason vintage matters with Sauternes more than other types of wines.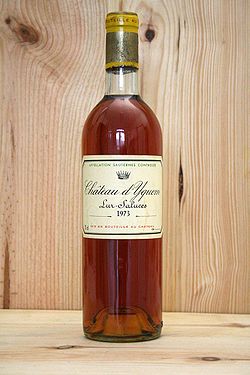 The balance of sweetness, and acidity characterizes Sauternes.  Typical flavors include apricots, honey, and peaches.   Sauternes are some of longest-lived wines because the residual sugar and acids in the wine act as natural preservatives.  The wines typically start out with a golden, yellow color that becomes progressively darker as it ages.  Sauternes should be served chilled between 50-55°F.  Because of their acidity, they can be served with a variety of food.  A classic pairings for Sauternes are foie gras, and blue-veined cheeses because it provides a counter balance to the richness and saltiness of these foods.
I've not tried Sauternes yet, but it's definitely on my Wines To-Do list!
Tokaji (for pronunciation click here) has been a legendary wine for 400 years.  In fact, Tokaji wine became the world's first appellation control region in 1730.   It was established several decades before Port wine, and over 120 years before the classification of Bordeaux, which includes the aforementioned legendary Château d'Yquem Sauternes.  Since all the wine from the region, dry and sweet, are referred to as Tokaji, it should be noted that I'm focused on Tokaji Aszú, which are made from noble rotted grapes.
Tokaji Aszú is made from a blend of Furmint, Hárslevelű, and Yellow Muscat.  While both Sauternes and Tokaji Aszú are made from noble rotted grapes, the process is a little different in Tokaji.  Rather than pressing the juice from the grapes, as in Sauternes, shriveled aszú grapes are picked one by one from botrytis affected bunches. The grapes are then brought to the winery where they are lightly crushed into a paste. Concurrent with that process, non-botrytised grapes are picked separately and made into a base wine.  The aszú paste is added in various proportions to the base wine.  The proportion of aszú added is measured in puttonyos (see below).  The ratio of puttonyos to the base wine determines how sweet the wine will be.  The paste will then steep in the based wine for as little as 8 hours, or as many as 2, or 3 days.  At this point the sweetened wine is drawn off the aszú paste and allowed to ferment again in large wooden casks or barrels.  The second fermentation can take months, or even years because of both the high sugar content of the wine, and the cold temperature in cellars dug centuries ago.   By law Tokaji Aszú must be aged at least 2 years in oak barrels and one year in the bottle before it can be sold.
Additionally, a little headspace may be left in the barrel, and yeast and bacteria present in the cold, damp, dark tunnels feed on the oxygen in the wine, much as flor does in certain types of Sherry.  This process also adds to the unique character of Tokaji Aszú.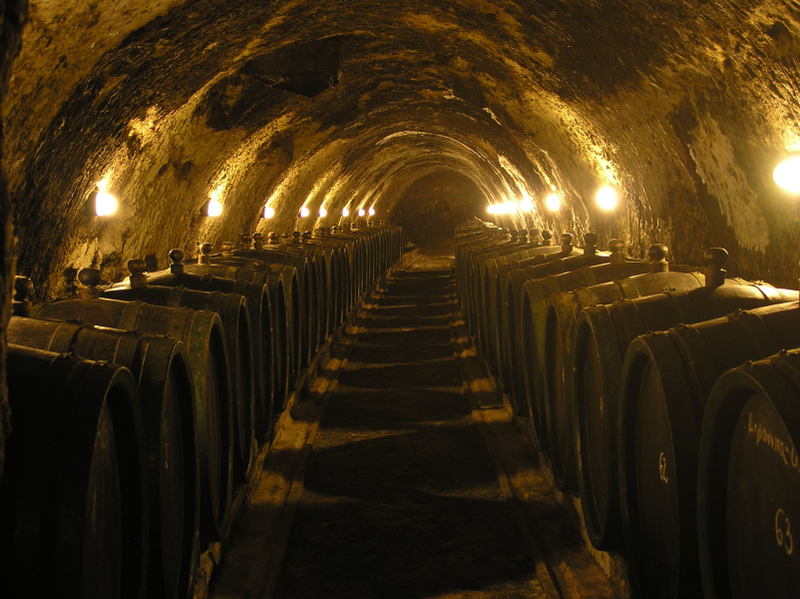 The sweetness level of Tokaji is measured in Puttonyos as follows (1):
3 Puttonyos – Sweet: 6-9% residual sugar
4 Puttonyos – Quite sweet: 9-12% residual sugar
5 Puttonyos – Very pronounced sweetness: 12-15% residual sugar
6 Puttonyos – Dramatically sweet: 15-18% residual sugar
Tokay Aszú Eszencia – Outrageously sweet: more than 18% residual sugar
Tokay Eszencia – Off the charts: 40-70% residual sugar
Tokaji Aszú should be served chilled between 50-55°F.  Like Sauternes, it can be paired with foie gras, and blue-veined cheeses. They also pair well with custard style desserts such as creme brulee, as well as combined fruit and caramel desserts.
Other "Old World" rivals to Sauternes, and Tokaji are  Beerenauslese or Trockenbeerenauslese wines from Germany and Austria.
Ice Wines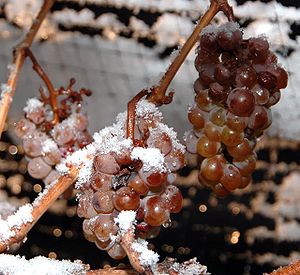 In cold climates, grapes can be left on the vine until the temperature falls below 19º.  At that temperature, much of the water freezes out of the grapes, leaving the sugar and other solids behind.  The grapes are then picked one by one, and then gently pressed to yield tiny amounts of super sweet juice concentrated in flavors, acidity and sugars.  The most famous ice wines are German Eiswein and Canadian ice wine, but ice wines are also made in the United States, Australia, France and other countries.  Sometimes, winemakers use a less effective short-cut, and simply freeze grapes in huge industrial freezers.
Ice wines are generally made with Vidal and Riesling grapes.  But they may be made from other grape varietals, such as Gruner Vetliner, Cab Franc, or Chardonnay grapes.
One of my favorite dessert and late harvest dessert wine pairing so far has been Tres Leches Cake with a late harvest German Riesling.
Related articles
(1) K. MacNeil The Wine Bible