Dessert wines are sweet wines served with, or instead of dessert.  Dessert wines are also known as "stickies" because picking the grapes makes the workers hands sticky.  The term originated in Australia, but has become ubiquitously synonymous with dessert wines around the world. There are essentially two types of dessert wines, fortified and late harvest.  In Part One of this series, I will introduce you to fortified dessert wines.  In Part Two, I'll introduce you to late harvest dessert wines. Fortified wines are wines to which a distilled beverage (usually grape brandy) has been added. Adding a distilled beverage does two things to the wine.  First, when a distilled beverage is added to wine before fermentation is complete, the alcohol in the distilled beverage kills the yeast and leaves residual sugar behind which make the wine sweeter.  Secondly, it increases the alcohol content of the wine, which is why dessert wines are served in small quantities (typically a 2 ounce pour).  Dessert wines are typically unctuous, but don't let the smooth taste fool you, the higher alcohol levels can loosen inhibitions quickly! There are many different styles of fortified wines.  The three major styles are Port, Sherry, and Madeira.  Other styles include Marsala, which is similar to Port, but made in Italy, and vermouth which is primarily used for cocktails and cooking, and Vins doux naturels, which I will touch on later
Port
Port is the most famous wine of Portugal, where it is known as Porto.  It is widely considered one of the most unique, delicious dessert wines in the world and, as such, it's the most consumed dessert wine.  I'm surprised I haven't seen "The Most Interesting Man In The World" sipping Port!  It's got that kind of swag.  True "Port" is produced exclusively in the Douro Valley in Portugal. However, port-style wines fortified wines are produced in California, Australia, South Africa, Canada, and Argentina.  Ports are typically red wines. There are many styles of Port, which can be divided into two broad categories, barrel-aged Ports, and bottle-aged Ports.  Barrel aged ports are predominately aged in wood, and are ready to drink right after they are bottled and shipped. They should be consumed within a couple of year of bottling.  On the other hand bottle-aged ports start out in wooden barrels for a brief period of time, but are matured in bottles for a much longer period of time. Barrel aged ports include:
Ruby Port – Aged in oak 3 years – approachable, vibrant
Tawny Port – Basic, easy Port aged 3 years in oak.  Pale onion skin color, usually consumed as an aperitif.
Aged Tawny Port – Designated as 10,20, 30,>40 years old. Tawny colored with nutty, brown sugar and vanilla flavors. Soft silky texture.
Colheita – An aged tawny port from a single vintage. Minimum of 7 years age. The rarest of all ports.
LBV – Late Bottle Vintage – Aged 4-6 years in oak.  Vintage dated. Lack the richness, and complexity of Vintage Ports, but offer good value.
Vintage Character – Aged 4-6 years in oak.  Cross-Ruby Blend
Bottle Aged Ports include:
Vintage
Single Quinta Vintage
Classic pairings with Port are roasted nuts, and Stilton (along with other blue cheeses).   My favorite pairing with Port, so far, is dark chocolate.
Sherry
Sherry is a fortified wine made from white grapes that originated in Jerez, Spain.  It is, arguably, Spain's greatest wine, and certainly its most complex and labor-intensive wine.   That's because of the way it's made.  It is progressively blended and aged in a complex network of old barrels, called soleras.  The solera system is comprised of 500 litre casks made of American oak stacked one on top of another.   Periodically the newer wine is moved down to the next barrel containing older wine, some of which has evaporated.  How the wine moves through the solera determines which type/style is of sherry produced.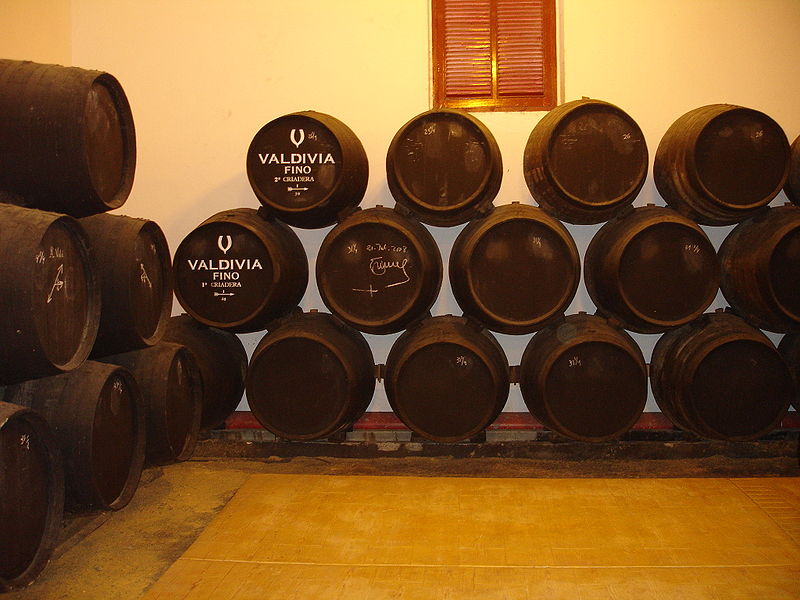 The styles range from bone-dry to super sweet.  There are two broad categories of Sherry, finos and olorosos.  I'll focus on the olorosos, which may be produced into dessert wines. Unlike finos which are aged under what is called a "flor", which is a complex strain of yeast that blooms spontaneously in Jerez' humid air, olorosos are fortified such that a flor does not form.  Because a flor doesn't form, olorosos are exposed to oxygen, and its oxidizing effects, which results in making the sherry darker fuller textured than finos with a deep, caramel-toffee richness. The other difference between oloroso, and finos is that olorosos are moved more slowly through the solera system.  Sherry is aged in the solera for a minimum of 3 years.
Once the oloroso is removed from the solera it is ready to be bottled as dry wine.  Or it may be sweetened with the ultra-sweet juice of Pedro Ximénez ("PX") grapes. Depending on how much PX is added the sherry may be medium sweet, or if PX makes up about 15% of the final blend, the oloroso is deemed to be a cream Sherry.  Finally, PX is also made into a rare Sherry of its own.  PX's are nearly black in color and have a very thick texture.  It's so sweet, it IS the dessert, or, as in Spain, it may be used to top ice cream.
My favorite dessert and wine pairing with Sherry, so far, was a Chocolate Cake with Vanilla Bean Chantilly with NV Gonzales Byass, Solera 1847 Oloroso Dulce Sherry.
Madeira
Madeira is a fortified wine made on the island of the same name off the coast of Portugal. As with Sherry there are sweet and dry style Madeira.  It is believed to be the wine used to toast the signing of the Declaration of Independence.
To make Madeira, clear Brandy is added to wine before it has completed fermentation.  Unlike Port or Sherry, Madeira is essentially baked naturally by the hot Madeiran sun in huge casks in the attics via a process called estufagem, or by heating it to 120 degrees for at least 3 months.  After the heating process is complete, the wine is carefully cooled and allowed to rest for at least a year to recover from the shock.  After that, depending on the style and quality level, it is further aged.  Like Sherry, Madeira may be made using the solera system.
The two styles of Madeira considered to be dessert wines are Bual, which is a dark amber color and medium-sweet, and Malmsey which is also a dark amber color, but sweeter.  Both are made from white grapes.  Like Port, Madeira is made at various quality levels ranging from 3 years to 20, or more years.  The highest quality is labeled Vintage and must be from a single year, or a single grape variety and aged at least twenty years.
My favorite Madeira dessert wine pairing, so far, was Triple Bittersweet Chocolate Ice Cream, Hot Fudge, Caramel Cream, Pecan Praline & Caramel Brownies with a 1997 Cossart Gordon Madeira Bual Colheita.

Vin Doux Naturel
Vin Doux Naturels ("VDN") are sweet dessert wines from France that are made in a similar process to Port. Like Port, extremely ripe grapes are fermented to a point where the residual sugar level is approximately 10%, before fermentation is halted through the addition of neutral grape spirit, fortifying the wine to 18% to 21% alcohol by volume.  VDN are made from both red and white grapes, primarily in the South of France.  The white versions are typically made from the Muscat grape, while the red versions are typically made from Grenache.
Related articles