Last week I attended, as a media guest, the Twenty-first Annual Family Winemakers of California ("FWC") tasting held at Fort Mason. The event was held over two days, August 21st, and 22nd. Alas, duty (work) called on Monday, so I opted to attend Sunday only. This was a huge event, even bigger than Sonoma InThe City, which to date, had been the largest tasting I've attended. There were over 300 producers (probably about 1000 different wines would be my guess) from throughout California pouring at the event. On Sunday, the event was from 1:00-6:00p (trade/media from 1-3p, open to the public thereafter), so I needed a plan to maximize my time there. After considerable teeth gnashing, I decided to focus on red Rhône wines.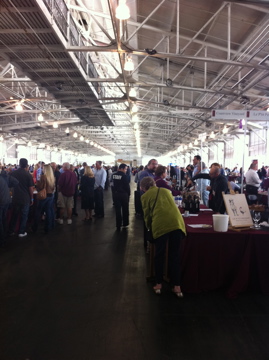 Red Rhône wines are primarily comprised of Grenache, Syrah, and Mourvedre (a.k.a. "GSM") sometimes as a blend, sometimes on a stand-alone basis (for a PDF of red Rhônes click here). Red Rhônes are certainly on the rise in California, with Paso Robles leading the way. I once saw Rhônes described as the vinous equivalent of a "primal scream". That's what I love about them, along with their affinity for food.
I thought the event was very well organized, although there was a bit of a challenge with a long line, and a bit of chaos getting in when the doors opened at 1. The wineries were arranged alphabetically, which made it easy to find the wineries I was looking for. There was good news and bad news about the tools and resources provided by FWC. The good news is that the FWC had a helpful website that included a list of participating wineries, and a sortable Varietal map showing who was pouring what. There was also a very informative brochure with details about the participating wineries. The not so good news is that the Varietal map wasn't as accurate as I hoped. As I worked my way through my red Rhone list, I discovered some wineries listed as pouring red Rhônes were in fact pouring either a Rosé made with red Rhône grapes, or red wine blend that may have included red Rhône varietals. Additionally, wineries pouring Petite Sirah were counted as red Rhônes, when technically Petite Sirah isn't considered to be a Rhône varietal (at least not in France, though the California based Rhone Rangers list Petite Sirah as a red Rhone varietal) That didn't create any heartburn for me because I enjoy Petite Sirah, and I consider them to be spiritually akin Rhône, if not genetically, or otherwise deemed to be Rhônes. In fact, for the first time, I came across a few "GSP" (Grenache, Syrah, Petite Sirah) blends which I found quite enjoyable! Purists…you have been forewarned ;-).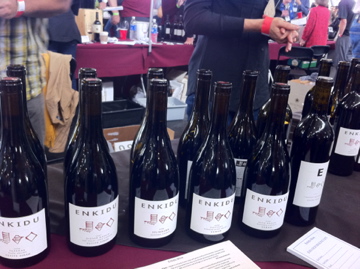 My tasting plan included 38 wineries listed as pouring red Rhônes, and 8 of the wineries were new to the event. After I tasted through the red Rhônes on my list, I had about 30 minutes of "Taster's Choice" time, and arbitrarily selected a few more wineries for tasting. I tasted 70 wines from 40 wineries. My favorites (I scored 90 points, or higher) including my detailed tasting notes follow. Note: The price range represents the range for wines poured at FWC. Cs/Yr = Annual case production.
Carica
Carica was established in 2005 by Charlie Dollbaum. I've visited the winery, which is one of several wineries at Rockwall Wine Company, a couple of times. In particular, I remember enjoying their Kick Ranch Sauvignon Blanc, and Temptation Rhone blend. 975 Cs/Yr. Range: $18-$36. Nice QPR on these!
Core Wine Company
This was a new to me winery out of Santa Maria in Santa Barbara County. I've been to a couple of different wine festivals in Santa Barbara the last few year, but don't recall seeing them pouring. My loss…very nice wines! Founded in 2001. 4,000 Cs/Yr Range: $19-$61
Enkidu Wine
This was another new to me winery. This one is located in Sonoma, and was founded in 2004. 5,000 Cs/Yr. Range: $20-$45
Grey Stack Cellars
Santa Rosa based winery established in 2005. 2,000 Cs/Yr Range: $24-$45
Harrison Clarke Vineyard and Winery
This is one of the wineries I stumbled upon during my "Taster Choice" time. They had several Rhone blend, but didn't turn on my search for red Rhone producers. The winery is in Solvang. They produce about 800 Cs/Yr. Range: $18-$52. I tried their flagship wine, but would also have liked to have tasted their Grenache, and Estate Syrah.
Jemrose
This is one of the wineries I didn't get to at the last large tasting I attended, Sonoma In The City. Fortunately, my fellow wine blogger Richard Jennings didn't. After I read his recap, this winery hit my radar. They produce very good wines. The winemaker is Michael Browne of Kosta Browne. They are located in Santa Rosa. Range: $32-$65
Justin Vineyards and Winery
This is a winery I sought out during my "Taster's Choice" time. The winery is located in Paso Robles. I didn't get a chance to go the last time when I was in Paso, but I'd heard nothing but good things about Justin. The wine I tried was a Bordeaux blend, and it lived up to the hype. The next time I'm in Paso, Justin will be a "must" visit. Founded in 1981. 50,000 Cs/Yr Range: $15-$62
L'Aventure Winery
This is another wonderful Paso Robles producer. I had the pleasure of visiting last month. If you're ever in Paso, this winery is a must. Founded in 1998. 6,500 Cs/Yr. Range: $50-85
Orin Swift
I'm familiar with Orin Swift, having enjoyed their "Prisoner" Zinfandel blend a couple of years ago. They are a well known Napa based winery. Founded in 1998. 10,000 Cs/Yr Range: $25-$55
Robert Biale Vineyards
This is a winery that first came to my attention earlier this year, when I attended "Dark & Delicious", the annual Petite Sirah (a.k.a. "Pet", "PS") put on by P.S. I Love You. I really like their Pets, and Zinfandels. They are definitely on the rise! 9,000 Cs/Yr Range: $40-$75
Stage Left Cellars
Stage Left is an Oakland based "Urban winery". They source fruit from throughout the state of California. I've been to their winery a few times, and am a fan. Founded in 2004. 1,200 Cs/Yr. Range: $22-$48
Tablas Creek Vineyard
Definitely one of the gems in Paso Robles! The winery is a partnership between the Perrin family of Château de Beaucastel and Robert Haas founder of Vineyard Brands. The wine I tasted is their flagship red Rhone blend. Their vine were imported from France. They make great Rhone blends. Founded 1989. 20,000 Cs/Yr. Range: $20-$55l
Turley Wine Cellars
Another Paso based winery. They have a well-earned reputation for Zinfandel, and Pets so I was a bit surprised to see them pouring a Cinsault, which you don't find a lot on a stand-alone basis. According to Richard Jennings it's only distributed to restaurants. That's a shame, because it was excellent!
Earlier I mentioned trying several "GSP" wines. The couple I tried, and enjoyed were from Pierce Ranch (the best "value" producer I sampled), and Sycamore.
What I always enjoy about big tastings such as this, is finding exciting wines from producers I haven't previously tasted. The "discoveries" for me at this tasting were Core, Enkidu, Jemrose, and Harrison Clarke. It was also good to check in on producers whose wines I've previously enjoyed as they continue their ascension. It was a great tasting, and next year I hope to attend both days!
Related articles