A week from today, September 1st,  is Cabernet Day (click here for the 411 including a list of meetup locations, participating wineries, etc).  Cabernet Day is a worldwide virtual wine tasting that's focused on Cabernet.  Of course that includes Cabernet Sauvignon, but also includes Cabernet Franc (a parent, along with Sauvignon Blanc of Cabernet Sauvignon), and Cab Blends.
Ed Thralls of Wine Tonite provides this explanation of what a virtual tasting is all about:
For those new to social media, an online Social Media Community Tasting is simply when people who love wine gather socially both at physical locations, such as wineries, wine shops and their own homes, and virtually via Twitter, Facebook or any social channel turning the event into one big wine party! Throughout the event, wine-lovers from across the country and the globe will share their thoughts on the wines they've chosen to drink on this night and "conversing" with like-minded connoisseurs…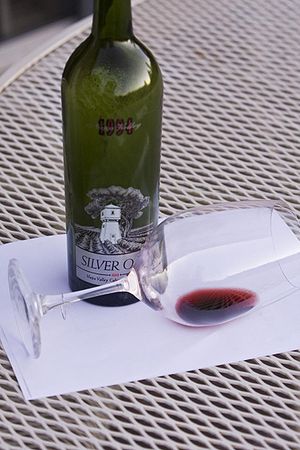 Here's how you can participate.  It's as easy as 1-2-3!
1. Pick a wine for the #CabernetDay tasting, or go to a participating winery, restaurant, or meetup location.
2. Whether you're at home, at a restaurant, winery, or at meetup location post your comments on your favorite social media site such as FB, Twitter, YouTube, etc. for others to see using the "#CabernetDay" hashtag.  Adding the hash tag make your comments searchable.  I recommend Twitter – that's where most of the action takes place.
3. Join the on-line conversation by searching on the #CabernetDay hash tag.  It's a great way to get recommendations from other Cabernet lovers, and ask questions of winemakers, and wine enthusiasts.
I'm planning to celebrate twice!  First, I'm planning to attend a vertical tasting of the iconic Monte Bello Cabernet at Ridge Vineyards , then later than evening I'm going to pop and pour (well maybe, pop, decant, and pour) what I expect be a great bottle of Cab, the 2005 Kendall-Jackson Meritage Stature!
So catch a Cab, and laissez les bon temps rouler (Let the good times roll;-)  I hope to see you online!
Related articles