This week's virtual trip around the world of sparklers takes me back to South Africa.   Back in June I reviewed the NV Graham Beck Brut Rosé which I really enjoyed and heartily recommend.
The eponymous Graham Beck was founded in 1983.  The first sparkling wine was produced 8 years later in 1991.  In 1994 Graham Beck was served at the inauguration of Nelson Mandela.  Once apartheid and isolationism were gone, the wine industry in South Africa made great strides.  In addition to 5 others sparkling wines (both vintage and non-vintage), they produce a diverse line of reds, whites, and a rosé that's a blend of Malbec and Sangiovese.
In South Africa, the Méthode Champenoise is referred to as the Methode Cap Classique ("MCC"), and the sparkling wines go by the same initials.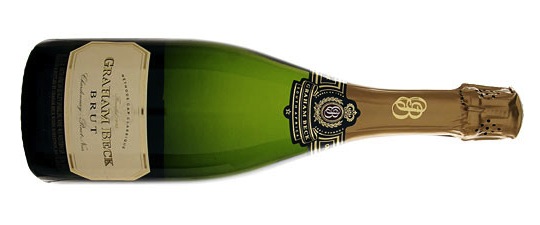 NV Graham Beck Brut
Region: South Africa>Western Cape
Variety – 58% Chardonnay, 42% Pinot Noir
Residual Sugar – 8.5g/Liter
Production method: Méthode Champenoise; 15-18 months on lees.
Alcohol by volume: 12%
Cost:$14
My tasting notes follow:
Appearance: Pale gold with copper tinge
Aromas: Yeast, and stone fruit
Body: Light bodied, with moderately aggressive mousse
Taste: Tart apple with touch of mineral flavor
Finish: Short-medium
Pair with: The beauty of sparkling wines is their pairing versatility with a variety of foods.  Try this one with lighter fare such as your favorite summer salad, fresh shucked oysters, or poached salmon.
This is a good value at less than $14.  It reminds me of Champagne in that it's biscuity, and dry and it costs less.  I recommend. (86 pts)