My wife and I make it a point to drink sparkling wine on a weekly basis.  It's typically Friday night…thus "T.G.I.F. Bubbly"  It's a celebration of sort to the end of the workweek.  She get's to drink, and enjoy the bubbly, while I get to drink, enjoy and blog about it!  This week's bubbly is the Segura Viudas Cava Brut Reserva , a Cava from Spain produced by Segura Viudas.
I'm really starting to like Cava!  It tends to have a great QPR, adds sparkle to any occasion, and is oh so food friendly.  What's not to like?!
Cava isn't from a particular region in Spain, rather it's a term used for Spanish sparklers made in the traditional method (known as Méthode Champenoise) used in France.  While there are some other regions in Spain that also make Cava, about 95% of the production comes from the traditional home of Cava, the Penedes region in Catalunya (a.k.a. Catalonia) The basic rules for making wines that may be called Cava are as follows:
Must be made in the traditional method (secondary fermentation takes place in the bottle)
Must age on lees in the bottle in which it will be sold for a minimum of 9 months, 18 months for Reservas and 24 months for Gran Reservas.
All the grapes used for must be white grapes – the 3 most common being Macabeo (a.k.a. Viura), Parellada (pronounced pa-re-yada), and Xarel.lo (pronounced cha-rel-low) – unless you are making a Rose, in which case certain red grapes are permitted.
 Macabeo (a.k.a Viura in Rioja) contributes acidity, freshness, and fruitiness; Xarel-lo brings body, alcohol and depth of flavor, while Parellada adds delicacy, and elegance to the blend.
The producer, Segura Viudas, is part of the Freixenet family of wines that includes Gloria Ferrer in Sonoma.   They use proprietary yeast strains cultivated at their in-house yeast farm, in the secondary fermentation.  This cuvée is composed of 12 different wines.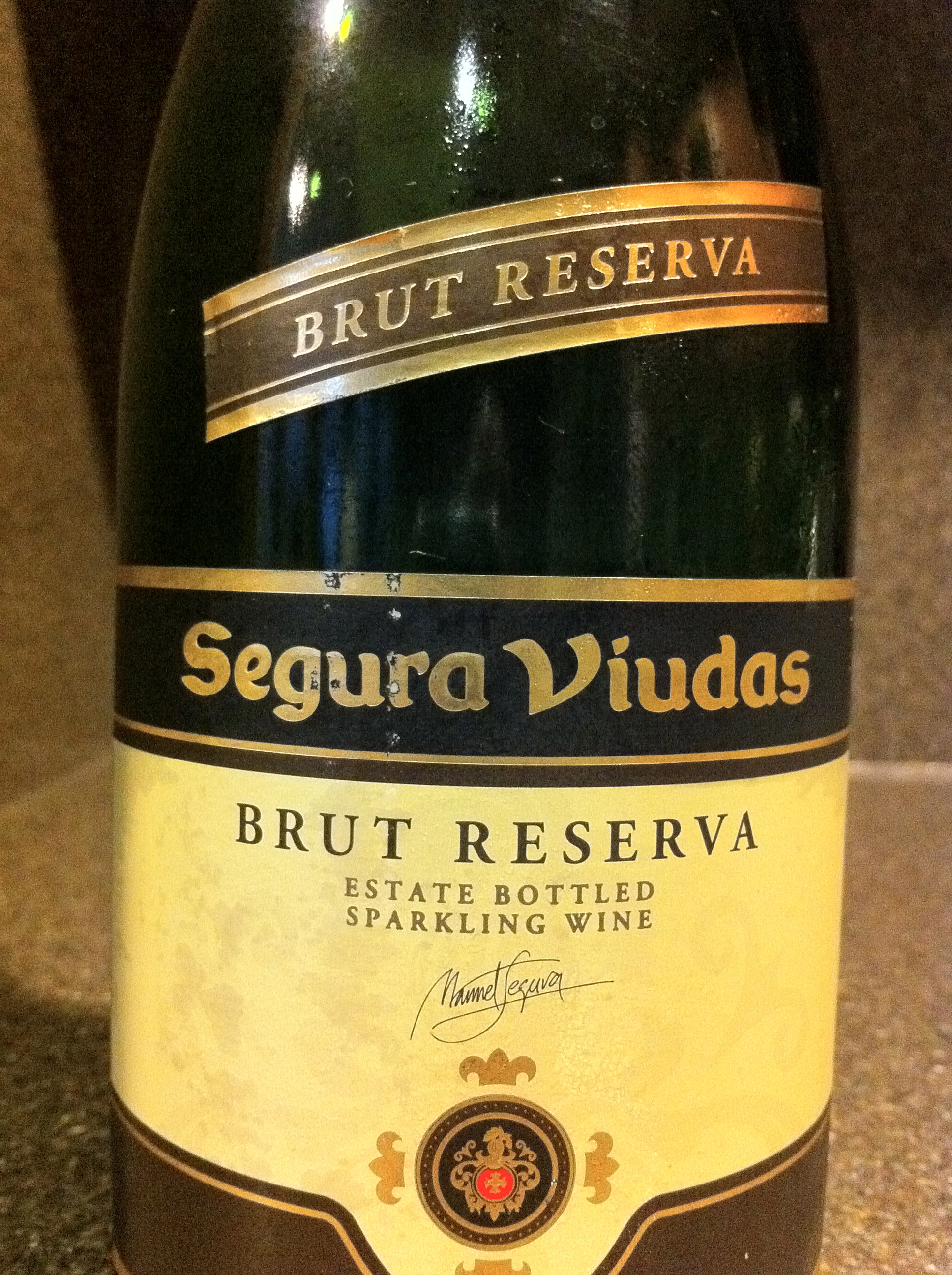 NV Segura Viudas Brut Reserva Cava
Region: Spain>Catalunya>Cava
Variety – 50% Macabeo, 35% Parellada, 15% Xarel.lo
Residual Sugar – 9g/Liter
Production method: Méthode Champenoise; Aged 15 months on lees.
Alcohol by volume: 11.5%
Cost:$9
My tasting notes follow:
Appearance: Light straw color with fine bead of bubbles
Aromas: Bread dough and lemon-lime citrus
Body: Light bodied, with moderately creamy mousse
Taste: Green apple, and tart citrus
Finish: Short
Pair with: The beauty of sparkling wines is their pairing versatility with a variety of foods.  I enjoyed this with spicy Pakistani-Indian food, including Tandoori Prawns, and Goat Curry!  But I'd recommend with lighter fare to match this light-bodied straight forward, but immensely enjoyable Cava.  Try this with smoked seafood topped salad, or seafood paella.
This is an exceptional value at less than $10 – especially for a Reserva level Cava!  This is definitely a "go-to" everyday Cava for me. I highly recommend!  87 pts
Related articles