I enjoy drinking a variety of sparkling wines depending on my mood.  What I enjoy about Prosecco is that it tends to be a bit fruitier, and less demanding (no significant contemplation needed) than Champagne, and other sparkling wines.  That's because it's  secondary fermentation takes place in a stainless steel pressurized tank, rather than individual bottles. Nor is Prosecco aged, which is what gives sparklers that undergo secondary fermentation in individual bottles their complexity (click here for a great explanation of how sparklers are produced).
Prosecco also tends to be lower in alcohol than most sparkling wines and Champagne, which make it nice (and less expensive) alternative to sparkling wines, or Champagne, especially as things heat up during the summer months.  Prosecco tends to be light-bodied, so I'm more likely to enjoy it as an aperitif, with lighter fare typically consumed during the warmer summer months.
For many years Prosecco was used to describe both the grape, and the region where the grape are grown.  In mid 2009, Italian wine regulations were revised to clearly state that Prosecco was no longer to be classified as a grape, but a region that was clearly delimited.  There are two such regions classified as a DOCG, the highest status for Italian wines.  Additionally, there are at least eight regions classified as DOC, the next to highest status for Italian Wines.  Treviso, the source of grapes for this Prosecco is one of the eight DOC regions.  The producer, Mionetto has been making Prosecco since 1887!  And nowadays, the grape is known as Glera.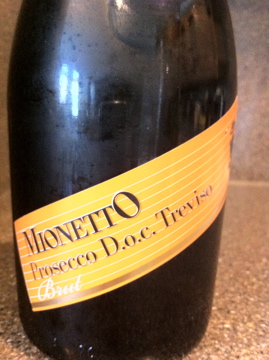 Region: Italy>Veneto>Treviso
Variety – 100% Glera
Residual Sugar – 0.09%
Alcohol – 11%
Cost – $14 (though I found at BevMo for $10)
Production method: Metodo Italiano (Charmat Bulk)
My tasting notes follow:
Appearance: Very light yellow – the color of clarified butter
Aromas: Sweet bread, citrus, and a bit of wet stone
Body: Bead of bubbles with a somewhat creamy mousse.  Bubbles dissipated quickly.  Light-bodied, fairly well balanced, and juicy.
Taste: Fruity lemon-lime, Fuji apple, and a touch of vanilla flavors
Finish: Medium
Pair with: Sparkling wines are probably the single most versatile wine to pair with a wide variety of foods.  This was quite nice with an Herbed Shrimp and White Bean Salad, where I subbed colorful artisan lettuce for the arugula.  The fruity lemon-lime flavor was an excellent complement to the lemon vinaigrette I made for the salad.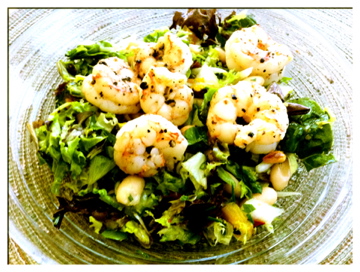 Sometimes a wine grabs you by the palate right out the gate,  and sometimes it takes a little time and/or a few sips to make an impression on you.  Initially I thought it was OK, but with each sip, I found myself enjoying it more and more.  This is a very solid candidate for a "go-to" Prosecco for me, especially at $10!  I recommend! …. 86 pts.
Related articles