After reading about the  latest record price fetched for a dessert wine,  an 1811 Chateau d'Yquem,  I allowed myself a flight of fancy about having such a rare and impossibly expensive wine to top off a meal.  Since it's my dream, I decided to go big and figured I'd have a bottle of the Champagne with the the first course of my meal, followed by a bottle of Pinot Noir with the entree.  Garçon, drum roll please!
For my first course I'd choose the 1907 Heidsieck, the "Shipwrecked" Champagne  cost approximately $35,000 (although rumored to be as much as $275,000/bottle! – let's try to keep real OK?)
To enjoy with my entree course, The Most Expensive Bottle of Pinot Noir Ever Sold (in 2011 by the way): Cost – $124,000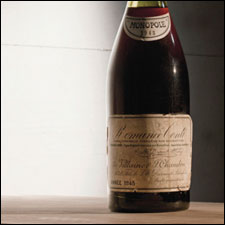 And for dessert course, the 1811  Chateau d'Yquem: Cost – $111,000
There you have it! Three mighty fine bottles of wine for $270,000 (Note: All wines mentioned are in standard 750ml bottles, are drinkable, and available for sale)
Ah to dream!  It's utterly amazing bottles of wine with this much age are drinkable!  What enables these wines to age so well for so long?  In a word -acidity!  And in the case of the Sauternes, the balance of acidity and residual sugars present in the wine.
By the way, I want you to know my fiscal prudence knows no limits.  I chose the 1907 Heidsieck over the World's Oldest Champagne to save $4k;-) It sold last month for about $39k/bottle!!
 Any suggestions on what to pair with the wines?  If money were no object, which wine(s) would you have with your dream meal?  Leave me a comment and let me know!
Related articles