I was a bit surprised to learn that this is only my second "T.G.I.F…" Prosecco post.  I enjoy Prosecco, and it's certainly enjoying a surge in popularity these days.  According to the Shanken News Daily….
"As recently as 2007, around 450,000 cases of Prosecco were sold in the U.S. By 2009, though, as Champagne sales declined amid widespread consumer belt-tightening, Prosecco picked up much of the slack, as sales jumped to roughly 750,000 cases. By the end of 2011, U.S. Prosecco sales will likely be within striking distance of Champagne sales, which reached around 1.3 million cases last year "
Prosecco tends to be lower in alcohol than most Sparkling Wines and Champagne, which make it nice (and less expensive) alternative to Sparkling Wines, or Champagne for many, especially as things heat up during the summer months.  It should be enjoyed while in its youth.
For many years Prosecco was used to describe both the grape, and the region where the grape are grown.  In mid 2009, Italian wine regulations were revised to clearly state that Prosecco was no longer to be classified as a grape, but a region that was clearly delimited and known as the Conegliano-Valdobbiadene, which is a classified as a DOCG, the highest status for Italian wines.  Nowadays, the grape is known as Glera.
The producer, Santa Margherita is well known for their popular Pinot Grigio.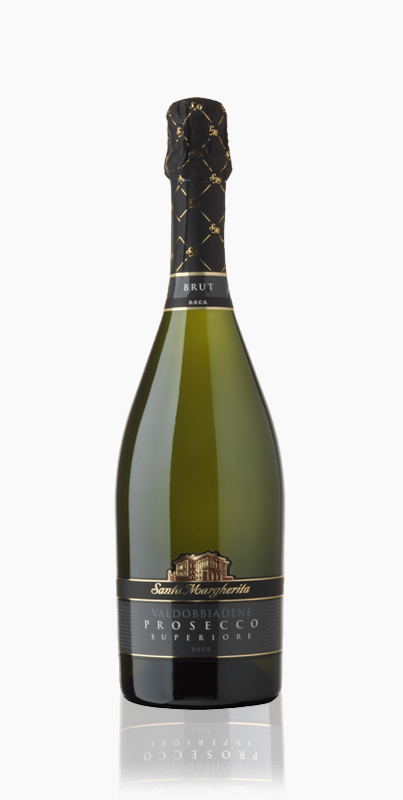 Region: Italy>Veneto>Prosecco di Valdobbiadene
Variety – 100% Glera
Dosage – Unknown
$13, 11.5% a.b.v.
Production method: Metodo Italiano (Charmat Bulk)
My tasting notes follow:
Appearance: Light straw color
Aromas: Apples and dry yeast
Body: Fine bead of bubbles with a moderately creamy mousse.  I found it be too acidic for my tastes.
Taste: Green apples, vanilla, and lemon-lime on the back palate
Finish: Medium
Pair with: Sparkling wines are probably the single most versatile wine to pair with a wide variety of foods. Try this one with
This is a decent, enjoyable, though one-dimensional Prosecco.  It didn't float my boat, so no repeat purchase on this one.  That leaves me still looking for a " go to" Prosecco.  This one ain't it.   84 pts
Related articles