It's Champagne this week! And by one of the most widely recognized names in Champagne, Piper-Heidsieck, (I can't be the only one who has wondered how to pronounce this!) which was founded in 1785.   They make about 5 million bottles of Champagne a year. To my surprise, I learned they do not have their own vineyards.  Rather, they source their grapes from a multitude of vineyards in the region. In addition to this week's "Red Label" Champagne, they also make 5 other Champagnes.
As non-vintage Champagne, not only is this comprised of various vintages, but Piper-Heidsieck also combines fruit from 50 rigorously selected growths, and 20% reserve wines from earlier years to create a consistent style, and flavor from year to year.  The blend is aged at least 24 months on lees.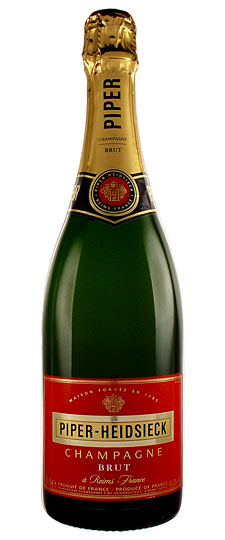 Region: France>Champagne
Variety – 55% Pinot Noir, 30% Meunier and 15% Chardonnay (incl. 20% reserve wines)
Dosage – 13g/Liter
$30, 12.9% a.b.v.
Production method: Méthode Champenoise;
My tasting notes follow:
Appearance: Light golden yellow color with plenty of pin prick bubbles
Aromas: Recalcitrant nose offered faint apple and toast notes. Yeasty/dough aromas were conspicuously absent
Body: On the palate soft creamy mousse, medium bodied, and closer to off-dry, than dry for me.
Taste: Ripe apple and a touch of red berry flavors
Finish: Medium-long
Pair with: Sparkling wines are probably the single most versatile wine to pair with a wide variety of foods. Try this one with cheddar cheese popcorn, raw almonds as an aperitif, and then grilled scallops, or fried calamari for your entreé.  Still have some Champagne in your glass?…this would be nice with and angel food cake topped with fresh seasonal berries!
At $30, this is an entry level Champagne.  It's very good, but I didn't care for it as much as I have others in the same price range, and many below.  I'll be skipping this one.  86 pts