While doing this "T.G.I.F, Champagne and the like" series, I've only reviewed one Cava. I was disappointed with it.  To be fair, I've only had a few, but the few I've had, more so bring to mind Mimosas than a sparkler I'd enjoy on its own, or with a diverse range of foods.   Then I read an article entitled Looking for Love in Cava: The vast difference between quality and value-priced Cava, which made me wonder if I wasn't looking for Cava "love in all the wrong places".
Here's what I've learned since my previous Cava post.  Unlike Champagne, Cava isn't from a particular region in Spain, rather it's a term used for Spanish sparklers made in the traditional method (known as Méthode Champenoise) used in France.  While there are some other regions in Spain that also make Cava,  about 95% of the production  comes from the traditional home of Cava, the Penedes region in Catalunya (a.k.a. Catalonia)  The basic rules for making wines that may be called Cava are as follows:
Must be made in the traditional method.
Must age on lees in the bottle in which it will be sold for a minimum of 9 months, 18 months for Reservas and 24 months for Gran Reservas.
All the grapes used for must be white grapes – the 3 most common being Macabeo (a.k.a. Viura), Parellada (pronounced pa-re-yada), and Xarel.lo (pronounced cha-rel-low) – unless you are making a Rose, in which case certain red grapes are permitted.
The producer, Raventós i Blanc, is the only Cava producer to estate grow (on about 200 acres of land that has been in the family since 1497!) and bottle all their wines.  Their Cavas are all vintage dated, which also sets them apart.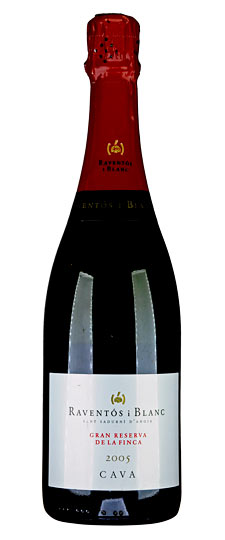 2007 Raventos i Blanc Cava "L'Hereu de Nit" Brut Reserva Rosé Cava
Region: Spain>Catalunya>Cava
Variety – 55% Macabeo, 15% Xarel.lo, 15% Parrellada,  15% Monastrell
Residual Sugar – 8g/Liter
$20, 12.5% a.b.v.
Production method: Méthode Champenoise;
My tasting notes follow:
Appearance: Very pale salmon color with a copper hue, with a fine bead
Aromas: Fresh baked bread, strawberry, and red currant with slight floral and spice note.
Body: Refined mouth feel with a soft creamy mousse.  Nicely balanced with some complexity
Taste: Raspberry, red currant, and soft minerals.
Finish: Medium
Pair with: The beauty of sparkling wines is their versatility with food, especially Rosés which can fit a broad palette of flavors on a chef's menu, whether the chef is someone else, or you!  This was wonderful with the grilled salmon we had for dinner.
I really enjoyed this, and it's changed my mind about the what Cava can be.   It was comparable in enjoyment, complexity, structure, to other sparklers at this price level, and some, including Champagne that cost more.  I'd buy this one again in a heartbeat, and it's a very good value, especially for a Rosé.  I heartily recommend!   89 pts
Related articles