I'm going back to Cali this week with the Blanc de Noirs from Gloria Ferrer.  Blanc de Noirs (a French term literally meaning "white of blacks") are sparklers made with black, or red-skinned grapes.
Gloria Ferrer was established in 1986, and was the first sparkling wine house in the Carneros AVA.  Since it's cooler in Carneros than in the other Napa sub-appellations,  grapes like Pinot Noir and Chardonnay thrive there.  So, while Gloria Ferrer is primarily known for sparkling wines, they also produce estate-grown Chardonnay and Pinot Noir.
The fruit for this one if from the Sonoma side of the Carneros (which straddles both Sonoma, and Napa counties).   According to Gloria Ferrer the "cuvée is a blend of 18 different base wines" .  It spent 18 months aging on lees during the secondary fermentation.  It gets its copper, almost rosé like color from vin gris of 5-7% cold-soaked Pinot Noir blended into the base wine.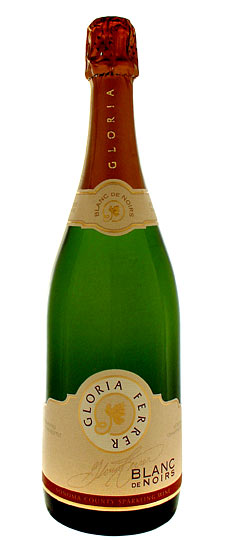 NV Gloria Ferrer Blanc de Noir
Region: USA>California>Sonoma>Carneros
Variety – Pinot Noir (90%), and Chardonnay (10%)
Dosage – 13g/Liter
$15, 12.9% a.b.v.
Production method: Méthode Champenoise;
My tasting notes follow:
Appearance: Light copper color with salmon hue.  Loose bead with tiny bubbles
Aromas: Cherry, strawberry, and warm biscuits.
Body: Refined mouth feel with a creamy mousse.  Light bodied, fruit forward, with straight forward, but enjoyable flavors, and good balance.  
Taste: Cherry, sweet apples with a subtle vanilla.
Finish: Short
Pair with: The beauty of sparkling wines is their versatility with food.  We enjoyed this with a bucket of KFC, cole slaw, and mashed potatoes and gravy! It paired well with that diverse palate of flavors, spices, and textures.  It should also pair well with Thai food, crab, and roast fowl.
I really enjoyed and it's a good value at $15.  I will be buying this again – and I recommend you do too! 87 pts