My virtual trip around the wide world of sparklers takes me to Argentina this week.  Yes, a sparkler from Argentina!  I was surprised, though I suppose I shouldn't have been.  At this point in my world wide sparkling wine journey, it's clear to me that sparkling wine is made in virtually every corner of the world.  In fact, only about 8% of the world's sparkling wine is actually Champagne made in France.
On the other hand, if you asked me to guess where a sparkler made from Malbec  is produced, Argentina would be my first guess.  Argentina is the world's 5th largest wine producer, and Malbec is their signature grape.
The producer CJR Reginato, is a family run winery that oversee the entire wine making process from the vine to the bottle.  They produce sparkling wines made via both the Charmat method and the "Metodo Tradicional".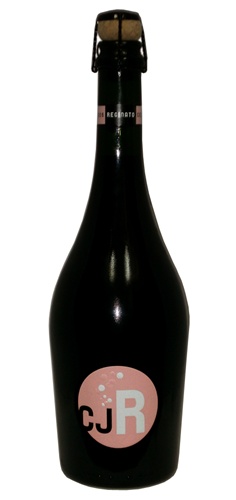 Cost: ~$20
Region:>Argentina>Mendoza>Cuyo
Variety – 100% Malbec
Dosage – Unknown
12.9% abv
Production method: Méthode Champenoise
My tasting notes follow:
Appearance: Intense strawberry red color with intermittent stream of tiny bubbles; the relatively sparse bubbles brought to mind Spanish Cavas
Aromas: Baked bread and ripe cherries.
Body:  Fruity, yet pleasingly more dry, than off-dry with an explosive, creamy mousse, delicate almost imperceptible tannins, and mouth-watering acidity.
Taste: Cherries, raspberries, and a hint of spice.
Finish: Medium
Pair with:   We enjoyed this with a variety of  tapas from Cesar Latino.  The sparkler was served  before our tapas arrived, and I enjoyed this as a juicy, yet refreshingly dry quaffer.  When the tapas arrived,  it was just as enjoyable, if not  more so, with our food.  Try it with Mexican, or Southwestern cuisine, even a grilled skirt steak!
This is a fun and tasty sparkler I very much enjoyed.  I would purchase again.   I recommend!   87 pts
Related articles