At the most recent Pacific Pointe Wine Tasting Club it was Dry Rosé Night.  It seems that Rosé is making a comeback, especially here in the US where the very mention of "pink" wines conjures up nightmares of sickly sweet White Zinfandels that seem more like soda than wine. No, these were dry Rosés – the kind that are so versatile with a variety of foods and are the ideal choice for when the weather turns warm, and you can't make up you mind whether you want a white wine, or red wine.  Look to a chilled glass of refreshing food friendly Rosé!
We blind tasted a diverse group of Rosés from France, California and Italy (Spain was conspicuously missing). Not only were the Rosés from various countries, but they were from diverse locations within France, and California, along with being made from diverse grape varietals, including Grenache, Syrah, Cinsault, Pinot, Cabernet Sauvignon, Merlot, and Primitivo (labeled as Zinfandel to appeal to American consumers).  The wines were a wine array of colors from very light salmon to strawberry red.  The wines we tasted (along with information about the where the wines were from, the grapes used to make the wine, alcohol content, and price) were as follows:
2009 Chateau Rol Valentin Bordeaux Rose – France>Bordeaux; Blend of Merlot, Cabernet Sauvignon and Cabernet France; 13.5% abv – $7
2010 Domaine de la Fouquette – France>Provence; Blend of Grenache (60%), Cinsault (30%), and Rolle (5%); 12% abv$ – $17
2010 La Grenouile Rougante -California>Napa Valley; Blend of Zinfandel (61%), and Valdiguie (39%); 12.2% abv – $15
2010 Josefina Rose  – California>Central Coast>Paso Robles; Syrah; 12.7% abv – $5
2009 Bonterra Rose – California>North Coast>Mendocino Blend of Sangiovese, Zinfandel, Carignane and just a little Grenache (Double Gold Winner 2011 SF Chronicle Competition – Dry Rose <1% residual sugar); 13.4% abv – $16
2009 F&E Ogio Zinfandel Rose – Italy>Puglia. 100% Primitivo; 12.5% abv – $5
2010 Chateau Bas – France>Provence. Blend of Grenache, Cinsault and Syrah; 12.5% abv – $11
2009 – Toad Hollow Eye of the Toad – California>Sonoma County. Pinot Noir; 11% abv – $12
2008 Marquis de Goulaine Rosé D'Anjou La Roseraie – France>Loire Valley>Anjou-Saumur; 11% abv – $8
2009 Cellier du Rhone Rosé  – France>Provence; Grenache; 13.4% abv – $5
I made Brown rice paella for the tasting (Which I modified by substituting the same amount of fresh chorizo for dry-cured chorizo in Step #3, along with substituting about 1.5 lb of a seafood mix of shrimp, calamari, and scallops for the pound of shrimp the recipes calls for, and I also used home-made chicken broth rather than store-bought)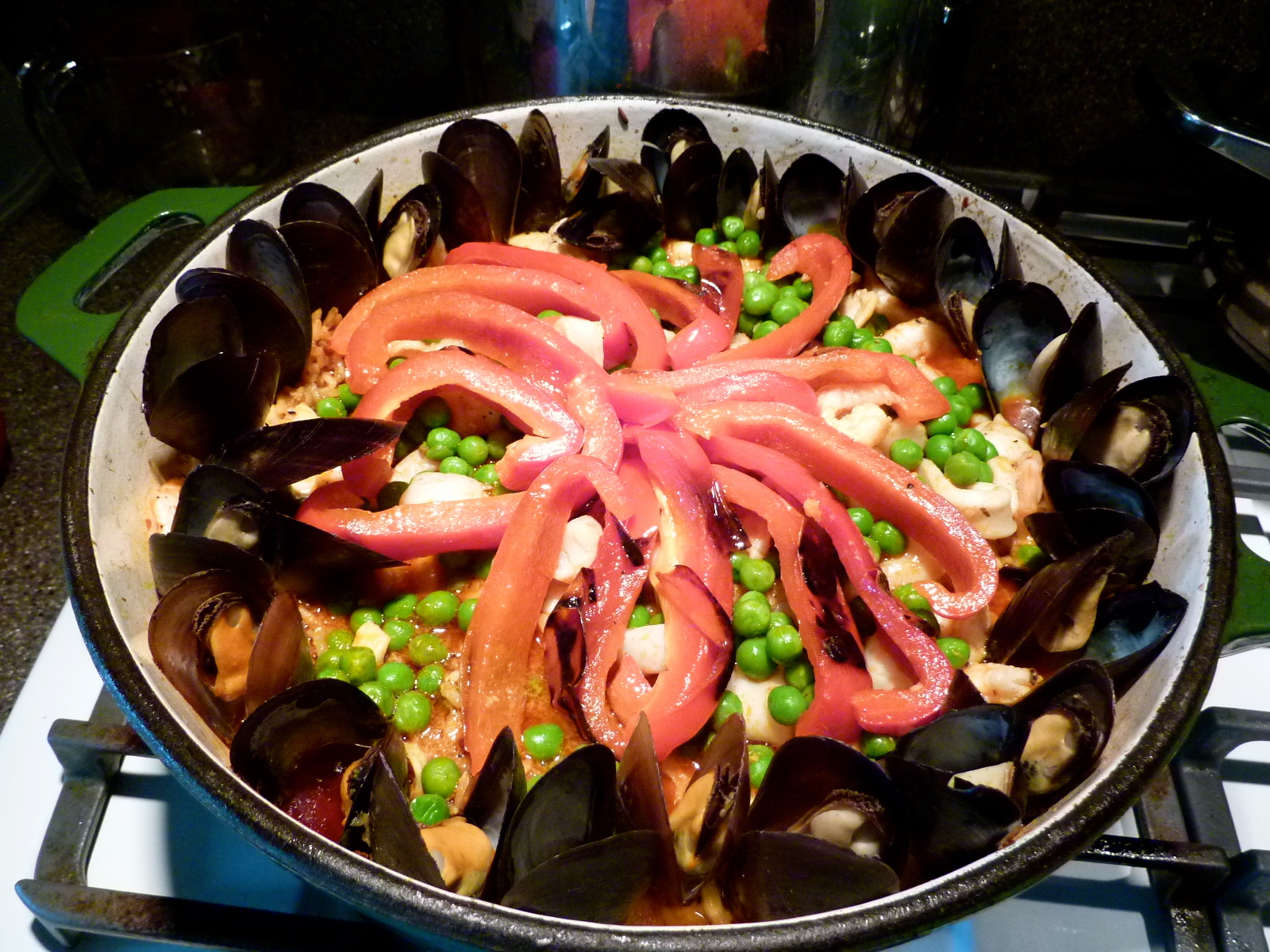 Along with the paella (which I'm pleased to report was a hit;-), we also enjoyed, spicy chicken wings, BBQ chicken wings, grilled chicken, fried calamari, home-made hummus, artichoke and jalapeno dip, fruit salad, and sundry cheese and crackers.  And as advertised, the dry Rosés paired nicely with the wide variety of food.
AND THE WINNER WAS…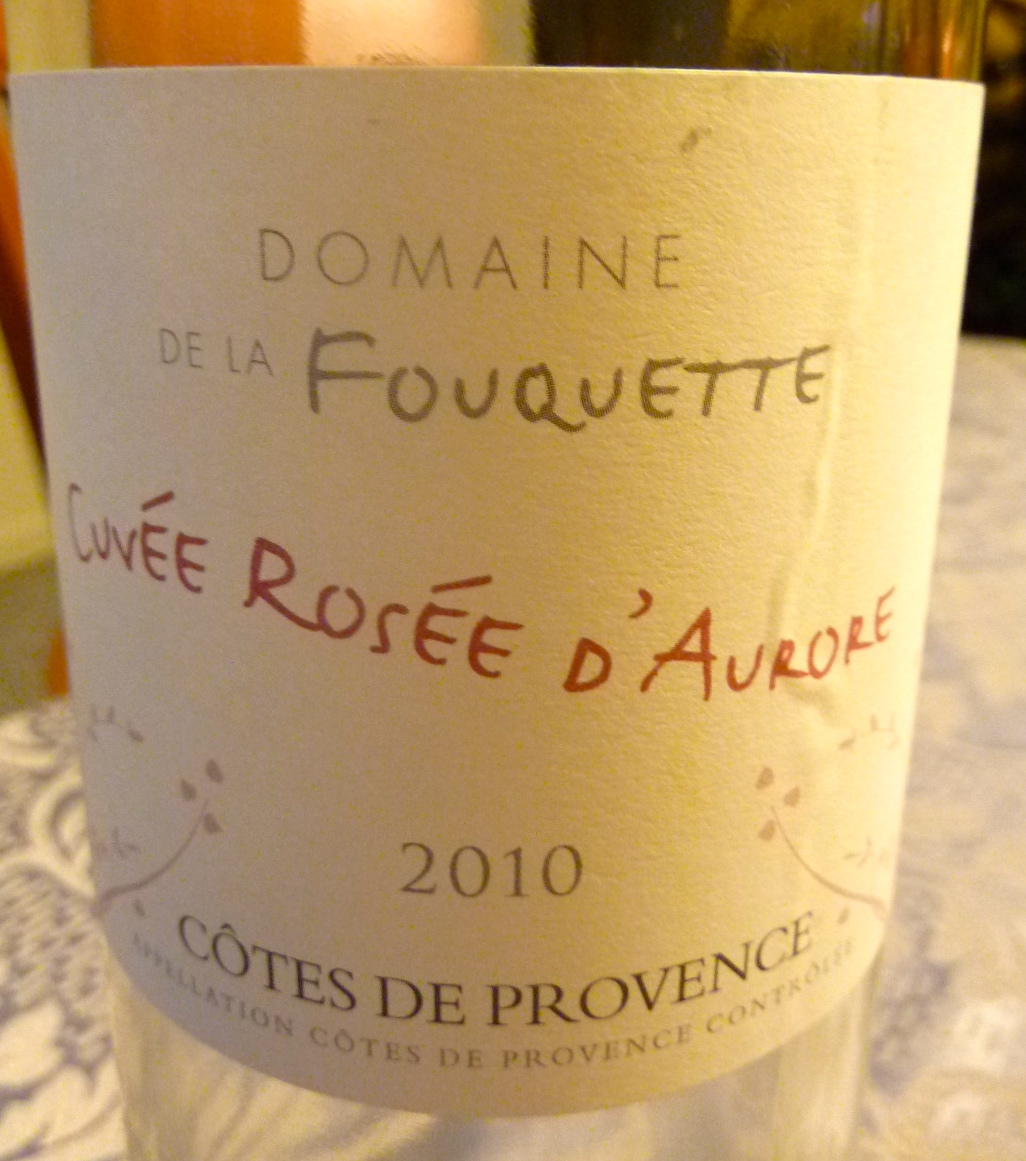 For more pictures of our wonderful evening of wine, foods, and fellowship with friends, old and new, click here (Photos courtesy of Gigi Yulo Redmond, and Jojo Ong)
Related articles