My wife and I celebrated our anniversary at À CÔTÉ, a Mediterranean themed small-plate restaurant in Oakland.  What I like about small-plates dining is that you get to enjoy a diverse selection of dishes.  À CÔTÉ, likewise has a diverse selection of wines from around the world.  Their wine list might challenge some Jeopardy contestants who choose Geography! It includes lesser known regions of renown wine regions such as Italy (Sicily, and Campania), and France (Corsica), along with countries not well known for their wines such as Croatia, Hungary, Greece, and the Republic of Georgia (Click to view their wine list ).
Not only were the countries of origin diverse, but the grape varieties included little known varieties such as Coda di Volpe, Biancoella, and Grecomusc, which is a grape rare, indigenous grape only grown in Irpinia.
My wife elected to go with a flight of three white wines from Campania, Italy, which included the aforementioned little know wines. I chose to start with a glass of Sherry.  We ordered Marinated Olives, Pommes Frites with Aioli, and Catalan Pork Empanadas with Green Garlic Crema to start with. We followed that with Mussels with Pernod from the Wood Oven, and Seared Scallops with Carrot Risotto, Sorrel Sauce and Sugar Snap Peas for the "main" course.  In addition to the Sherry, I ordered a flight of two Weißherbst-German Rosés.
The tasting notes for the wines I ordered follow:
NV Tio Pepe Fino Sherry – Very pale green color with. Offers aromas of salted nuts and brine. On the palate focused, light bodied, and dry with flavors of lightly salted hazelnuts, and brine.  Medium short finish.  I really enjoy this one!  Sherry was an "acquired taste" for me. But I really enjoy it because it pairs well with so many foods.  Whether it was the olives (the most well know pairing for Sherry), the Pommes Frites with aioli, or the empanadas, the Sherry worked very well with the food, and the food made the Sherry taste fruitier.  I wish I could tell you how the Sherry paired with the mussels and the scallops, it was gone by then (although I'm sure it would have paired very nicely with those too)! – 87 pts
2008 Matthias Dostert Roter Elbling Rosé  – Color of the eye of partridge. The nose offered red fruit, and slight vegetal aromas.  On the palate, it was off dry for me, fruity with peach, and vanilla flavors and a hint of minerality.  Light-bodied with a short finish. It was my first taste of Roter Elbling. I found the vegetal notes to be off putting for a rosé .  However, it was a good pairing with both the mussels, and scallop entrees – 83 pts

2008 Franz Karl Schmitt Pinot Meunier Rosé –  The color of strawberry soda.  Strawberry aromas, with flavors of raspberry, spice, and on the back palate, a hint of grapefruit. Between short and medium finish. I found this one interesting because it was my first experience with Pinot Meunier on a stand- alone basis.  It's a grape that is typically part of the traditional Champagne blend. It was dry, and was a good pairing with both the mussels, and scallop entrees.  I enjoyed it a bit more with the entrees, and enough to try it again.- 85 pts

For dessert we chose Coupe À CÔTÉ – Triple Bittersweet Chocolate Ice Cream, Hot Fudge, Caramel Cream,Pecan Praline & Caramel Brownies.  We paired it with 1997 Cossart Gordon Madeira Bual Colheita – Dark orange color.  Nose offers dried citrus and an earthy note.  On the palate, dried stone fruit, and citrus with good acidity, and a long finish.  This was a very good Colheita, and it paired well with the dessert.  I particularly enjoyed the acidity, which provided a very nice juxtaposition to the richness of the dessert.  – 88 pts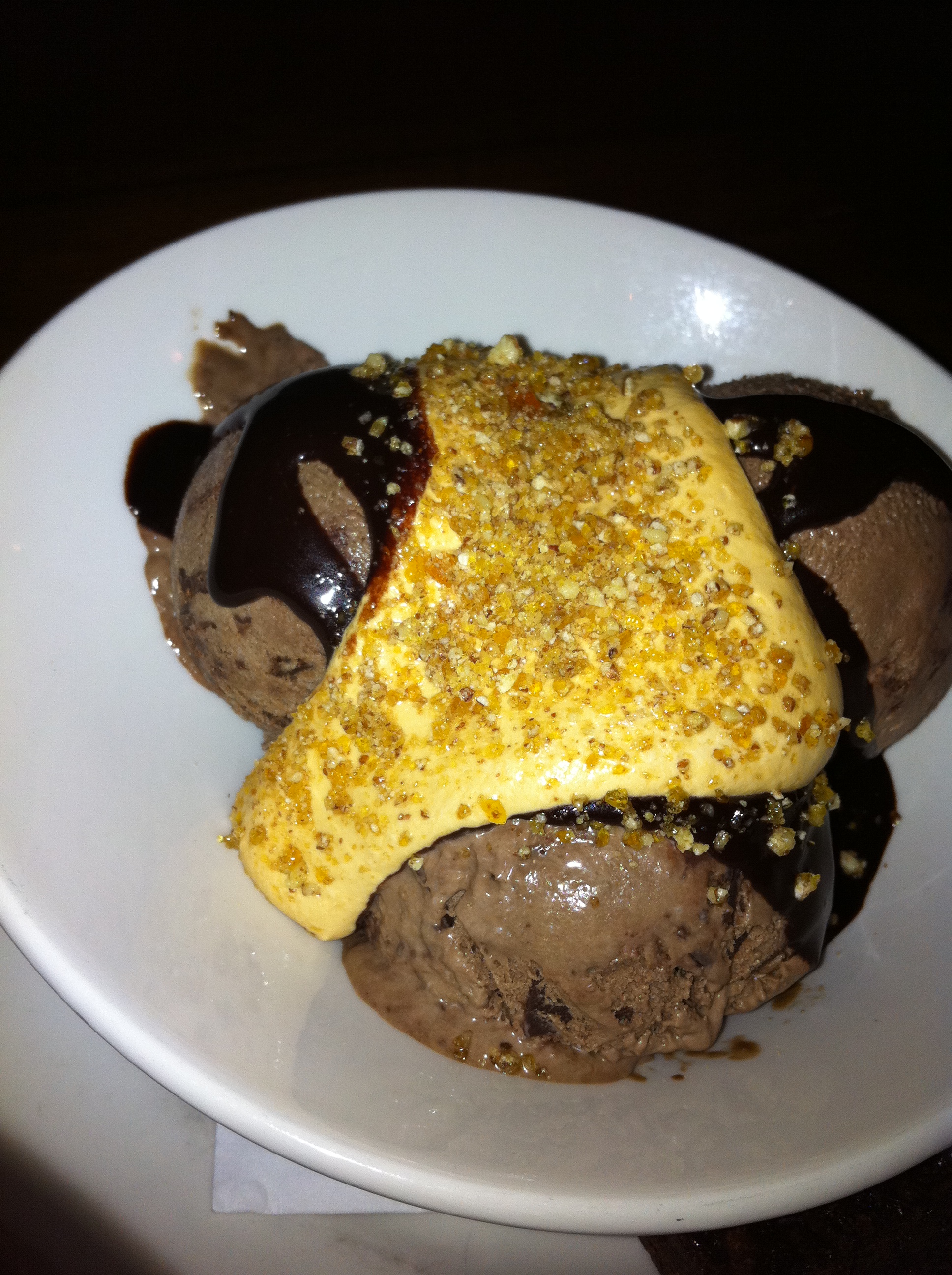 As for the dessert…put simply…it was one the best desserts I've ever had!  À CÔTÉ – great food, and great wine list. I highly recommend!
Related articles